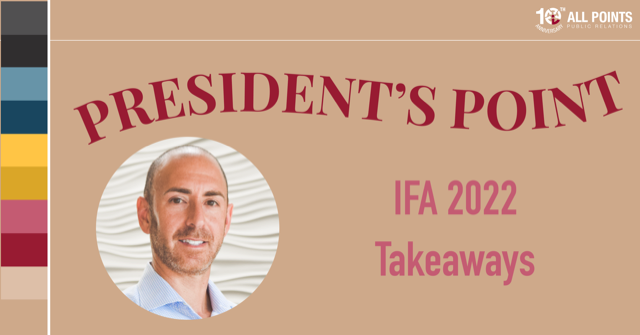 President's Point: IFA 2022 Takeaways
This past month, the All Points PR team headed to sunny San Diego for the 2022 International Franchise Association (IFA) annual convention. For the first time since 2020, franchisors, franchisees, suppliers and colleagues gathered together for franchising's largest annual event to learn, educate and network with various industry professionals.
With 10 APPR team members in attendance, it was our largest presence to date. Our team connected with clients and furthered relationships with trade outlets and suppliers. The convention center was lively, and the content throughout was thought-provoking in many ways.
Here are some of the top takeaways I want to share with you:
1. The Spirit of Franchising is Alive and Well
If the pandemic has taught us anything, it's that the franchising industry is stronger than ever.
The past two years have been an unprecedented, harrowing time, and business owners were no exception. It was clear through the many informational sessions and panels that the entrepreneurial essence is alive and well, with many franchisors pulling in record-breaking sales years and tremendous growth.
2. Driving Revenue and Growth with Technology
Many of the conversations circulated around the growing need among franchisors and franchisees for advanced technology to drive growth and revenue. Many brands have pushed for investments in digital innovation, including mobile apps for online ordering, to enhance brands and franchisees' collective capabilities.
During a keynote session with Paul Brown, CEO of Inspire Brands, he spoke on how Inspire heavily relies on technology and automation to deliver quality data analytics to Inspire teams. It's crucial that people at Inspire – from corporate executives to franchisees – understand the power of the data and leverage it to improve the customer experience and grow their bottom line.
3. Dynamic Keynote Speakers
Shaquille O'Neal headlined the convention, and his engaging personality did not disappoint. Known of course as one of the greatest basketball players of all time, Shaq positioned himself off the court as a savvy business investor, with an impressive portfolio of nine Papa Johns, 10 24 Hour Fitness, 28 Five Guys and several Auntie Anne's.
Most recently, Shaq stepped into the role as a franchisor with Big Chicken, which began franchising late last year. Our agency is proud to support Big Chicken with its strategic franchise growth, and we were thrilled to meet Shaq in person. Check out our team photo op – we promise we don't actually look this short in person.
IFA's annual convention continues to be one of the biggest opportunities for industry professionals to further their education and resources. The 2022 convention did not disappoint, and the APPR team looks forward to attending in 2023.
Jamie Izaks is the president of All Points Public Relations, a franchise-focused PR agency based in the Chicagoland area, www.allpointspr.com.