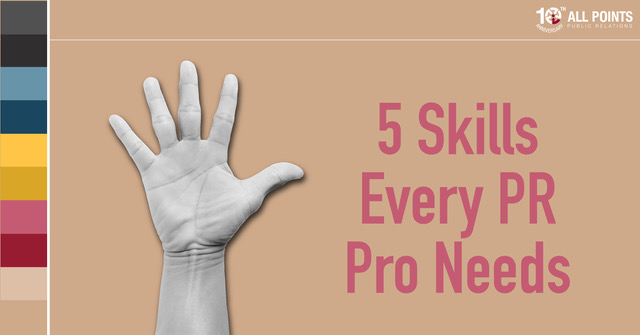 Five Skills Every PR Pro Needs
Becoming a well-rounded, consistently reliable and savvy public relations professional takes more than just a degree in the field. From research and communication skills to writing and creativity, a PR pro embraces variety, with each day bringing new challenges to embrace.
We asked some PR pros at All Points to share their tips every public relations professional needs to succeed:
"Being a news junkie is very helpful in PR! Constantly consuming the news and keeping up with timely current events can help when coming up with angles for our clients and for keeping the interest of reporters." – Alana Guggenheim, Account Lead
"PR professionals need to be both persistent and strong writers, but I would say being creative and thinking outside of the box is most important. Not only do we want to hook the press with creative pitching ideas, but we also want to impress our clients and our employers with big and unique ideas that go far beyond the 'traditional' PR approach." – Maddie Darling, PR Associate
"I think the biggest thing that makes a PR pro is PERSISTENCY. Persistence is a mission we live by at All Points, and you must be persistent when pitching reporters and getting results from clients. You even have to be persistent by always thinking about how you can put your team in the best position to generate results. Persistency truly is the name of the game when you're in PR." – Cole Koretos, Senior Account Lead
"To become a PR pro, you need to be curious and desire to learn more about the world around you. Oftentimes, PR pros are asked to work across multiple industries, from restaurant brands to junk removal services, as well as both B2B and B2C perspectives. Our clients appreciate when we take the time to get to know the ins and outs of their industries and this helps us stay in-tune with all the latest trends and new stories." – Emily Cashen, PR Account Lead
"It is important to reevaluate your pitch if you find that you are not receiving any traction or responses from reporters. This can look a few different ways: switching up the subject line to better align with a reporter's typical beat or to mirror their usual article titles, starting a new chain with the reporter or adjusting the pitch to be timelier." – Rachel Nehring, Senior Account Lead
Are you looking for a workplace that provides exciting client work and a fantastic team? Then All Points might be a fit for you! Check out our career page to see open opportunities.