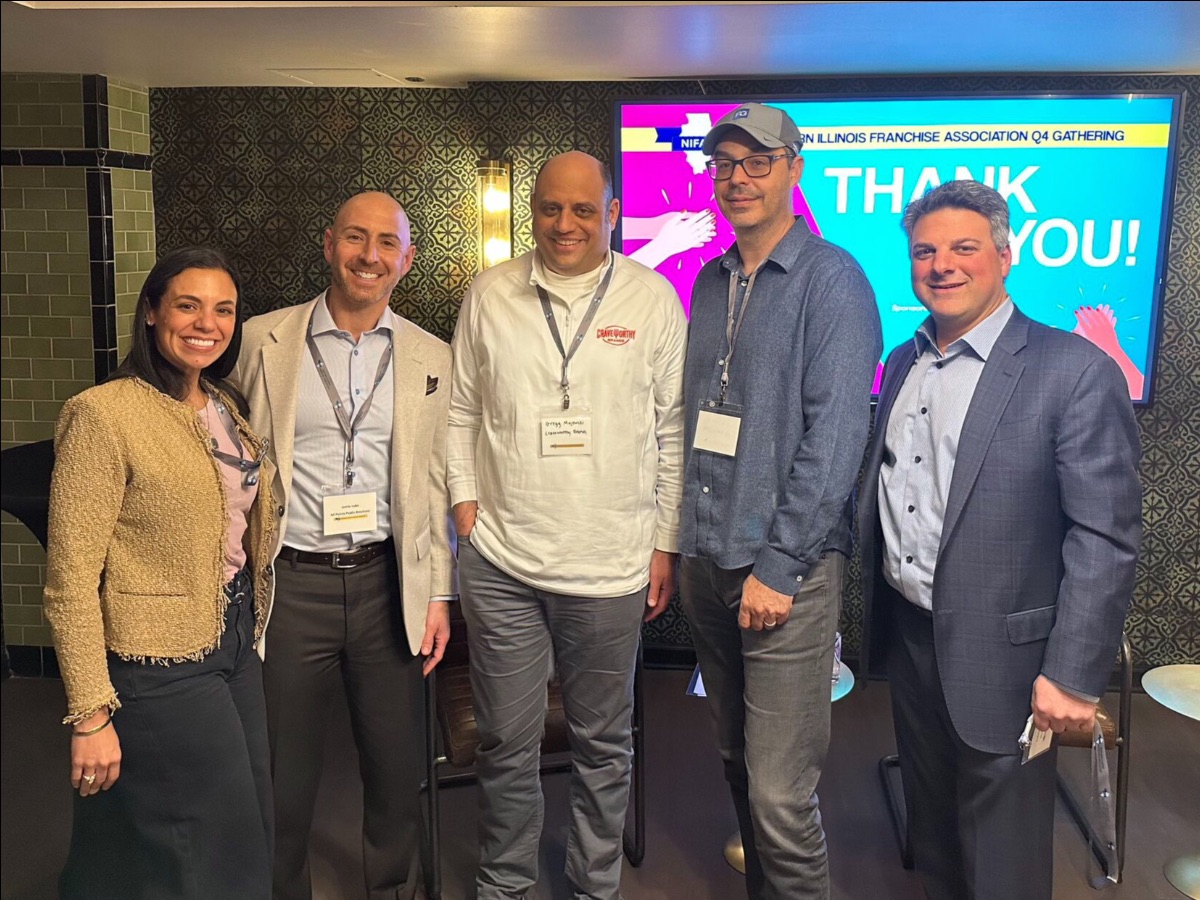 NIFA Q1 2023 | The Power of the Portfolio: How to Form a High-Performing Multi-Brand Franchisor Ownership Group
For emerging franchise brands, it can be difficult to overcome the operational kinks and financial capital required to compete with big-name brands. That's where umbrella brands come in. Many umbrella franchisors beefed up their portfolios in recent years, investing time and resources to scale emerging concepts to a national audience.
The first Northern Illinois Franchise Association (NIFA) gathering of 2023 featured veteran franchise restaurant executive Gregg Majewski and FG Financial Group Inc. CEO Larry Swets, who recently partnered to form Chicago-based Craveworthy Brands. The new umbrella franchisor includes emerging fast-casual dining brands Wing It On!, The Budlong Hot Chicken, Krafted Burger Bar + Tap and Lucky Cat Poke Company.
The spirited discussion took a deeper dive into how to create a winning franchise umbrella company strategy with the right concept development and financial partners. Here's an inside look at the discussion:
Gregg, can you tell us how is Craveworthy Brands different than other umbrella companies in the restaurant industry in terms of its mission?
"Most restaurant platform companies set up the restaurant founders to fail," Majewski said. "In the early stages of Craveworthy, I wanted to create a company where emerging brands and their founders take their great ideas and partner with us to help them grow – not remove them from the equation. The idea behind Craveworthy is to find those great brands, help them grow and teach them how to do it and experience success, instead of taking a low payday today and walking away."
Larry, as you previously mentioned, this is a new type of partnership for FG Financial Inc. How do you see supporting Gregg's vision?
"What we do at FG Financial Group Inc. is find somebody who we think we can back," Swets said. "Knowing that we're looking for the entrepreneurial approach, we're looking for somebody who has deep industry knowledge and experience because capital is fuel, capital doesn't solve anything. Money is never the answer but it can augment the ideas and keep things moving forward."
We'd like to extend a huge thank you to our panelists and our sponsor, Specialized Accounting Services, for making this event possible. To further foster these connections and share best practices, we encourage anyone who would like to stay connected to check out our NIFA LinkedIn group.
Looking ahead, NIFA is planning wonderful events in Q2 and beyond. If you would like to sponsor an upcoming event or have an idea for a topic, please contact Lauren Izaks.
Visit www.northernilfranchise.org for more information about the organization.
About Our Panelists
Gregg Majewski, CEO of Craveworthy Brands and CEO of Mongolian Concepts
Gregg Majewski is the former CEO/COO/CFO of Jimmy John's Gourmet Sandwiches and the founder of Craveworthy Brands. While at Jimmy John's, Gregg expanded the company from 33 restaurants to 300 open and another 600 sold. He implemented and restructured all 300 of Jimmy John's restaurants' operational standards by introducing new systems, procedures, management incentive programs, training programs, franchisee enablement and shifting marketing strategies toward grassroots and a focus on freaky fast delivery.
Larry Swets, Chief Executive Officer for FG Financial Group Inc.
Larry G. Swets, Jr. has served as Chief Executive Officer for FG Financial Group Inc. since November 2020 and as a member of the board of directors since November 2013. Mr. Swets has over 25 years of experience within financial services encompassing both non-executive and executive roles.
About Our Sponsors 
Specialized Accounting Services
Specialized Accounting Services is a CPA firm focused on Accounting, Tax and Consulting services for franchisees, promoted via franchisors. SAS adds value to the franchise by providing benchmarking, consistency and timeliness for the franchise.