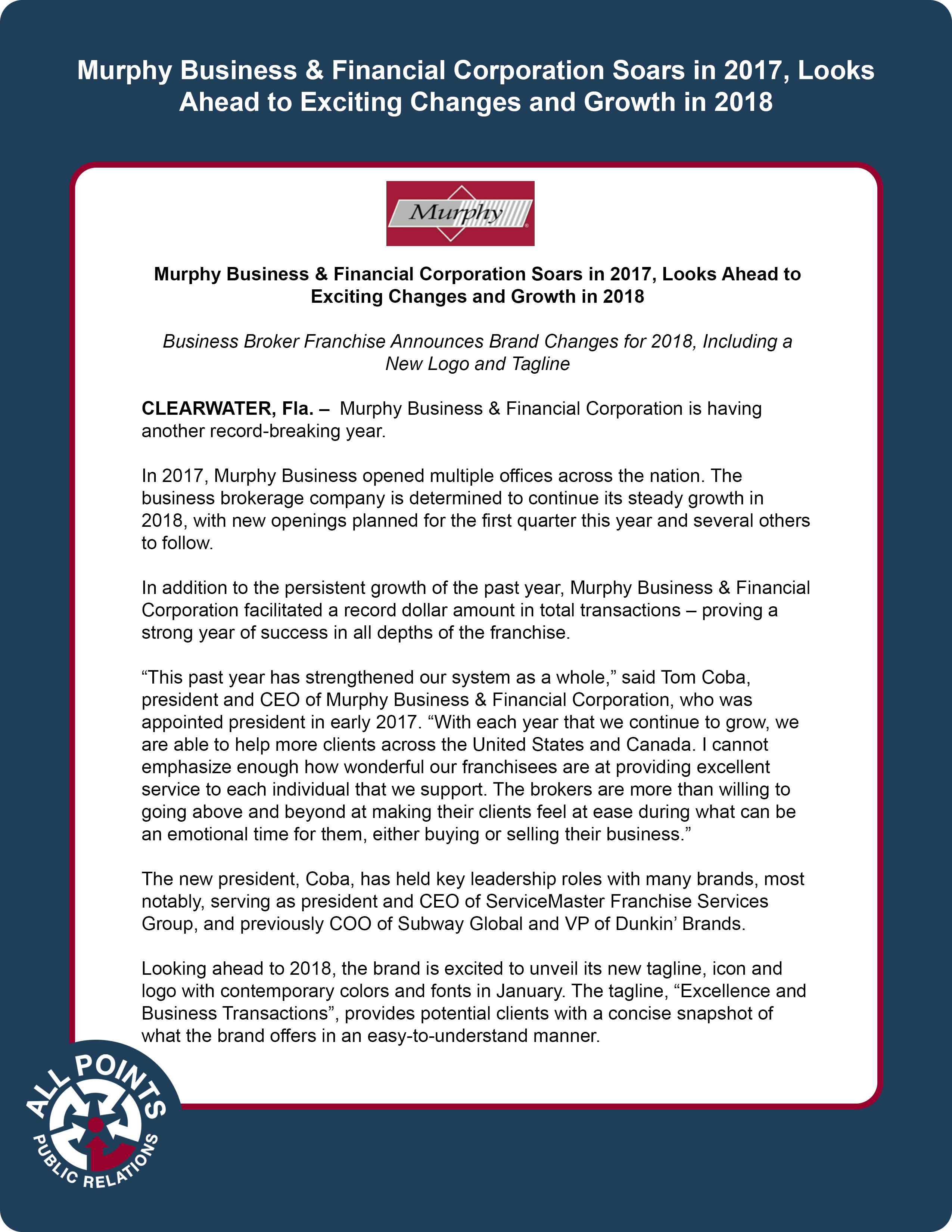 Murphy Business & Financial Corporation Soars in 2017, Looks Ahead to Exciting Changes and Growth in 2018
Murphy Business & Financial Corporation Soars in 2017, Looks Ahead to Exciting Changes and Growth in 2018
Business Broker Franchise Announces Brand Changes for 2018, Including a New Logo and Tagline
CLEARWATER, Fla. – Murphy Business & Financial Corporation is having another record-breaking year.
In 2017, Murphy Business opened multiple offices across the nation. The business brokerage company is determined to continue its steady growth in 2018, with new openings planned for the first quarter this year and several others to follow.
In addition to the persistent growth of the past year, Murphy Business & Financial Corporation facilitated a record dollar amount in total transactions – proving a strong year of success in all depths of the franchise.
"This past year has strengthened our system as a whole," said Tom Coba, president and CEO of Murphy Business & Financial Corporation, who was appointed president in early 2017. "With each year that we continue to grow, we are able to help more clients across the United States and Canada. I cannot emphasize enough how wonderful our franchisees are at providing excellent service to each individual that we support. The brokers are more than willing to going above and beyond at making their clients feel at ease during what can be an emotional time for them, either buying or selling their business."
The new president, Coba, has held key leadership roles with many brands, most notably, serving as president and CEO of ServiceMaster Franchise Services Group, and previously COO of Subway Global and VP of Dunkin' Brands.
Looking ahead to 2018, the brand is excited to unveil its new tagline, icon and logo with contemporary colors and fonts in January. The tagline, "Excellence and Business Transactions", provides potential clients with a concise snapshot of what the brand offers in an easy-to-understand manner. Additionally, the new logo featuring Business Sales is a total revamp of the logo that was used in the past. The new tagline and logo both signify the brand's commitment to being a dynamic player in the industry.
Murphy Business & Financial Corporation offers unique advantages for its franchisees to elevate their professional skills and utilize their talents on a daily basis. Franchisees join a collaborative environment of individuals who come from backgrounds of mid-level management to C-Suite positions. When joining the Murphy Business & Financial Corporation family, franchisees will become a part of a network of business brokers known for their skills and knowledge in the industry.
Murphy Business permits entrepreneurs the opportunity to individually operate locally or as an office with a team of business brokers. The corporate office offers all franchisees with continuous support and a solid foundation as a result of its comprehensive training plan.
With more than 170 offices in the United States and Canada, Murphy Business & Financial Corporation is North America's leading, full-service business brokerage firm. Offering entrepreneurs unit franchisee operating models, the Murphy Business home office supports the franchisees and their agents with extensive training, along with initial and ongoing marketing efforts that leave Murphy Business owners to focus on the most important part of their business – spending more time with their clients.
For more information about Murphy Business & Financial Corporation and available franchise opportunities, please visit: www.murphyfranchise.com.
About Murphy Business & Financial Corporation LLC
Clearwater, Florida-based Murphy Business & Financial Corporation LLC is a full-service business brokerage firm facilitating business sales, purchases, consulting, valuations, mergers and acquisitions. Closing deals at a higher ratio than the business brokerage industry average, several accolades have been bestowed upon the company including being recognized as one of Franchise Business Review 's Top 50 Franchisee Satisfaction Award Winners for ten consecutive years.