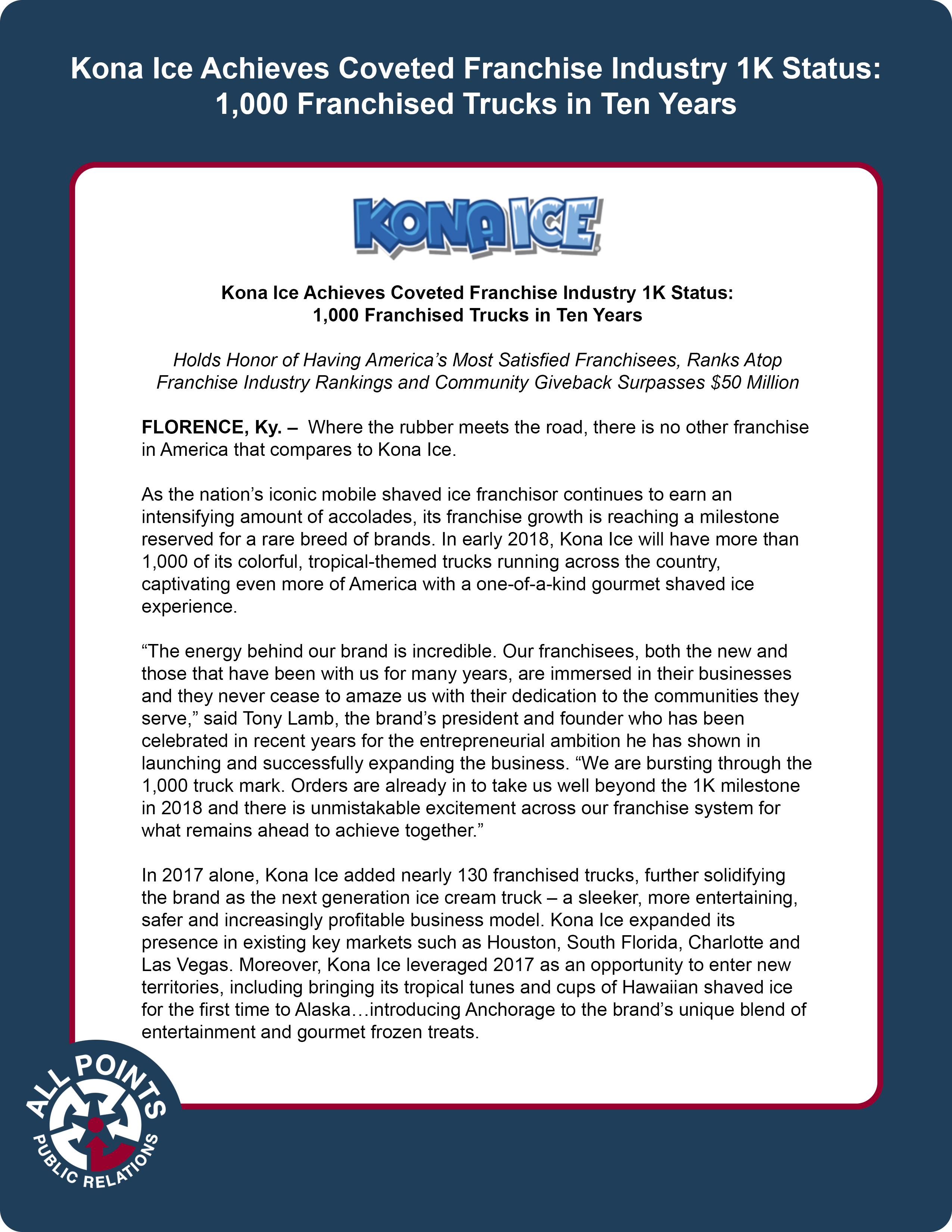 Kona Ice Achieves Coveted Franchise Industry 1K Status: 1,000 Franchised Trucks in Ten Years
Kona Ice Achieves Coveted Franchise Industry 1K Status: 1,000 Franchised Trucks in Ten Years
Holds Honor of Having America's Most Satisfied Franchisees, Ranks Atop Franchise Industry Rankings and Community Giveback Surpasses $50 Million 
FLORENCE, Ky. – Where the rubber meets the road, there is no other franchise in America that compares to Kona Ice.
As the nation's iconic mobile shaved ice franchisor continues to earn an intensifying amount of accolades, its franchise growth is reaching a milestone reserved for a rare breed of brands. In early 2018, Kona Ice will have more than 1,000 of its colorful, tropical-themed trucks running across the country, captivating even more of America with a one-of-a-kind gourmet shaved ice experience.
"The energy behind our brand is incredible. Our franchisees, both the new and those that have been with us for many years, are immersed in their businesses and they never cease to amaze us with their dedication to the communities they serve," said Tony Lamb, the brand's president and founder who has been celebrated in recent years for the entrepreneurial ambition he has shown in launching and successfully expanding the business. "We are bursting through the 1,000 truck mark. Orders are already in to take us well beyond the 1K milestone in 2018 and there is unmistakable excitement across our franchise system for what remains ahead to achieve together."
In 2017 alone, Kona Ice added nearly 130 franchised trucks, further solidifying the brand as the next generation ice cream truck – a sleeker, more entertaining, safer and increasingly profitable business model. Kona Ice expanded its presence in existing key markets such as Houston, South Florida, Charlotte and Las Vegas. Moreover, Kona Ice leveraged 2017 as an opportunity to enter new territories, including bringing its tropical tunes and cups of Hawaiian shaved ice for the first time to Alaska…introducing Anchorage to the brand's unique blend of entertainment and gourmet frozen treats.
Taking into consideration Kona Ice's mini version of its truck and its kiosks, which bring the brand into venues and spaces where the truck cannot go or as a method to expand its local presence, the country's most recognizable mobile shaved ice experience already has more than 1,400 units operating.
Serving tens of millions of consumers across the nation every year, the franchisees that run the units are generating revenues that directly impact the communities they serve in incredibly positive ways. Along with the 1K truck benchmark, Kona Ice's giveback to community schools and organizations across its franchise system has just passed the $50 million milestone.
"Even as we add a significant number of new franchisees and trucks, our greater purpose remains our road map for the business," added Lamb. "From our Kona Korporate team to our franchisees and their team members, serving from the inside out is where it all begins for us — entrepreneurship is an opportunity to positively impact the lives of others."
This type of selflessness sets the tone for Kona Ice. Heading into 2018, Kona Ice will advance its innovative partnership with Adopt-A-Classroom, a national nonprofit that provides funding for K-12 teachers throughout the United States. Kona Korporate and franchisees together have adopted 120-plus classrooms, donating more than $60,000 in just one year.
The mantra to serve from the inside out also extends to Kona Korporate's support of its franchisees. As a clear indication of just how far Kona Ice goes to maintain franchisee satisfaction, the brand holds the esteemed designation of being the top brand in the franchise industry's most comprehensive franchisee satisfaction rankings for the last two years. Among more than 30,000 franchise owners in America surveyed representing more than 330 brands, Kona Ice's franchisees scored the concept higher than any other franchise measured in the Franchise Business Review "Top Franchises Report." Kona Ice even topped their Franchisee Satisfaction score from last year, exceeding expectations even further. Likewise, the satisfaction score reflects Kona Ice's commitment to keeping its fixed annual franchisee royalty fee at a remarkably low $3,000 each year.
In addition to Kona Ice consistently ranking highly on the Franchise Business Review's "Top Franchises Report", the brand was recently ranked as a top franchise in Entrepreneur's 2018 "Franchise 500®" list, which evaluates factors such as costs and fees, size and growth, support, brand strength, and financial strength and stability. All franchises are given a cumulative score based on more than 150 data points, and the 500 franchises with the highest cumulative scores become the Franchise 500® in ranking order. Kona Ice's continuous spot on the ranking is a testament to its strength as a franchise opportunity. Likewise, Kona Ice was listed on the Franchise Times "Fast & Serious" 2018 list for its systemwide sales growth and unit growth over time.
"We continue to propel growth with a commitment to what we do best — innovating with our trucks and products, and supporting our franchisees to the nth degree," added Lamb. "The growth and profitability of our existing franchisees is what is allowing us to accelerate franchising."
With 2018 already off to an exciting start for the brand, Kona Ice will soon be introducing its Krafted line aimed at offering innovative shaved ice options to the adult demographic. Thirty-plus new flavors are set to be unveiled including coffee, sour, spicy and mock tail flavors.
Moving forward, Kona Ice aims to grow with qualified franchisees that embody a contagious entrepreneurial spirit and who have a deep appreciation for following the brand's processes and systems. The franchise opportunity has been designed to meet the needs of individuals, both seasoned and new business owners, seeking greater purpose, structure, support and marketing expertise. 
About Kona Ice
A true community ally renowned for facilitating endless fundraising options, Kona Ice has given more than $50 million back to neighborhood schools, organizations and teams since its inception in 2007. The brand's iconic truck offers customers a one-of-a-kind experience, featuring the opportunity to create their own shaved ice on the self-serve Flavorwave™, while enjoying the soothing sights and sounds from the tropics. Currently, there are nearly 1,000 franchise units in more than 47 states.