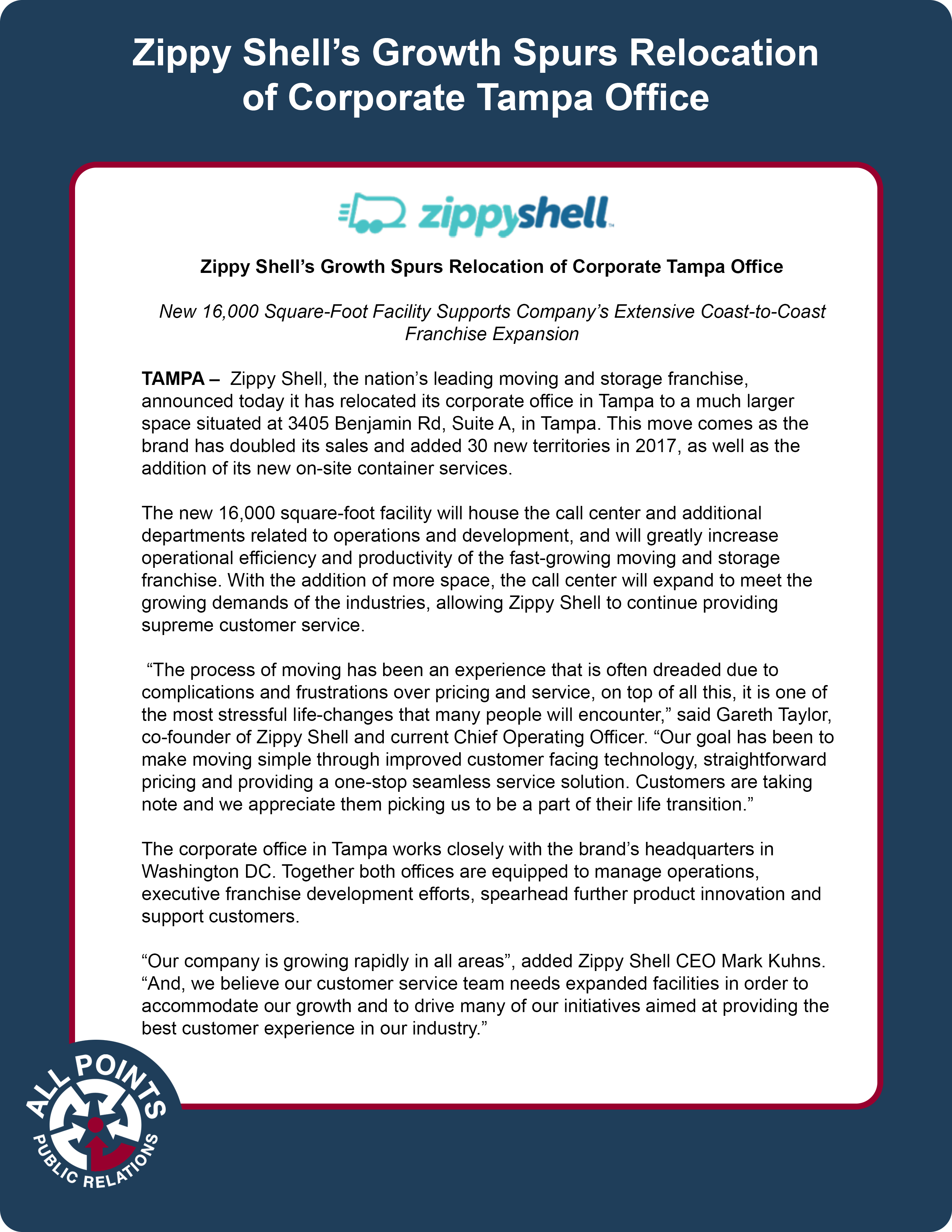 Zippy Shell's Growth Spurs Relocation of Corporate Tampa Office
Zippy Shell's Growth Spurs Relocation of Corporate Tampa Office
New 16,000 Square-Foot Facility Supports Company's Extensive Coast-to-Coast Franchise Expansion 
TAMPA – Zippy Shell, the nation's leading moving and storage franchise, announced today it has relocated its corporate office in Tampa to a much larger space situated at 3405 Benjamin Rd, Suite A, in Tampa. This move comes as the brand has doubled its sales and added 30 new territories in 2017, as well as the addition of its new on-site container services.
The new 16,000 square-foot facility will house the call center and additional departments related to operations and development, and will greatly increase operational efficiency and productivity of the fast-growing moving and storage franchise. With the addition of more space, the call center will expand to meet the growing demands of the industries, allowing Zippy Shell to continue providing supreme customer service.
"The process of moving has been an experience that is often dreaded due to complications and frustrations over pricing and service, on top of all this, it is one of the most stressful life-changes that many people will encounter," said Gareth Taylor, co-founder of Zippy Shell and current Chief Operating Officer. "Our goal has been to make moving simple through improved customer facing technology, straightforward pricing and providing a one-stop seamless service solution. Customers are taking note and we appreciate them picking us to be a part of their life transition."
The corporate office in Tampa works closely with the brand's headquarters in Washington DC. Together both offices are equipped to manage operations, executive franchise development efforts, spearhead further product innovation and support customers.
"Our company is growing rapidly in all areas", added Zippy Shell CEO Mark Kuhns. "And, we believe our customer service team needs expanded facilities in order to accommodate our growth and to drive many of our initiatives aimed at providing the best customer experience in our industry."
Since launching U.S. operations in 2010, Zippy Shell has distinguished itself in the moving and storage industries, and strengthened that standing this year with the introduction of its portable onsite containers. Designed to fit into the places that other portable storage solutions can't, Zippy Shell's onsite containers are ideal for construction contractors storing materials at a build site, customers who are renovating their homes and want to keep their personal belongings safe and nearby during the process, parks or outdoor venues seeking easy access to their seasonal supplies and more. These onsite containers have proven to be a valuable addition to Zippy Shell's services and will continue to be rolled out in new and existing markets in 2018.
To learn more about Zippy Shell, visit: www.zippyshell.com.
About Zippy Shell:
 Founded in Australia in 2007 and brought to the United States in 2010, Zippy Shell brilliantly streamlines two industries – practical, personal storage and safe, secure moving – into one simple and easy model. Through a network of franchise locations and licensed partners, Zippy Shell provides a complete suite of services to the customer ranging from self-pack storage through full service moving. The brand's rapid franchise expansion into new markets across the country creates opportunities for seasoned entrepreneurs looking to build and expand their portfolios. Headquartered in Washington, D.C., Zippy Shell currently has more than 50 independently operated, corporately operated and jointly operated facilities serving more than 150 markets. For more information, visit www.zippyshell.com.