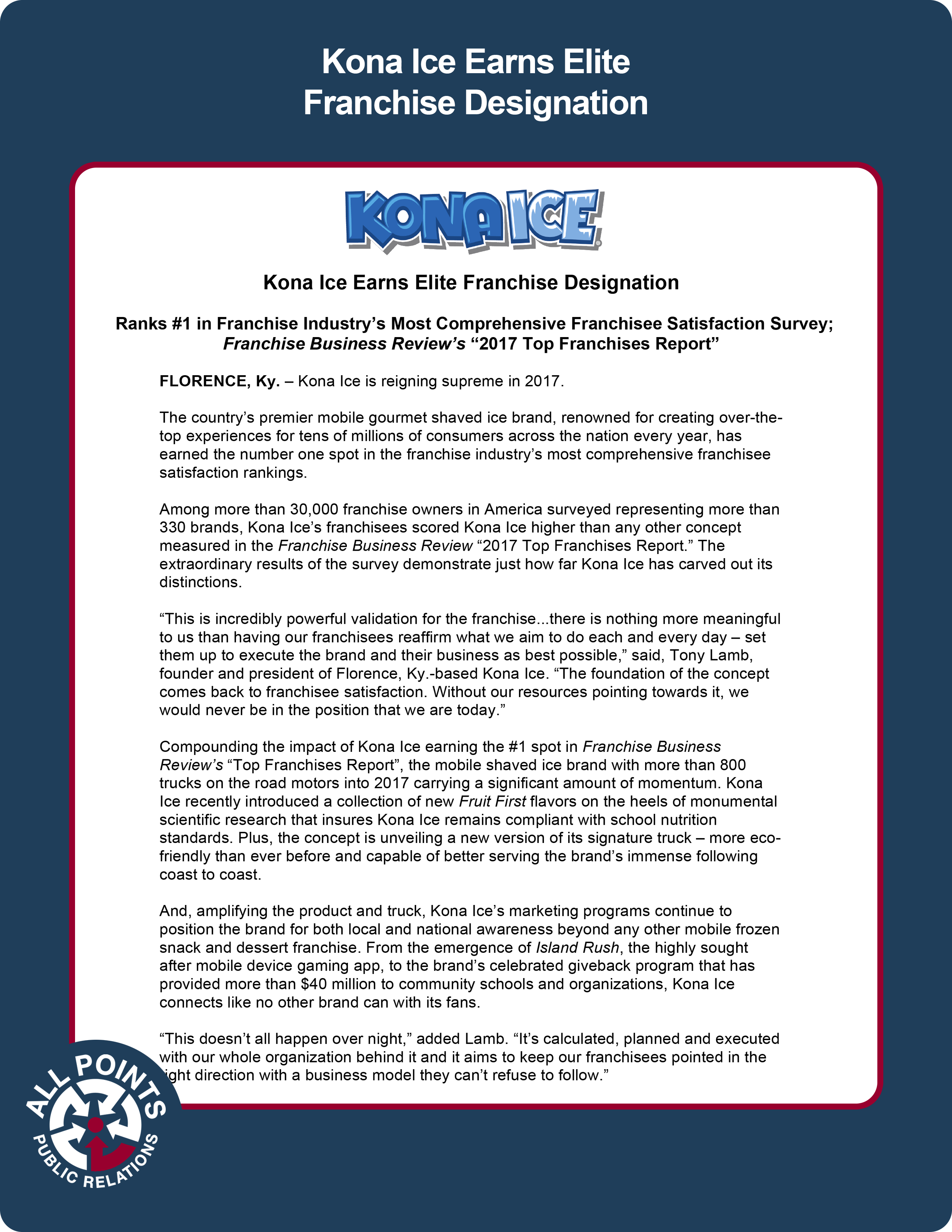 Kona Ice Earns Elite Franchise Designation
Kona Ice Earns Elite Franchise Designation
Ranks #1 in Franchise Industry's Most Comprehensive Franchisee Satisfaction Survey; Franchise Business Review's "2017 Top Franchises Report"
FLORENCE, Ky. – Kona Ice is reigning supreme in 2017.
The country's premier mobile gourmet shaved ice brand, renowned for creating over-the-top experiences for tens of millions of consumers across the nation every year, has earned the number one spot in the franchise industry's most comprehensive franchisee satisfaction rankings.
Among more than 30,000 franchise owners in America surveyed representing more than 330 brands, Kona Ice's franchisees scored Kona Ice higher than any other concept measured in the Franchise Business Review "2017 Top Franchises Report." The extraordinary results of the survey demonstrate just how far Kona Ice has carved out its distinctions.
"This is incredibly powerful validation for the franchise…there is nothing more meaningful to us than having our franchisees reaffirm what we aim to do each and every day – set them up to execute the brand and their business as best possible," said, Tony Lamb, founder and president of Florence, Ky.-based Kona Ice. "The foundation of the concept comes back to franchisee satisfaction. Without our resources pointing towards it, we would never be in the position that we are today."
Compounding the impact of Kona Ice earning the #1 spot in Franchise Business Review's "Top Franchises Report", the mobile shaved ice brand with more than 800 trucks on the road motors into 2017 carrying a significant amount of momentum. Kona Ice recently introduced a collection of new Fruit First flavors on the heels of monumental scientific research that insures Kona Ice remains compliant with school nutrition standards. Plus, the concept is unveiling a new version of its signature truck – more eco-friendly than ever before and capable of better serving the brand's immense following coast to coast.
And, amplifying the product and truck, Kona Ice's marketing programs continue to position the brand for both local and national awareness beyond any other mobile frozen snack and dessert franchise. From the emergence of Island Rush, the highly sought after mobile device gaming app, to the brand's celebrated giveback program that has provided more than $40 million to community schools and organizations, Kona Ice connects like no other brand can with its fans.
"This doesn't all happen over night," added Lamb. "It's calculated, planned and executed with our whole organization behind it and it aims to keep our franchisees pointed in the right direction with a business model they can't refuse to follow."
Franchise Business Review, the national franchise market research firm that conducted the "2017 Top Franchises Survey," provides the only rankings of franchises based solely on actual franchisee satisfaction and performance.
This is the first year Kona Ice has earned the top spot in the rankings, and for several years it has been atop the "Food & Beverage" category in this survey. Likewise, Kona Ice consistently ranks highly in the prestigious Entrepreneur "Franchise 500", even earning the coveted "#1 New Franchise" designation. 
In this year's "Top Franchises Report," Franchise Business Review published the results of the survey issued to Kona Ice's franchisees. They were asked 33 benchmark questions in the areas of financial opportunity, training and support, leadership, operations and product development, core values (e.g., honesty and integrity of franchisor), general satisfaction and the franchisee community.
The survey data showed the following: Kona Ice received rankings of 4.7 in core values, 4.6 in self-evaluation and 4.5 in overall satisfaction out of 5, among high marks in all other categories including training and support, franchise system and leadership.
Providing entrepreneurs interested in investing in the franchise a full suite of support services ranging from initial and ongoing training to sales and marketing programs, the Kona Ice investment ranges in price from $117,125 – $135,925. An initial franchisee fee of $20,000 is required, and finance programs are in place to support qualified entrepreneurs in their Kona Ice investment.
For more information about available franchise opportunities with Kona Ice, please visit: http://www.ownakona.com.
To learn more about Franchise Business Review's annual Top 200 ranking, please visit: https://franchisebusinessreview.com/todays-top-franchises-2017/top-200-franchises/.
About Kona Ice
A true community ally renowned for facilitating endless fundraising options, Kona Ice has given more than $40 million back to neighborhood schools, organizations and teams since its inception in 2007. The brand's iconic truck offers customers a one-of-a-kind experience, featuring the opportunity to create their own shaved ice on the self-serve Flavorwave™, while enjoying the soothing sights and sounds from the tropics. Currently, there are 800-plus franchise units in more than 44 states.
For more information about booking Kona Ice for a fundraiser or event, visit www.kona-ice.com. To learn more about available franchise opportunities, visit www.ownakona.com or call (800) KONAICE.
About Franchise Business Review
Franchise Business Review (FBR) is the only independent market research firm that specializes in benchmarking franchisee satisfaction based exclusively on ratings and reviews from franchise owners. FBR publishes free and unbiased franchisee satisfaction research reports throughout the year online at franchisebusinessreview.com.