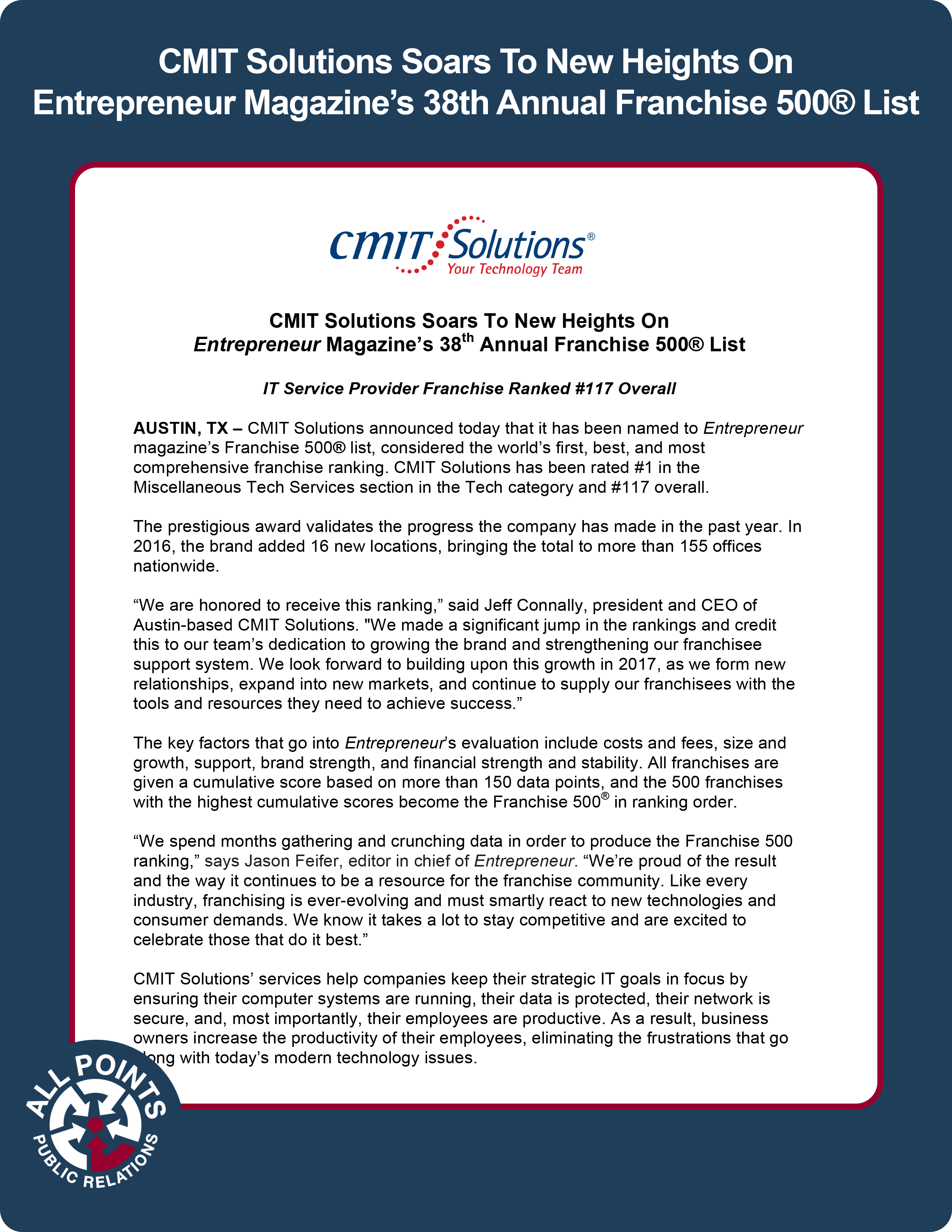 CMIT Solutions Soars To New Heights On Entrepreneur Magazine's 38th Annual Franchise 500® List
CMIT Solutions Soars To New Heights On Entrepreneur Magazine's 38th Annual Franchise 500® List
IT Service Provider Franchise Ranked #117 Overall
AUSTIN, TX – CMIT Solutions announced today that it has been named to Entrepreneur magazine's Franchise 500® list, considered the world's first, best, and most comprehensive franchise ranking. CMIT Solutions has been rated #1 in the Miscellaneous Tech Services section in the Tech category and #117 overall.
The prestigious award validates the progress the company has made in the past year. In 2016, the brand added 16 new locations, bringing the total to more than 155 offices nationwide.
"We are honored to receive this ranking," said Jeff Connally, president and CEO of Austin-based CMIT Solutions. "We made a significant jump in the rankings and credit this to our team's dedication to growing the brand and strengthening our franchisee support system. We look forward to building upon this growth in 2017, as we form new relationships, expand into new markets, and continue to supply our franchisees with the tools and resources they need to achieve success."
The key factors that go into Entrepreneur's evaluation include costs and fees, size and growth, support, brand strength, and financial strength and stability. All franchises are given a cumulative score based on more than 150 data points, and the 500 franchises with the highest cumulative scores become the Franchise 500® in ranking order.
"We spend months gathering and crunching data in order to produce the Franchise 500 ranking," says Jason Feifer, editor in chief of Entrepreneur. "We're proud of the result and the way it continues to be a resource for the franchise community. Like every industry, franchising is ever-evolving and must smartly react to new technologies and consumer demands. We know it takes a lot to stay competitive and are excited to celebrate those that do it best."
CMIT Solutions' services help companies keep their strategic IT goals in focus by ensuring their computer systems are running, their data is protected, their network is secure, and, most importantly, their employees are productive. As a result, business owners increase the productivity of their employees, eliminating the frustrations that go along with today's modern technology issues.
Entrepreneurially spirited individuals interested in owning a CMIT Solutions franchise should have the ability to invest $128,300, which includes working capital and a typical franchise fee of $49,950. CMIT franchisees are provided with a sizable territory based on ZIP codes and can expect to have 3,000 to 4,000 prime targets.
"In order to reflect the evolving business world at large, we at Entrepreneur continue to evolve our annual ranking, too," says Ryan Shea, president of Entrepreneur. "We've developed new ways to measure and analyze our collected data as new critical data points come into play. We take into account pertinent factors such as social media presence and financing availability, which have become increasingly important in today's economy. The result is a more complete and relevant Franchise 500® that can serve as a valuable resource for our readers."
To view CMIT Solutions in the full ranking, visit www.entrepreneur.com/franchise500.
To learn more about CMIT Solutions, visit: http://www.cmitsolutions.com/
For more information about available franchise opportunities, visit: http://cmitfranchise.com
About CMIT Solutions
CMIT Solutions (CMIT) is a leading provider of information technology (IT) professional services and products to small and medium-sized businesses, and is uniquely capable of supporting small businesses anywhere, coast to coast in the United States and Canada. By focusing on developing and maintaining local, trust-based relationships with its customers, CMIT is able to meet all of their IT needs. CMIT offers a wide variety of services and products, including enterprise-class solutions, at prices small businesses can afford. CMIT Solutions has been ranked number one in its category in Entrepreneur magazine's Franchise 500® list for six consecutive years. Because of its growing geographic presence and partner programs, CMIT is a very attractive sales and/or support channel for larger firms desiring to reach the millions of small and medium-sized businesses in the United States.
For more information, please visit www.cmitsolutions.com
About Entrepreneur Media Inc.
For nearly 40 years, Entrepreneur Media Inc. has been serving the entrepreneurial community providing comprehensive coverage of business and personal success through original content and events. Entrepreneur magazine, Entrepreneur.com, and publishing imprint Entrepreneur Press provide solutions, information, inspiration and education read by millions of entrepreneurs and small business owners worldwide.
To learn more, visit entrepreneur.com.