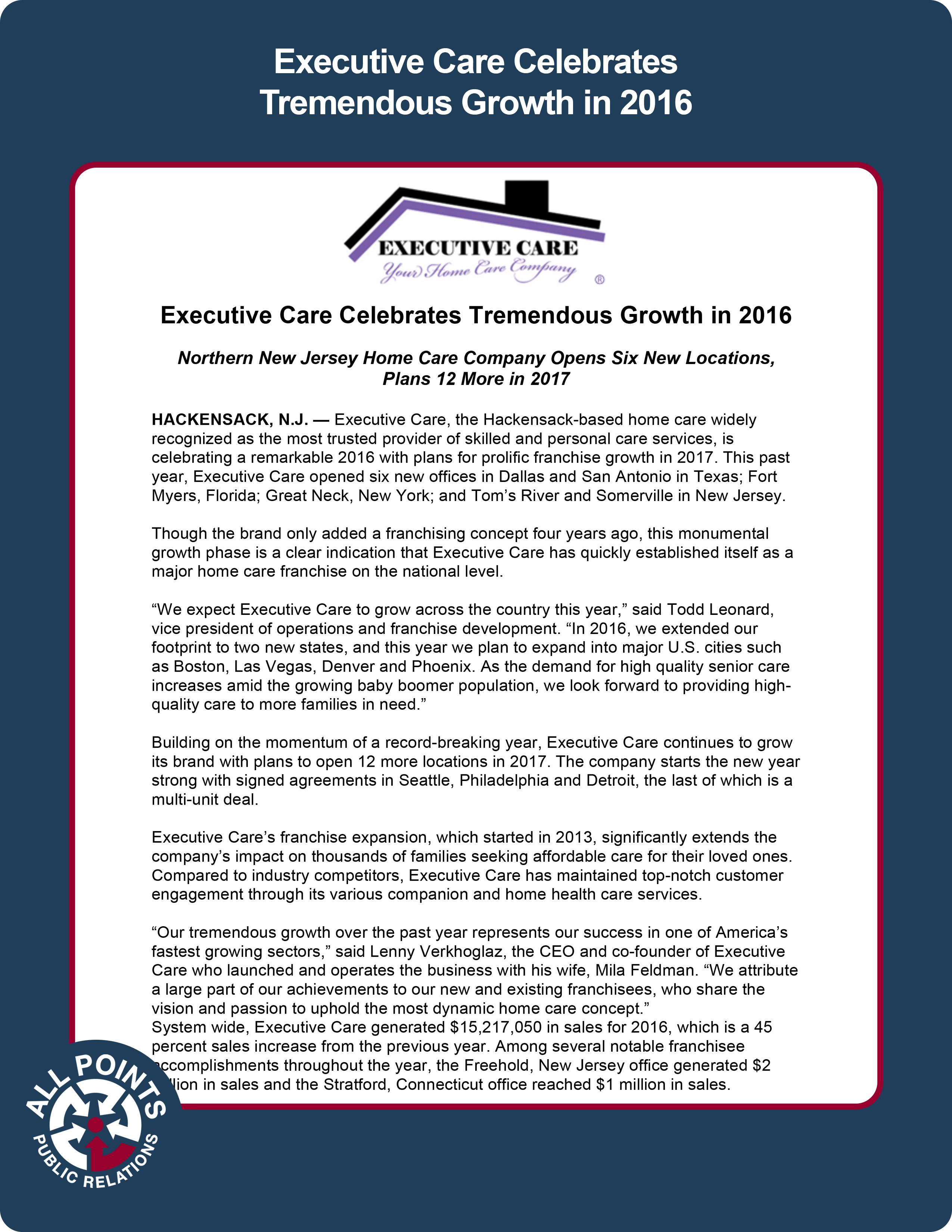 Executive Care Celebrates Tremendous Growth in 2016
Executive Care Celebrates Tremendous Growth in 2016
Northern New Jersey Home Care Company Opens Six New Locations, Plans 12 More in 2017
HACKENSACK, N.J. — Executive Care, the Hackensack-based home care widely recognized as the most trusted provider of skilled and personal care services, is celebrating a remarkable 2016 with plans for prolific franchise growth in 2017. This past year, Executive Care opened six new offices in Dallas and San Antonio in Texas; Fort Myers, Florida; Great Neck, New York; and Tom's River and Somerville in New Jersey.
Though the brand only added a franchising concept four years ago, this monumental growth phase is a clear indication that Executive Care has quickly established itself as a major home care franchise on the national level.
"We expect Executive Care to grow across the country this year," said Todd Leonard, vice president of operations and franchise development. "In 2016, we extended our footprint to two new states, and this year we plan to expand into major U.S. cities such as Boston, Las Vegas, Denver and Phoenix. As the demand for high quality senior care increases amid the growing baby boomer population, we look forward to providing high-quality care to more families in need."
Building on the momentum of a record-breaking year, Executive Care continues to grow its brand with plans to open 12 more locations in 2017. The company starts the new year strong with signed agreements in Seattle, Philadelphia and Detroit, the last of which is a multi-unit deal.
Executive Care's franchise expansion, which started in 2013, significantly extends the company's impact on thousands of families seeking affordable care for their loved ones. Compared to industry competitors, Executive Care has maintained top-notch customer engagement through its various companion and home health care services.
"Our tremendous growth over the past year represents our success in one of America's fastest growing sectors," said Lenny Verkhoglaz, the CEO and co-founder of Executive Care who launched and operates the business with his wife, Mila Feldman. "We attribute a large part of our achievements to our new and existing franchisees, who share the vision and passion to uphold the most dynamic home care concept."
System wide, Executive Care generated $15,217,050 in sales for 2016, which is a 45 percent sales increase from the previous year. Among several notable franchisee accomplishments throughout the year, the Freehold, New Jersey office generated $2 million in sales and the Stratford, Connecticut office reached $1 million in sales.
Executive Care offers a variety of caregiving and skilled nursing services to help families often overwhelmed with the responsibility of providing care to a loved one — all while ensuring the patient remains in the comfort of his or her own home. In a crowded sector, the company has built a reputation from the ground up.
About Executive Care
Executive Care, based in Hackensack, N.J., delivers a comprehensive selection of home care services tailored to the every need of its customers. From companionship and personal care to 24/7 live-in care and skilled nursing, Executive Care ensures customers receive safe, reliable and certified in-home medical and personal services. At the heart of Executive Care is the relationship forged between caregivers, customers and families. The company has announced plans to grow, offering an attractive franchise opportunity in the fast-growing home care sector. To learn more about Executive Care's services, visit ExecutiveHomeCare.com. For more information on the Executive Care franchise opportunity, email Todd Leonard at todd@executivehomecare.com or call (855) 393-2372.