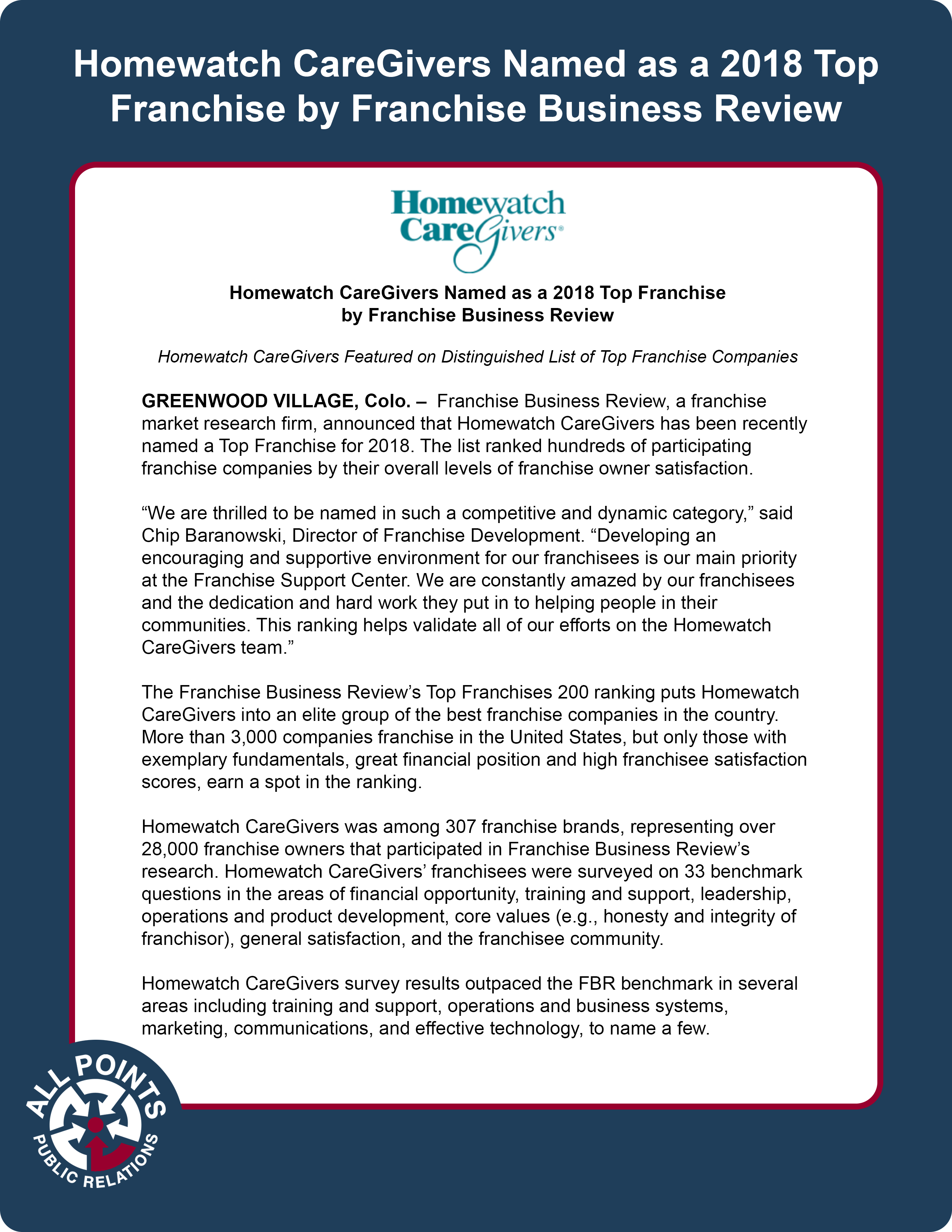 Homewatch CareGivers Named as a 2018 Top Franchise by Franchise Business Review
Homewatch CareGivers Named as a 2018 Top Franchise by Franchise Business Review
Homewatch CareGivers Featured on Distinguished List of Top Franchise Companies
GREENWOOD VILLAGE, Colo. – Franchise Business Review, a franchise market research firm, announced that Homewatch CareGivers has been recently named a Top Franchise for 2018. The list ranked hundreds of participating franchise companies by their overall levels of franchise owner satisfaction.
"We are thrilled to be named in such a competitive and dynamic category," said Chip Baranowski, Director of Franchise Development. "Developing an encouraging and supportive environment for our franchisees is our main priority at the Franchise Support Center. We are constantly amazed by our franchisees and the dedication and hard work they put in to helping people in their communities. This ranking helps validate all of our efforts on the Homewatch CareGivers team."
The Franchise Business Review's Top Franchises 200 ranking puts Homewatch CareGivers into an elite group of the best franchise companies in the country. More than 3,000 companies franchise in the United States, but only those with exemplary fundamentals, great financial position and high franchisee satisfaction scores, earn a spot in the ranking.
Homewatch CareGivers was among 307 franchise brands, representing over 28,000 franchise owners that participated in Franchise Business Review's research. Homewatch CareGivers' franchisees were surveyed on 33 benchmark questions in the areas of financial opportunity, training and support, leadership, operations and product development, core values (e.g., honesty and integrity of franchisor), general satisfaction, and the franchisee community.
Homewatch CareGivers survey results outpaced the FBR benchmark in several areas including training and support, operations and business systems, marketing, communications, and effective technology, to name a few. Franchisees also rated their own Franchisee Community highly on things such as being supportive of the brand and of one another.
"We are beyond proud of the franchisee network that we have been able to build," said Julie Smith, President and CEO of Homewatch CareGivers. "Our franchisees are what make our franchise opportunity so unique and we are excited to build upon this established, award-winning foundation in 2018."
Providing entrepreneurs interested in investing in the franchise a full suite of support services ranging from initial and ongoing training to sales and marketing programs, the Homewatch CareGivers investment ranges in price from $83,000 to $131,000. Plus, Homewatch CareGivers is a proud partner of the VetFran program. Approved candidates receive 10% off of the total franchise fee. Ideal franchise candidates are passionate about helping people and hold the concept close to their hearts. They love to work and build trusting relationships with not only their staff and clients, but also their local communities.
"There are thousands of successful franchise companies operating in North America, but many of those companies do not offer a solid investment opportunity for the actual franchise owners," says Eric Stites, CEO of Franchise Business Review. "As an independent research firm, we rate the franchise companies in the marketplace today and identify those that have the highest levels of satisfaction and performance among their franchisees in order to help entrepreneurs when choosing which franchise to invest in. The companies on this year's list are the top performing brands in the areas critical to their franchisees' success."
For more information about available franchise opportunities with Homewatch CareGivers, please visit: www.homewatchcaregivers.com/franchise.
To learn more about Franchise Business Review's annual ranking, please visit: https://www.franchisebusinessreview.com/page/top-franchise-opportunities/.
About Homewatch CareGivers
Founded in 1980, Homewatch CareGivers delivers a variety of person-directed, professional at-home services including elder care, care for individuals with developmental and physical conditions, after-surgery care and help for those living with dementia.
With a significant leadership presence at the national level through Home Care Association of America (HCAOA) and the National Quality Forum, the Homewatch CareGivers mission is to provide best-in-class care, to serve as a vital part of the continuum of care, and to provide the support franchisees and caregivers need to find success and make a difference in their communities.
 About Franchise Business Review
Franchise Business Review (FBR) is the only independent market research firm that specializes in benchmarking franchisee satisfaction based exclusively on ratings and reviews from franchise owners. FBR publishes free and unbiased franchisee satisfaction research reports throughout the year online at http://www.FranchiseBusinessReview.com.