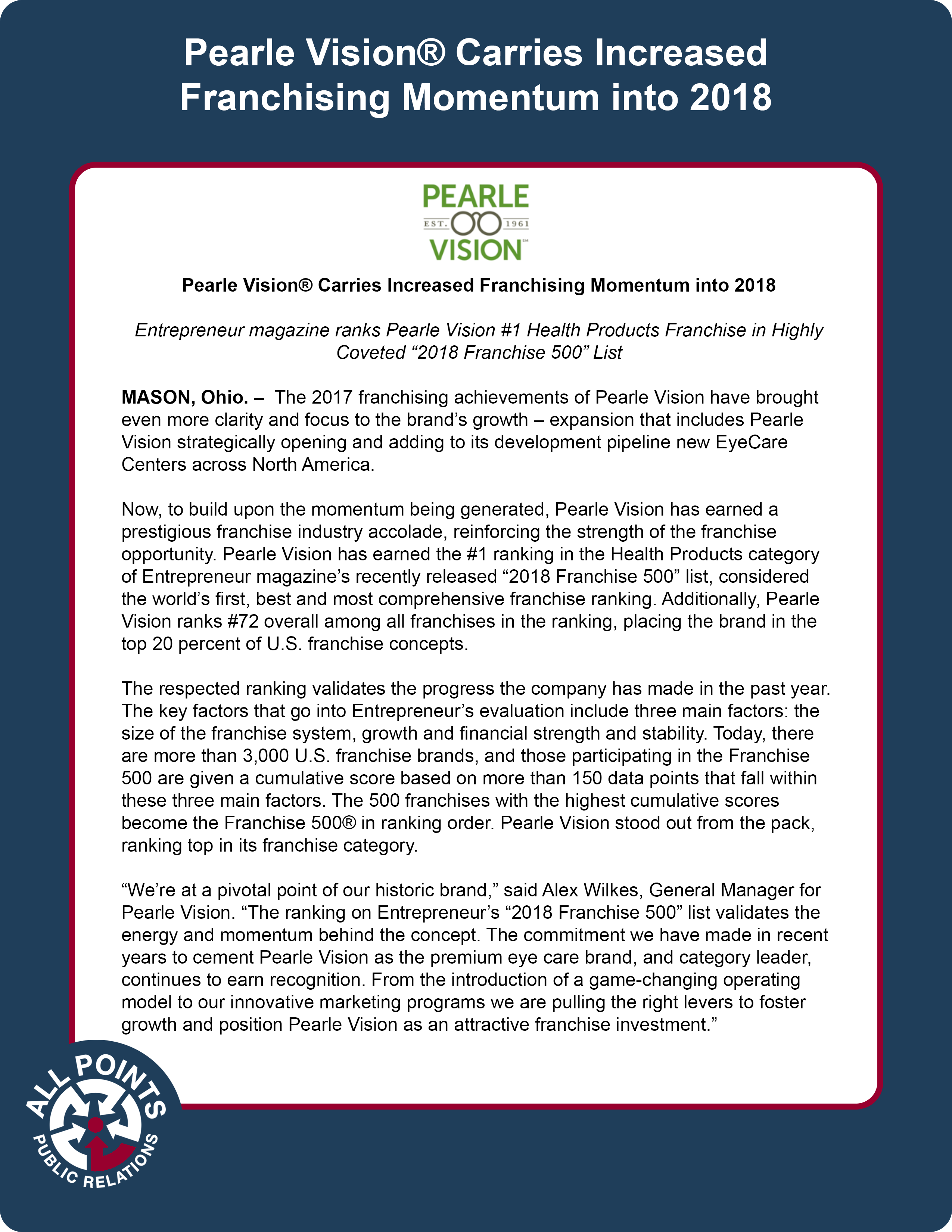 Pearle Vision® Carries Increased Franchising Momentum into 2018
Pearle Vision® Carries Increased Franchising Momentum into 2018
Entrepreneur magazine ranks Pearle Vision #1 Health Products Franchise in Highly Coveted "2018 Franchise 500" List
MASON, Ohio. – The 2017 franchising achievements of Pearle Vision have brought even more clarity and focus to the brand's growth – expansion that includes Pearle Vision strategically opening and adding to its development pipeline new EyeCare Centers across North America.
Now, to build upon the momentum being generated, Pearle Vision has earned a prestigious franchise industry accolade, reinforcing the strength of the franchise opportunity. Pearle Vision has earned the #1 ranking in the Health Products category of Entrepreneur magazine's recently released "2018 Franchise 500" list, considered the world's first, best and most comprehensive franchise ranking. Additionally, Pearle Vision ranks #72 overall among all franchises in the ranking, placing the brand in the top 20 percent of U.S. franchise concepts.
The respected ranking validates the progress the company has made in the past year. The key factors that go into Entrepreneur's evaluation include three main factors: the size of the franchise system, growth and financial strength and stability. Today, there are more than 3,000 U.S. franchise brands, and those participating in the Franchise 500 are given a cumulative score based on more than 150 data points that fall within these three main factors. The 500 franchises with the highest cumulative scores become the Franchise 500® in ranking order. Pearle Vision stood out from the pack, ranking top in its franchise category.
"We're at a pivotal point of our historic brand," said Alex Wilkes, General Manager for Pearle Vision. "The ranking on Entrepreneur's "2018 Franchise 500" list validates the energy and momentum behind the concept. The commitment we have made in recent years to cement Pearle Vision as the premium eye care brand, and category leader, continues to earn recognition. From the introduction of a game-changing operating model to our innovative marketing programs we are pulling the right levers to foster growth and position Pearle Vision as an attractive franchise investment."
In the past 12 months, new Pearle Vision EyeCare Centers have opened coast to coast with new franchisees in Bellevue, Wash., Atlanta, Ga., suburban Detroit and suburban Oklahoma City. Plus, existing franchisees are deepening their connection to the brand by investing in additional locations. From New England to Florida and Arizona to Ohio, seasoned franchisees who understand the strength of Pearle Vision's complete value proposition have their sights set on new center growth.
The first two area developer agreements in 2017 are also fueling Pearle Vision's growth. Launched in early 2017, the new opportunity has resulted in Pearle Vision awarding groups of qualified franchise investors the rights to open throughout entire designated market areas (DMAs) or states. Thus far, area developer groups are planning to or have already opened centers in Tampa and Phoenix. Prime U.S. markets remain available for expansion and the company is working to fill all available territories.
"We anticipate an expansion of our footprint this year and in the years that follow. The pieces are in place for robust franchise growth," added Wilkes. "We look forward to building upon this growth in 2018, as we form new relationships, expand into new markets, and offer our existing franchisees continued support."
Pearle Vision is positioning its current and projected franchise opportunities with: 1) skilled optometrists – both seasoned and recent graduates; 2) opticians (employ optometrists or lease space to them); and 3) investor groups. Ideal franchisees have a desire to build strong teams, embrace innovation, remain customer and care focused and dedicate themselves and their businesses to the communities they serve in an industry with sustainable demand.
About Pearle Vision
Pearle Vision was founded in 1961 by Dr. Stanley Pearle, who began the concept of one-stop, total eye care with the opening of the Pearle Vision Center in Savannah, Ga. Dr. Pearle combined complete eye exams with an extensive selection of eyewear. In 1981, Pearle Vision began offering franchise opportunities to select doctors and opticians. Today, with approximately 550 EyeCare Centers located throughout the United States, Canada and Puerto Rico, Pearle Vision is built around a doctor-centered business model with a primary focus to deliver genuine eye care to patients and become the neighborhood trusted source for all their eye care and eye wear needs. Pearle Vision is owned by Luxottica, a leader in premium fashion, luxury and sports eyewear. For more information, visit http://www.PearleVision.com. And, to learn more about the Pearle Vision franchise opportunity, visit ownapearlevision.com or call 1-800-PEARLE-1.