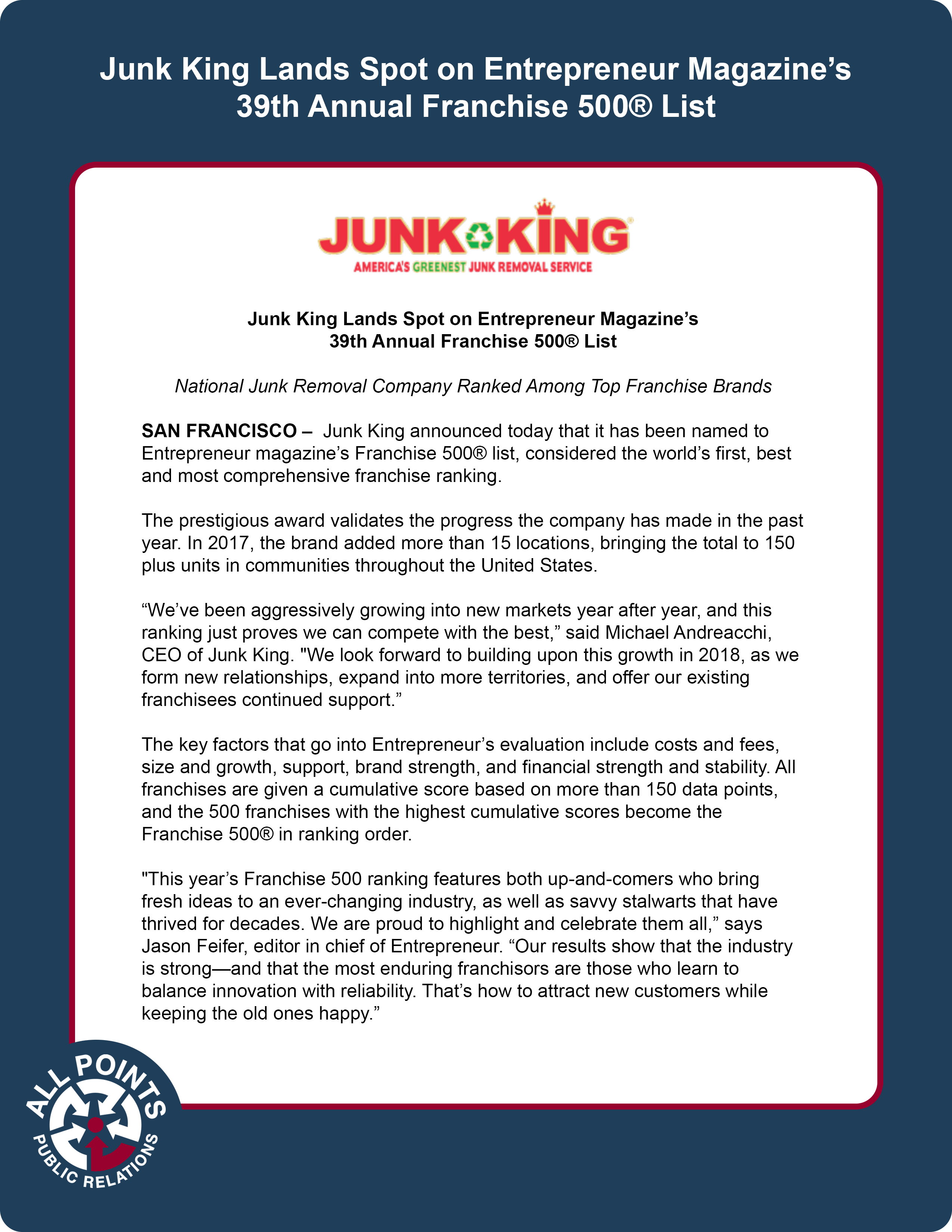 Junk King Lands Spot on Entrepreneur Magazine's 39th Annual Franchise 500® List
Junk King Lands Spot on Entrepreneur Magazine's 39th Annual Franchise 500® List
 National Junk Removal Company Ranked Among Top Franchise Brands 
SAN FRANCISCO – Junk King announced today that it has been named to Entrepreneur magazine's Franchise 500® list, considered the world's first, best and most comprehensive franchise ranking.
The prestigious award validates the progress the company has made in the past year. In 2017, the brand added more than 15 locations, bringing the total to 150 plus units in communities throughout the United States.
"We've been aggressively growing into new markets year after year, and this ranking just proves we can compete with the best," said Michael Andreacchi, CEO of Junk King. "We look forward to building upon this growth in 2018, as we form new relationships, expand into more territories, and offer our existing franchisees continued support."
The key factors that go into Entrepreneur's evaluation include costs and fees, size and growth, support, brand strength, and financial strength and stability. All franchises are given a cumulative score based on more than 150 data points, and the 500 franchises with the highest cumulative scores become the Franchise 500® in ranking order.
"This year's Franchise 500 ranking features both up-and-comers who bring fresh ideas to an ever-changing industry, as well as savvy stalwarts that have thrived for decades. We are proud to highlight and celebrate them all," says Jason Feifer, editor in chief of Entrepreneur. "Our results show that the industry is strong—and that the most enduring franchisors are those who learn to balance innovation with reliability. That's how to attract new customers while keeping the old ones happy."
In addition to the company's professionalism, eco-friendly recycling and award-winning customer service, businesses and residents alike choose Junk King because of the brand's state-of-the-art technology systems that allow customers to schedule a pick-up in real time. With the online booking system all it takes is a few clicks and within a matter of minutes Junk King can be scheduled and the job can be completed. In fact, Junk King maintains the highest Net Promoter Score (NPS) for any service business in North America, a clear indication of the importance the company places on customer satisfaction.
Entrepreneurially spirited individuals interested in owning a Junk King franchise should have the ability to invest $79,700, which includes working capital and a typical franchise fee of $30,000-$100,000.
Over its 39 years in existence, the Franchise 500® has become both a dominant competitive measure for franchisors and a primary research tool for potential franchisees. Junk King's position on the ranking is a testament to its strength as a franchise opportunity.
To view Junk King in the full ranking, visit www.entrepreneur.com/franchise500.
For more information about Junk King, please visit www.junk-king.com.
About Junk King  
Founded in 2005, Junk King was started by two friends in a two-car garage in San Carlos, California. In 2010, the company began franchising. Today, Junk King is the second largest junk removal company in North America with 150 units and 70 franchisees. In the next five years, Junk King plans to add an additional 125 franchisees and 400 units in key markets throughout North America. Junk King saves consumers time and money by eliminating unwanted clutter quickly and efficiently. Junk King is best known for its professionalism, advanced technology programs and commitment to recycling, repurposing and reusing materials. The brand is currently the highest rated service business in North America with a net promoter score exceeding 90 percent.
For more information about Junk King, please visit http://www.junk-king.com/. To inquire about franchise opportunities, visit http://www.junk-king.com/franchising/.
About Entrepreneur Media Inc.
For nearly 40 years, Entrepreneur Media Inc. has been serving the entrepreneurial community providing comprehensive coverage of business and personal success through original content and events. Entrepreneur magazine, Entrepreneur.com, and publishing imprint Entrepreneur Press provide solutions, information, inspiration and education read by millions of entrepreneurs and small business owners worldwide.
To learn more, visit entrepreneur.com.