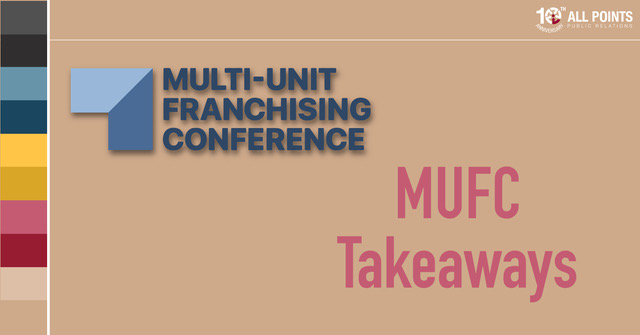 Agency Archives: MUFC Takeaways
This year's Multi-Unit Franchising Conference (MUFC) remains one of the most valuable and lively events in franchising. The All Points team headed off to Las Vegas once again to reconnect with clients, bond with industry vendors and grow our professional network.
With a wide array of franchisors, multi-unit franchisees and operators, the convention center was alive and well, setting the tone for thoughtful discussions, dynamic events and deals closed.
After a few fun days in Vegas, we're energized and ready to apply our learnings to create integrated results for our clients. Here are some of our top takeaways:
Dynamic Events
One of the best ways to create a buzz at conferences is to host evening dinners and socials with prospective franchisees and clients.
This year, our team attended our client Bobby's Burgers event at Amalfi by Bobby Flay in Caesars Palace. Bobby's Burgers recently launched its strategic franchise initiative, and this event provided the opportunity for the corporate team to network with potential multi-unit operators. The event was a success, and Bobby's Burger's franchising debut at MUFC made a big splash.
Reconnecting In-Person
Of course, conferences present the exceptional opportunity to connect face-to-face with current and prospective clients. All Points was fortunate to host a bourbon tasting social, where we got to catch up with clients and new connections in a relaxed setting.
Additionally, we set up private meetings to discuss strategy and share more about our new lead qualifying department – to fuel rapid development in the months ahead.
Opportunities for Growth
Even after a jam-packed visit, our real work began at the end of the conference. Follow-ups and thank you notes are an important courtesy that should not be missed, whether you're a franchisor, franchisee or supplier.
We look forward to furthering those conversations outside of Vegas, setting the tone for potential new clients and broadening relationships.
Be sure to check out All Points PR on Facebook, Twitter and Instagram to keep up with the office.