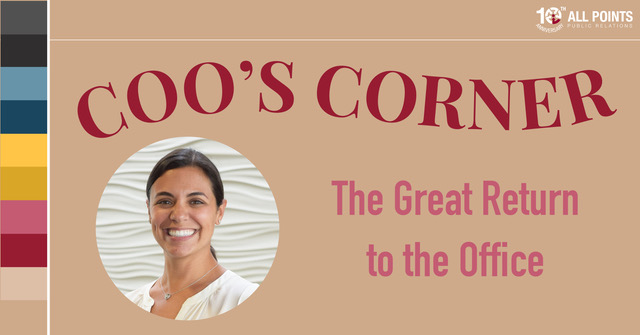 COO's Corner: The Great Return to the Office
Ditch the sweatpants, and let's get back in the office! After two years in work from home mode and perhaps not wearing traditional work-wear, offices across the country are calling their teams back to the office.
Our agency has been in our structured hybrid for the last year, with safety always being our top priority for our staff. Returning to the office was not a decision made lightly, and we are always evaluating what environment is best based on the current landscape.
An office space is often at the heart of your company culture. As workforces adjust to new working models, I've reflected on some of the benefits I've seen since returning to the office in a hybrid structure.
Cross Pod Pollination 🐝
One huge benefit of the office environment is that it enables more cross-department, or in our case, cross-pod interactions, and moments of serendipity to generate out-of-the-box ideas.
Not only does working side-by-side with our team members inspire working relationships, but I've also noticed a positive shift in the culture. Whether it's eating lunch together in the kitchen, stopping by a friend's desk to ask about their weekend, or taking our office pups, Cubby and Ivy, on a mid-day walk, this shift in workplace camaraderie has improved happiness and productivity in our office.
I'm thrilled to see collaboration and bonds amongst our team. You can catch a glimpse into the culture at All Points Public Relations on our TikTok!
Setting Boundaries Between Work and Home Life ⚖️
With the flexibility of being able to work from your kitchen table or couch, there has been blurred lines between work and home. I've noticed several of our staff struggle with "powering off" and continuously answering emails beyond the traditional work hours. 
As we commonly say, this is PR, not the ER, and you're not expected to be on call 24/7. Stepping outside of your specified work from home space after hours creates a healthy balance, separating work mode from relaxation and recharge time.
Dress to Impress 👚
After two years of Zoom calls, you may be wondering, "What should I wear?" While we may not be ready to say goodbye to loungewear pieces, we're saying hello to spring fashion.
The pandemic has loosened office dress codes to "business comfort," the evolution of business casual. We're now finding unique ways to incorporate athleisure in stylish, yet work-appropriate, ways.
Returning to the office doesn't mean you have to get too dressed up – but it does allow you to dress for a purpose.
As our agency continues in our structured hybrid format, I'm happy to see the tremendous benefits and advantages of working in person.
Lauren Izaks is the COO and executive vice president of All Points Public Relations, a franchise-focused PR agency based in the Chicagoland area, www.allpointspr.com.