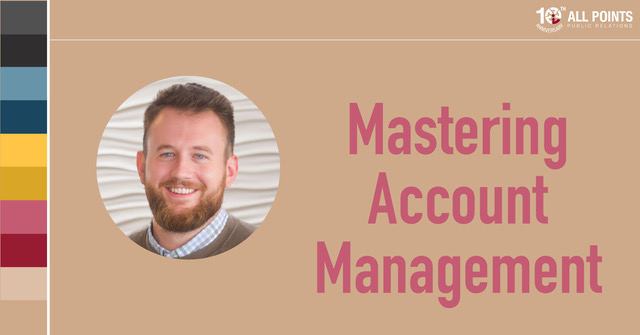 April Seminar Recap: Mastering Account Management
When it comes to leading client accounts, senior account lead Cole Koretos has mastered account management. In his career at All Points, Cole has launched several clients, including Snap Fitness and Killer Burger, swiftly earning their trust and respect.
For our latest agency seminar, Cole walked us through how to lead successful accounts from day one. Here are his tips:
Step 1: The Launch Process
All Points has structured systems and processes, which lay the groundwork for launching a new client. The account lead funnels all communications and has a hand in the initial press release and franchisee questionnaires
The kickoff officially begins with a discovery call, the first opportunity to build trust with the client contacts. While it may be the first time meeting the team, preparation is essential. Our account teams come prepared with a set of questions that cover the bases of the entire scope of work to ensure we collect all the necessary information.
Step 2: Ongoing Relationship Building
As you further the client relationship, there are several ways to build trust. Client visits are a great opportunity to get out on their home turf and experience their company firsthand.
Cole reflected on his trip to visit Killer Burger in Portland, where he tried the brands iconic food, met with the leadership team and presented our biannual idea generator. With Q3 & Q4 idea generators on the horizon, this presents several travel opportunities for our team to continue to foster client relationships with new and existing clients.
Step 3: Day-to-Day Management
 Beyond our regular update calls, the leader of an account is responsible for the day-to-day management and acts as the point person for communication. Account leads are typically the first to review content marketing materials and social media calendars, and are responsible for making sure items are sent in a timely manner.
Be sure to check out All Points PR on Facebook, Twitter and Instagram to keep up with the office.