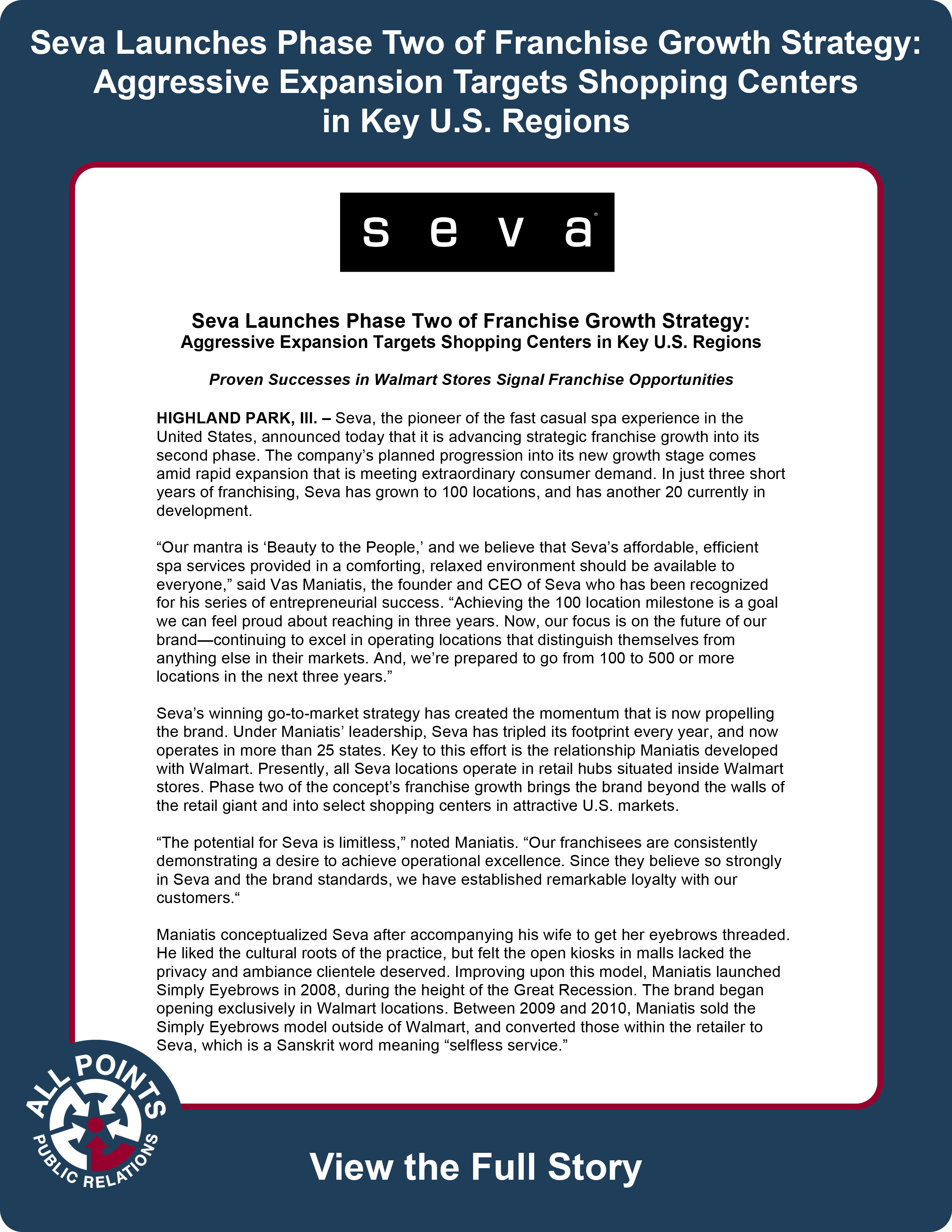 Seva Launches Phase Two of Franchise Growth Strategy: Aggressive Expansion Targets Shopping Centers in Key U.S. Regions
Seva Launches Phase Two of Franchise Growth Strategy: Aggressive Expansion Targets Shopping Centers in Key U.S. Regions
Proven Successes in Wal-Mart Stores Signal Franchise Opportunities
HIGHLAND PARK, Ill. – Seva, the pioneer of the fast casual spa experience in the United States, announced today that it is advancing strategic franchise growth into its second phase. The company's planned progression into its new growth stage comes amid rapid expansion that is meeting extraordinary consumer demand. In just three short years of franchising, Seva has grown to 100 locations, and has another 20 currently in development.
"Our mantra is 'Beauty to the People,' and we believe that Seva's affordable, efficient spa services provided in a comforting, relaxed environment should be available to everyone," said Vas Maniatis, the founder and CEO of Seva who has been recognized for his series of entrepreneurial success. "Achieving the 100 location milestone is a goal we can feel proud about reaching in three years. Now, our focus is on the future of our brand—continuing to excel in operating locations that distinguish themselves from anything else in their markets. And, we're prepared to go from 100 to 500 or more locations in the next three years."
Seva's winning go-to-market strategy has created the momentum that is now propelling the brand. Under Maniatis' leadership, Seva has tripled its footprint every year, and now operates in more than 25 states. Key to this effort is the relationship Maniatis developed with Walmart. Presently, all Seva locations operate in retail hubs situated inside Walmart stores. Phase two of the concept's franchise growth brings the brand beyond the walls of the retail giant and into select shopping centers in attractive U.S. markets.
"The potential for Seva is limitless," noted Maniatis. "Our franchisees are consistently demonstrating a desire to achieve operational excellence. Since they believe so strongly in Seva and the brand standards, we have established remarkable loyalty with our customers."
Maniatis conceptualized Seva after accompanying his wife to get her eyebrows threaded. He liked the cultural roots of the practice, but felt the open kiosks in malls lacked the privacy and ambiance clientele deserved. Improving upon this model, Maniatis launched Simply Eyebrows in 2008, during the height of the Great Recession. The brand began opening exclusively in Walmart locations. Between 2009 and 2010, Maniatis sold the Simply Eyebrows model outside of Walmart, and converted those within the retailer to Seva, which is a Sanskrit word meaning "selfless service."
Customers who come to a Seva location can enjoy spa services that, in addition to threading, include waxing, eyelash extensions and facials, all at an affordable price and in a time-efficient manner. Seva offers its patrons treatments quickly, but without losing the privacy and ambiance of a traditional spa.
"This is an awakening for the spa service industry – the dawn of a new era," said Maniatis, who formerly was involved in the real estate industry. "Traditionally these services were only available in mall-type environments, or at high-end spas. We want to help people everywhere in America look and feel better about themselves."
Seva supports its new franchisees with initial training programs offered through its proprietary Seva University. Ongoing support is provided both in the field and through the brand's Seva Academy, which includes virtual training classes. The brand's proven business model has been cultivated to attract individuals and ownership teams seeking to invest in a robust growth industry. From first-time entrepreneurs to seasoned business owners and corporate professionals, Seva appeals to a wide investor audience. The franchise investment starts at $141,000, which includes the initial franchise fee.
About Seva
Seva offers spa services, including eyebrow threading, waxing, eyelash extensions and facials at an affordable price. Improving upon what is often a kiosk model in malls, shopping centers or large retailers, Seva offers clients treatments in a quick-service manner, without losing the feel of a traditional spa. Seva's mission is to reinforce the origins of its name – a Sanskrit word meaning "selfless service" – and hold true to its mantra "Beauty to the People." Since exclusively opening within Walmart stores in 2010, there are 100 Seva locations open in the United States and many in development in locations inside and outside of Walmart. For more information about Seva visit http://www.sevabeauty.com. For franchising inquiries and opportunities, visit http://www.sevabeautyfranchise.com