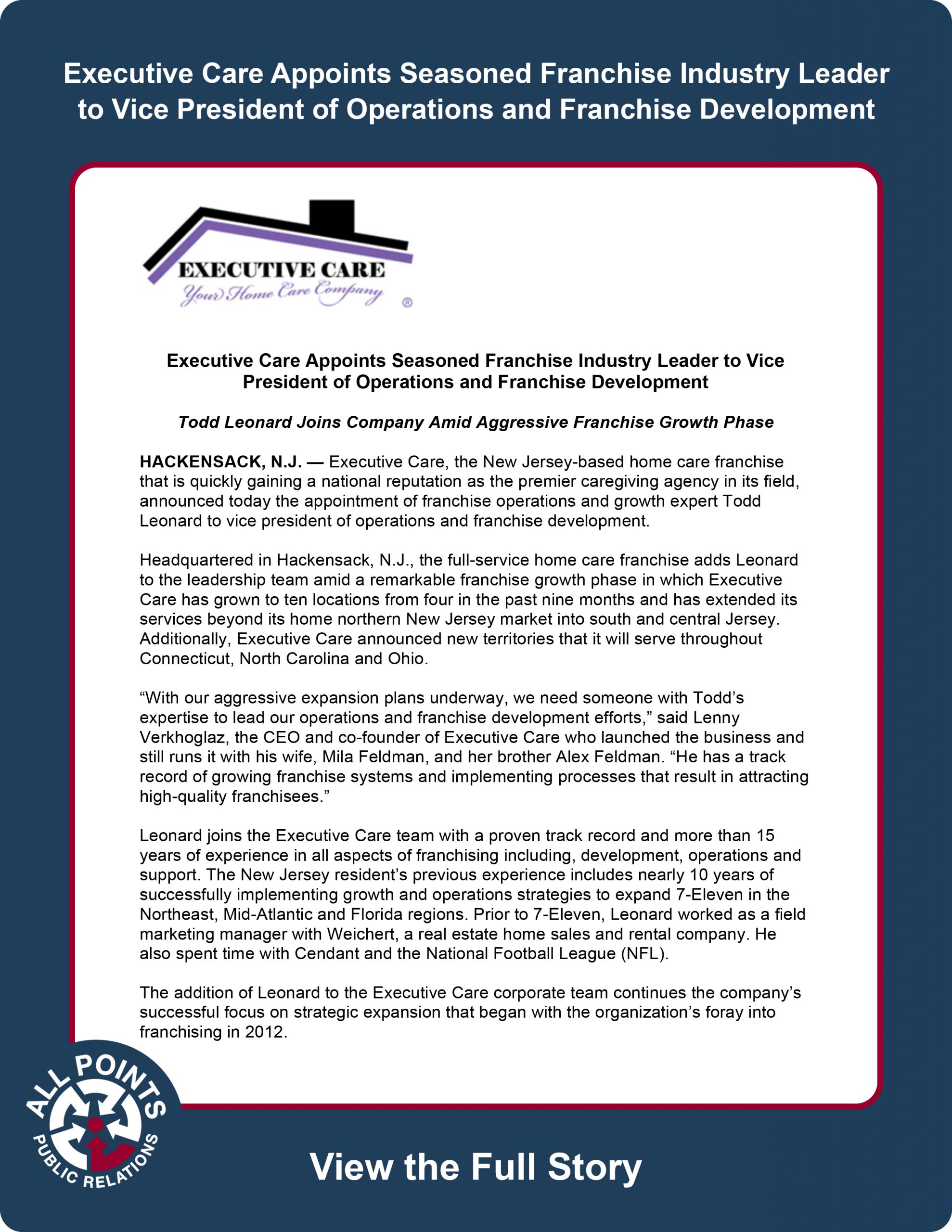 Executive Care Appoints Seasoned Franchise Industry Leader to Vice President of Operations and Franchise Development
Executive Care Appoints Seasoned Franchise Industry Leader to Vice President of Operations and Franchise Development
Todd Leonard Joins Company Amid Aggressive Franchise Growth Phase
HACKENSACK, N.J. — Executive Care, the New Jersey-based home care franchise that is quickly gaining a national reputation as the premier caregiving agency in its field, announced today the appointment of franchise operations and growth expert Todd Leonard to vice president of operations and franchise development.
Headquartered in Hackensack, N.J., the full-service home care franchise adds Leonard to the leadership team amid a remarkable franchise growth phase in which Executive Care has grown to ten locations from four in the past nine months and has extended its services beyond its home northern New Jersey market into south and central Jersey. Additionally, Executive Care announced new territories that it will serve throughout Connecticut, North Carolina and Ohio.
"With our aggressive expansion plans underway, we need someone with Todd's expertise to lead our operations and franchise development efforts," said Lenny Verkhoglaz, the CEO and co-founder of Executive Care who launched the business and still runs it with his wife, Mila Feldman, and her brother Alex Feldman. "He has a track record of growing franchise systems and implementing processes that result in attracting high-quality franchisees."
Leonard joins the Executive Care team with a proven track record and more than 15 years of experience in all aspects of franchising including, development, operations and support. The New Jersey resident's previous experience includes nearly 10 years of successfully implementing growth and operations strategies to expand 7-Eleven in the Northeast, Mid-Atlantic and Florida regions. Prior to 7-Eleven, Leonard worked as a field marketing manager with Weichert, a real estate home sales and rental company. He also spent time with Cendant and the National Football League (NFL).
The addition of Leonard to the Executive Care corporate team continues the company's successful focus on strategic expansion that began with the organization's foray into franchising in 2012.
"Much of my entire career has revolved around franchising and I couldn't be more energized about this opportunity with Executive Care," said Leonard, who recently earned the distinction of Certified Franchise Executive (CFE). "At a time when home care is expanding so quickly, and the competition for clients and franchisees is fierce, Executive Care has clear differentiators that make it a concept to be excited about now and into the future."
Leonard graduated from the University of Massachusetts with a Bachelor of Science degree and he earned his Certificate in Franchise Management from Georgetown University.
Amid a sluggish economy, Executive Care has been booming during the last few years, consistently growing by 15 to 20 percent annually. The company considers its franchising opportunity to be an outgrowth of the success it has achieved in the last 10 years. Additionally, Executive Care's low start-up cost of $69,100, which includes the franchise fee, makes it an attractive business for entrepreneurs seeking to join one of America's most attractive sectors.
Executive Care offers a variety of caregiving and skilled nursing services to help families often overwhelmed with the responsibility of providing care to a loved one — all while ensuring the patient remains in the comfort of his or her own home. In a crowded sector, the company has built a strong reputation from the ground up.
About Executive Care
Executive Care, based in Hackensack, N.J., delivers a comprehensive selection of home care services tailored to the every need of its customers. From companionship and personal care to 24/7 live-in care and skilled nursing, Executive Care ensures customers receive safe, reliable and certified in-home medical and personal services. At the heart of Executive Care is the relationship forged between caregivers, customers and families. The company has announced plans to grow, offering an attractive franchise opportunity in the fast-growing home care sector. To learn more about Executive Care's services, visit ExecutiveHomeCare.com. For more information on the Executive Care franchise opportunity, visit http://franchise.executivehomecare.com, email Todd Leonard, vice president of operations and franchise development for Executive Care, at todd@executivehomecare.com or call (855) 393-2372.