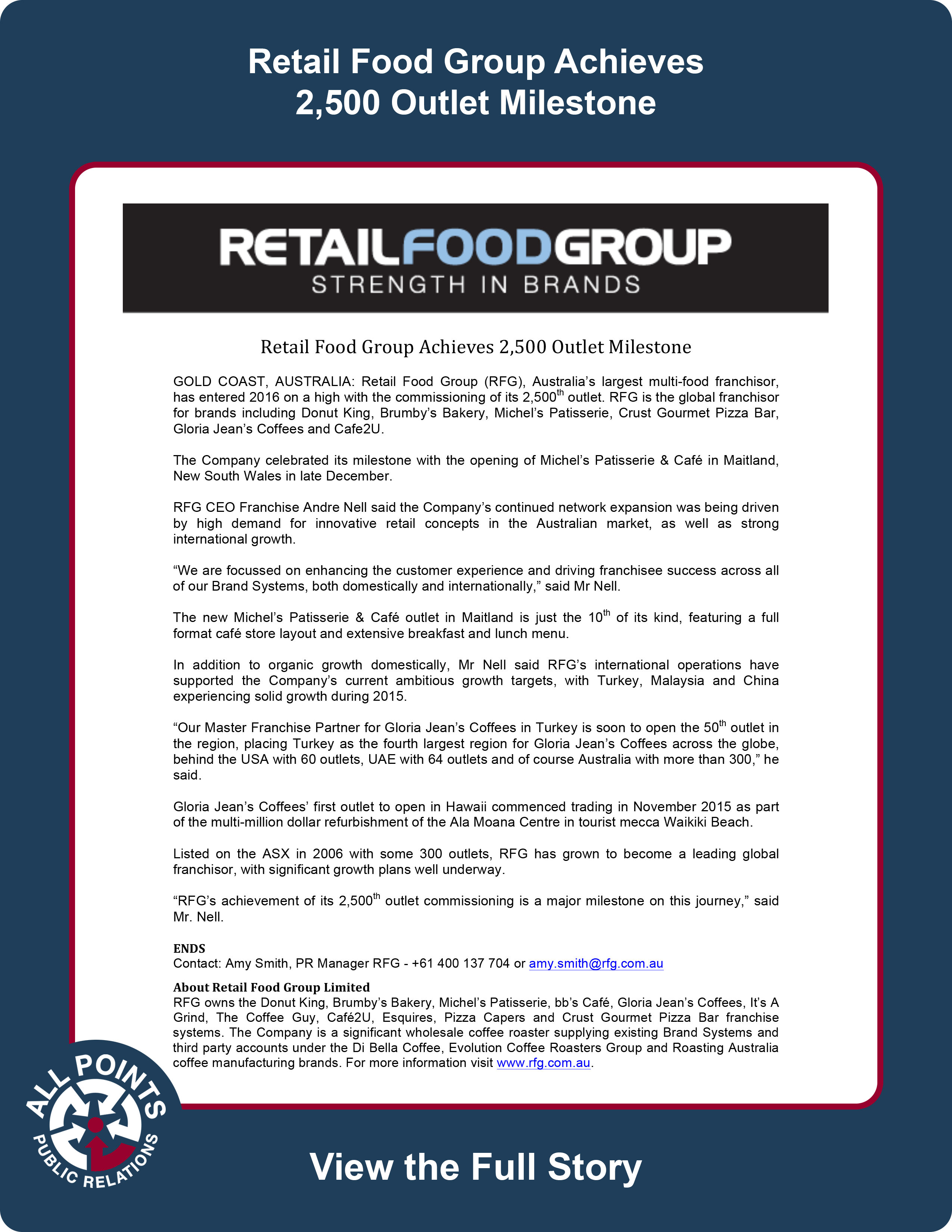 Retail Food Group Achieves 2,500 Outlet Milestone
Retail Food Group Achieves 2,500 Outlet Milestone
GOLD COAST, AUSTRALIA: Retail Food Group (RFG), Australia's largest multi-food franchisor, has entered 2016 on a high with the commissioning of its 2,500th outlet. RFG is the global franchisor for brands including Donut King, Brumby's Bakery, Michel's Patisserie, Crust Gourmet Pizza Bar, Gloria Jean's Coffees and Cafe2U.
The Company celebrated its milestone with the opening of Michel's Patisserie & Café in Maitland, New South Wales in late December.
RFG CEO Franchise Andre Nell said the Company's continued network expansion was being driven by high demand for innovative retail concepts in the Australian market, as well as strong international growth.
"We are focussed on enhancing the customer experience and driving franchisee success across all of our Brand Systems, both domestically and internationally," said Mr Nell.
The new Michel's Patisserie & Café outlet in Maitland is just the 10th of its kind, featuring a full format café store layout and extensive breakfast and lunch menu.
In addition to organic growth domestically, Mr Nell said RFG's international operations have supported the Company's current ambitious growth targets, with Turkey, Malaysia and China experiencing solid growth during 2015.
"Our Master Franchise Partner for Gloria Jean's Coffees in Turkey is soon to open the 50th outlet in the region, placing Turkey as the fourth largest region for Gloria Jean's Coffees across the globe, behind the USA with 60 outlets, UAE with 64 outlets and of course Australia with more than 300," he said.
Gloria Jean's Coffees' first outlet to open in Hawaii commenced trading in November 2015 as part of the multi-million dollar refurbishment of the Ala Moana Centre in tourist mecca Waikiki Beach.
Listed on the ASX in 2006 with some 300 outlets, RFG has grown to become a leading global franchisor, with significant growth plans well underway.
"RFG's achievement of its 2,500th outlet commissioning is a major milestone on this journey," said Mr. Nell.
Contact: Amy Smith, PR Manager RFG – +61 400 137 704 or amy.smith@rfg.com.au
About Retail Food Group Limited
RFG owns the Donut King, Brumby's Bakery, Michel's Patisserie, bb's Café, Gloria Jean's Coffees, It's A Grind, The Coffee Guy, Café2U, Esquires, Pizza Capers and Crust Gourmet Pizza Bar franchise systems. The Company is a significant wholesale coffee roaster supplying existing Brand Systems and third party accounts under the Di Bella Coffee, Evolution Coffee Roasters Group and Roasting Australia coffee manufacturing brands. For more information visit www.rfg.com.au.