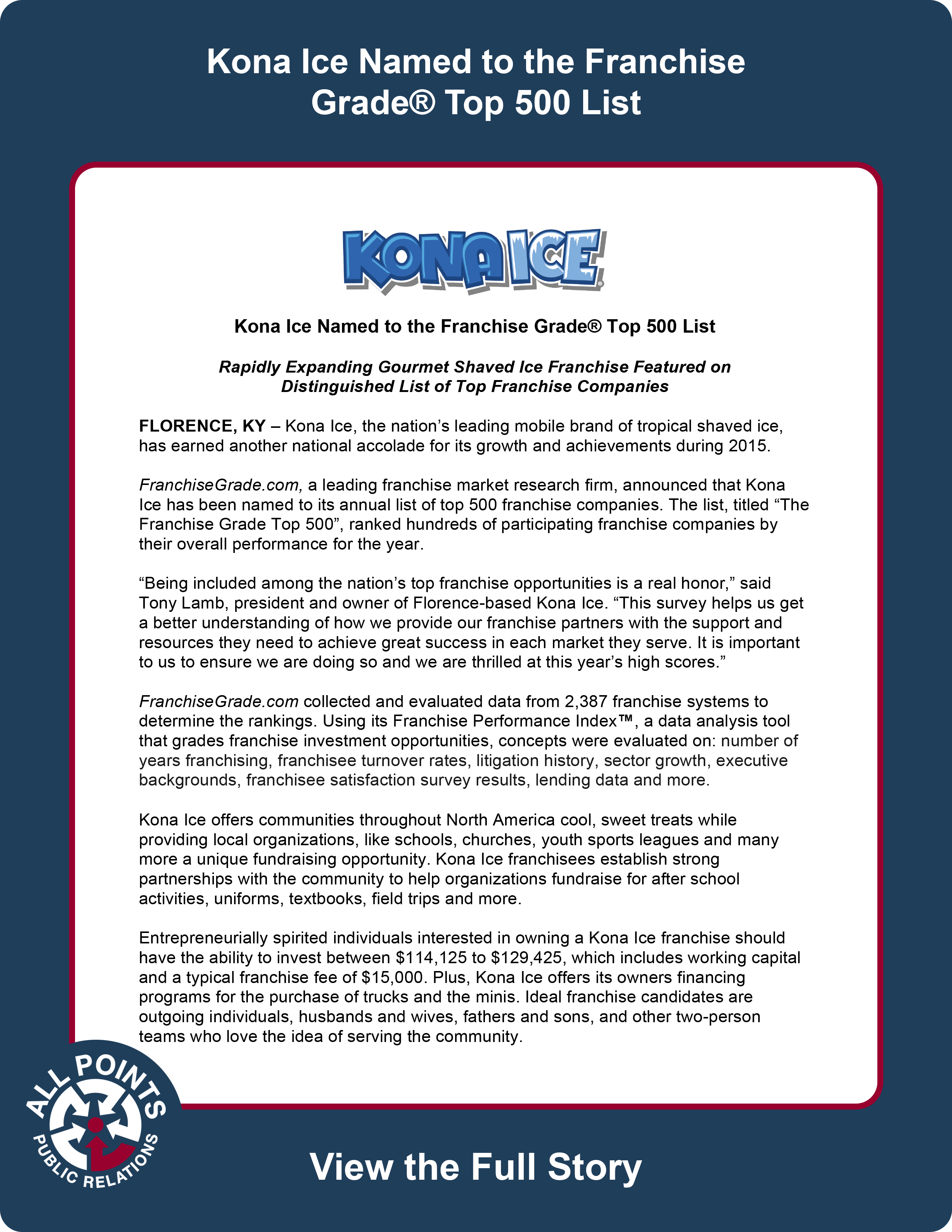 Kona Ice Named to the Franchise Grade® Top 500 List
Kona Ice Named to the Franchise Grade® Top 500 List
Rapidly Expanding Gourmet Shaved Ice Franchise Featured on Distinguished List of Top Franchise Companies
FLORENCE, KY – Kona Ice, the nation's leading mobile brand of tropical shaved ice, has earned another national accolade for its growth and achievements during 2015.
FranchiseGrade.com, a leading franchise market research firm, announced that Kona Ice has been named to its annual list of top 500 franchise companies. The list, titled "The Franchise Grade Top 500", ranked hundreds of participating franchise companies by their overall performance for the year.
"Being included among the nation's top franchise opportunities is a real honor," said Tony Lamb, president and owner of Florence-based Kona Ice. "This survey helps us get a better understanding of how we provide our franchise partners with the support and resources they need to achieve great success in each market they serve. It is important to us to ensure we are doing so and we are thrilled at this year's high scores."
FranchiseGrade.com collected and evaluated data from 2,387 franchise systems to determine the rankings. Using its Franchise Performance Index™, a data analysis tool that grades franchise investment opportunities, concepts were evaluated on: number of years franchising, franchisee turnover rates, litigation history, sector growth, executive backgrounds, franchisee satisfaction survey results, lending data and more.
Kona Ice offers communities throughout North America cool, sweet treats while providing local organizations, like schools, churches, youth sports leagues and many more a unique fundraising opportunity. Kona Ice franchisees establish strong partnerships with the community to help organizations fundraise for after school activities, uniforms, textbooks, field trips and more.
Entrepreneurially spirited individuals interested in owning a Kona Ice franchise should have the ability to invest between $114,125 to $129,425, which includes working capital and a typical franchise fee of $15,000. Plus, Kona Ice offers its owners financing programs for the purchase of trucks and the minis. Ideal franchise candidates are outgoing individuals, husbands and wives, fathers and sons, and other two-person teams who love the idea of serving the community.
To learn more about Kona Ice, visit: www.kona-ice.com.
For more information about available franchise opportunities, visit: www.ownakona.com.
About Kona Ice
A true community ally renowned for facilitating endless fundraising options, Kona Ice has given more than $28 million dollars back to neighborhood schools, organizations and teams since its inception in 2007. The brand's iconic truck offers customers a one-of-a-kind experience, featuring the opportunity to create their own Kona Ice on the self-serve Flavorwave™, while enjoying the soothing sights and sounds from the tropics. Currently, there are 600-plus franchise units in more than 45 states. For more information about booking Kona Ice for a fundraiser or event, visit www.kona-ice.com. To learn more about available franchise opportunities, visit www.ownakona.com or call (800) KONAICE. 
About FranchiseGrade.com
FranchiseGrade.com is the leader in competitive market research and objective analysis for the franchising industry. Its franchise assessment, grading and standardized reporting tools provide industry stakeholders with critical data driven metrics to support the growth of successful franchise systems. FranchiseGrade.com works to raise the bar for market research in the franchise industry to build a stronger franchise opportunity.
For more information about FranchiseGrade.com, visit: http://www.franchisegrade.com