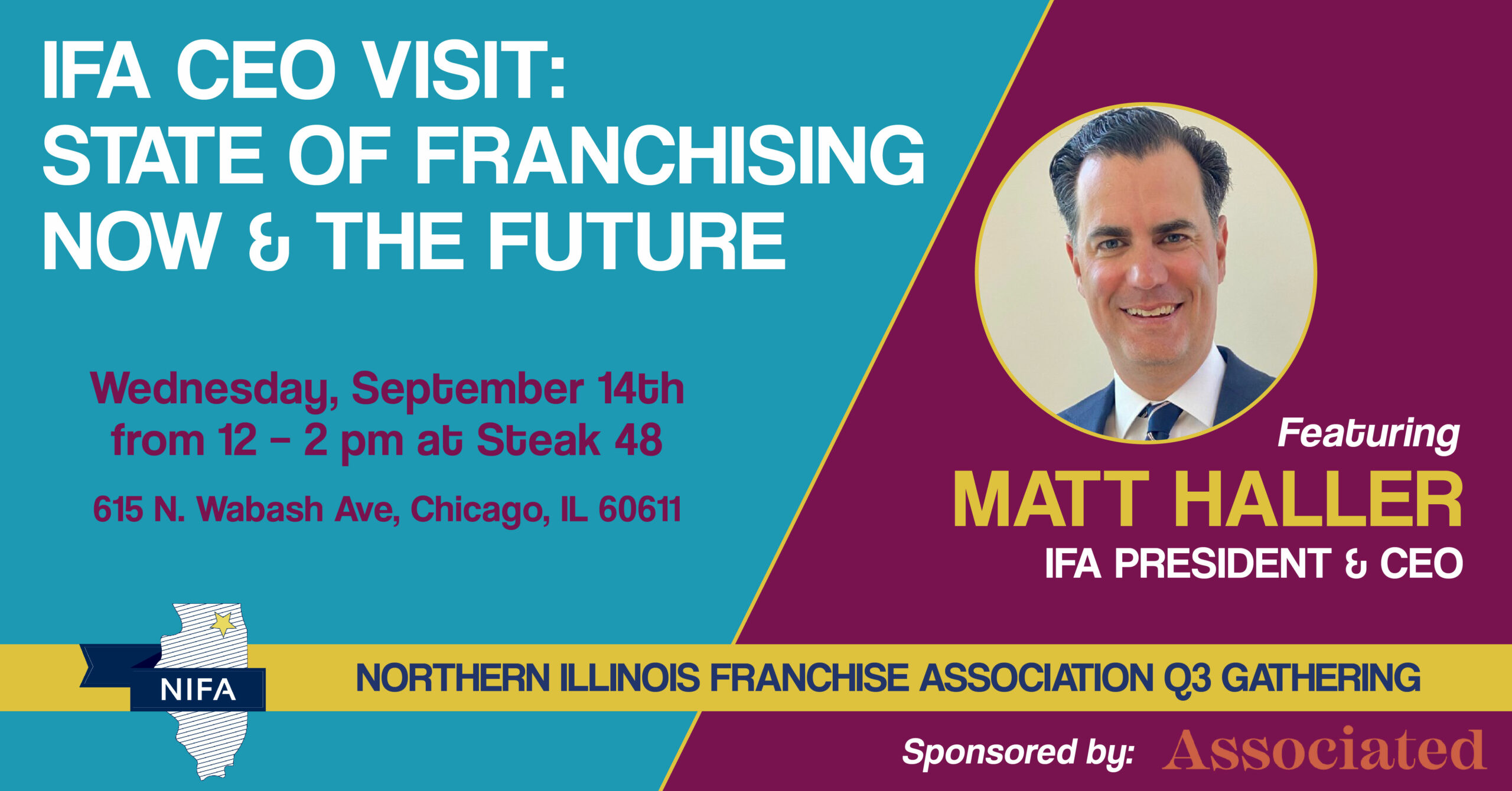 NIFA Q3 Recap: State of Franchising Now & The Future
We welcomed back in-person events with the Northern Illinois Franchise Association (NIFA) Q3 gathering, International Franchise Association President and CEO Matt Haller led an informative presentation on the state of franchising and what the FAST Act means for the industry.
California's FAST Act: What does it mean for franchising?
In the world of franchising, there's a new act generating some buzz. California recently signed the Fast-Food Accountability and Standards Recovery Act, known by many as the FAST Act, which centers on setting industry standards for fast-food restaurant workers including wages, hours and working conditions.
How does the FAST Act Impact the franchise industry?
During his presentation, Matt discussed how this act unfairly singles out the fast-food industry and would saddle operations with high labor costs. The legislation establishes a ten-member council so set specific guidelines, such as raising the minimum wage to $24 an hour.
Matt also stressed the need for education as many do not realize that large corporations like Jack in the Box, Burger King and Yum Brands (who operates the brands KFC, Pizza Hut, Taco Bell, and The Habit Burger Grill) are often owned by those local to the community, not by corporate themselves. Laws like the FAST Act could become norm for states nationwide, and it's important to discuss the costs and implications the guidelines have on franchise owners.
Combatting the Labor Shortage
 Another major concern for many franchise operators is hiring and retaining labor. During the fireside chat portion of NIFA, Barbara Moran, CEO at Moran Family of Brands, and Matthew Patinkin, IFA Board member and former multi-unit franchise owner, noted that current employees are the best advertising for hiring.
If you create a positive work environment with good pay, benefits and room for advancement, they'll refer others to work for you. Word-of-mouth marketing is a powerful tool to reach new audiences and build a positive brand reputation.
Upcoming Events
As we enter the fall conference season, there are many upcoming franchise conferences and opportunities to get involved in the IFA and network with other industry professionals. NIFA plans to meet up for a happy hour next month at the Franchise Leadership & Development Conference in Atlanta.
We'd also like to extend a huge thank you to our presenter Matt Haller, fireside chat participants Barbara Moran and Matthew Patinkin and our sponsor, Associated, for making this event possible.
If you didn't get a chance to attend or would like to view the discussion, click here to download Matt's presentation.
To further foster these connections and share best practices, we encourage anyone who would like to stay connected to check out our NIFA LinkedIn group.
Looking ahead, we are planning wonderful events for Q4 and 2023. We encourage anyone with topic ideas and sponsorship questions for future events to reach out to Lauren Izaks directly by clicking here.
Visit www.northernilfranchise.org for more information about the organization.