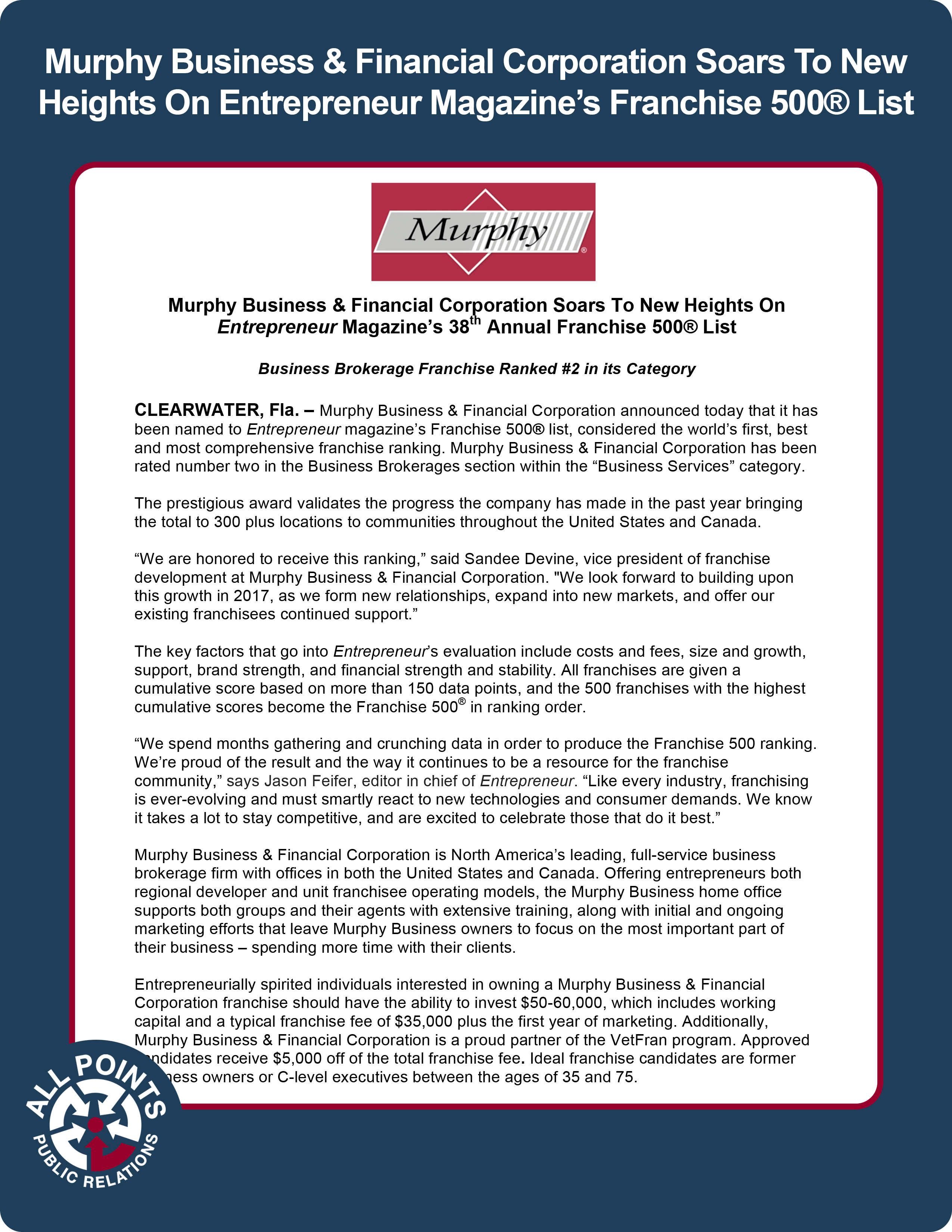 Murphy Business & Financial Corporation Soars To New Heights On Entrepreneur Magazine's 38th Annual Franchise 500® List
Murphy Business & Financial Corporation Soars To New Heights On Entrepreneur Magazine's 38th Annual Franchise 500® List 
Business Brokerage Franchise Ranked #2 in its Category
CLEARWATER, Fla. – Murphy Business & Financial Corporation announced today that it has been named to Entrepreneur magazine's Franchise 500® list, considered the world's first, best and most comprehensive franchise ranking. Murphy Business & Financial Corporation has been rated number two in the Business Brokerages section within the "Business Services" category.
The prestigious award validates the progress the company has made in the past year bringing the total to 300 plus locations to communities throughout the United States and Canada.
"We are honored to receive this ranking," said Sandee Devine, vice president of franchise development at Murphy Business & Financial Corporation. "We look forward to building upon this growth in 2017, as we form new relationships, expand into new markets, and offer our existing franchisees continued support."
The key factors that go into Entrepreneur's evaluation include costs and fees, size and growth, support, brand strength, and financial strength and stability. All franchises are given a cumulative score based on more than 150 data points, and the 500 franchises with the highest cumulative scores become the Franchise 500® in ranking order.
"We spend months gathering and crunching data in order to produce the Franchise 500 ranking. We're proud of the result and the way it continues to be a resource for the franchise community," says Jason Feifer, editor in chief of Entrepreneur. "Like every industry, franchising is ever-evolving and must smartly react to new technologies and consumer demands. We know it takes a lot to stay competitive, and are excited to celebrate those that do it best."
Murphy Business & Financial Corporation is North America's leading, full-service business brokerage firm with offices in both the United States and Canada. Offering entrepreneurs both regional developer and unit franchisee operating models, the Murphy Business home office supports both groups and their agents with extensive training, along with initial and ongoing marketing efforts that leave Murphy Business owners to focus on the most important part of their business – spending more time with their clients.
Entrepreneurially spirited individuals interested in owning a Murphy Business & Financial Corporation franchise should have the ability to invest $50-60,000, which includes working capital and a typical franchise fee of $35,000 plus the first year of marketing. Additionally, Murphy Business & Financial Corporation is a proud partner of the VetFran program. Approved candidates receive $5,000 off of the total franchise fee. Ideal franchise candidates are former business owners or C-level executives between the ages of 35 and 75.
"In order to reflect the evolving business world at large, we at Entrepreneur continue to evolve our annual ranking, too," says Ryan Shea, president of Entrepreneur. "We've developed new ways to measure and analyze our collected data as new critical data points come into play. We take into account pertinent factors such as social media presence and financing availability, which have become increasingly important in today's economy. The result is a more complete and relevant Franchise 500® that can serve as a valuable resource for our readers."
To view Murphy Business & Financial Corporation in the full ranking, visit www.entrepreneur.com/franchise500.
For more information about Murphy Business & Financial Corporation and available franchise opportunities, please visit: www.murphyfranchise.com.
About Murphy Business & Financial Corporation LLC
Clearwater, Florida-based Murphy Business & Financial Corporation LLC is a full-service business brokerage firm facilitating business sales, purchases, consulting, valuations, mergers and acquisitions. Closing deals at a higher ratio than the business brokerage industry average, several accolades have been bestowed upon the company including being recognized as one of Franchise Business Review 's Top 50 Franchisee Satisfaction Award Winners for nine consecutive years.
About Entrepreneur Media Inc.
For nearly 40 years, Entrepreneur Media Inc. has been serving the entrepreneurial community providing comprehensive coverage of business and personal success through original content and events. Entrepreneur magazine, Entrepreneur.com, and publishing imprint Entrepreneur Press provide solutions, information, inspiration and education read by millions of entrepreneurs and small business owners worldwide.
To learn more, visit entrepreneur.com.