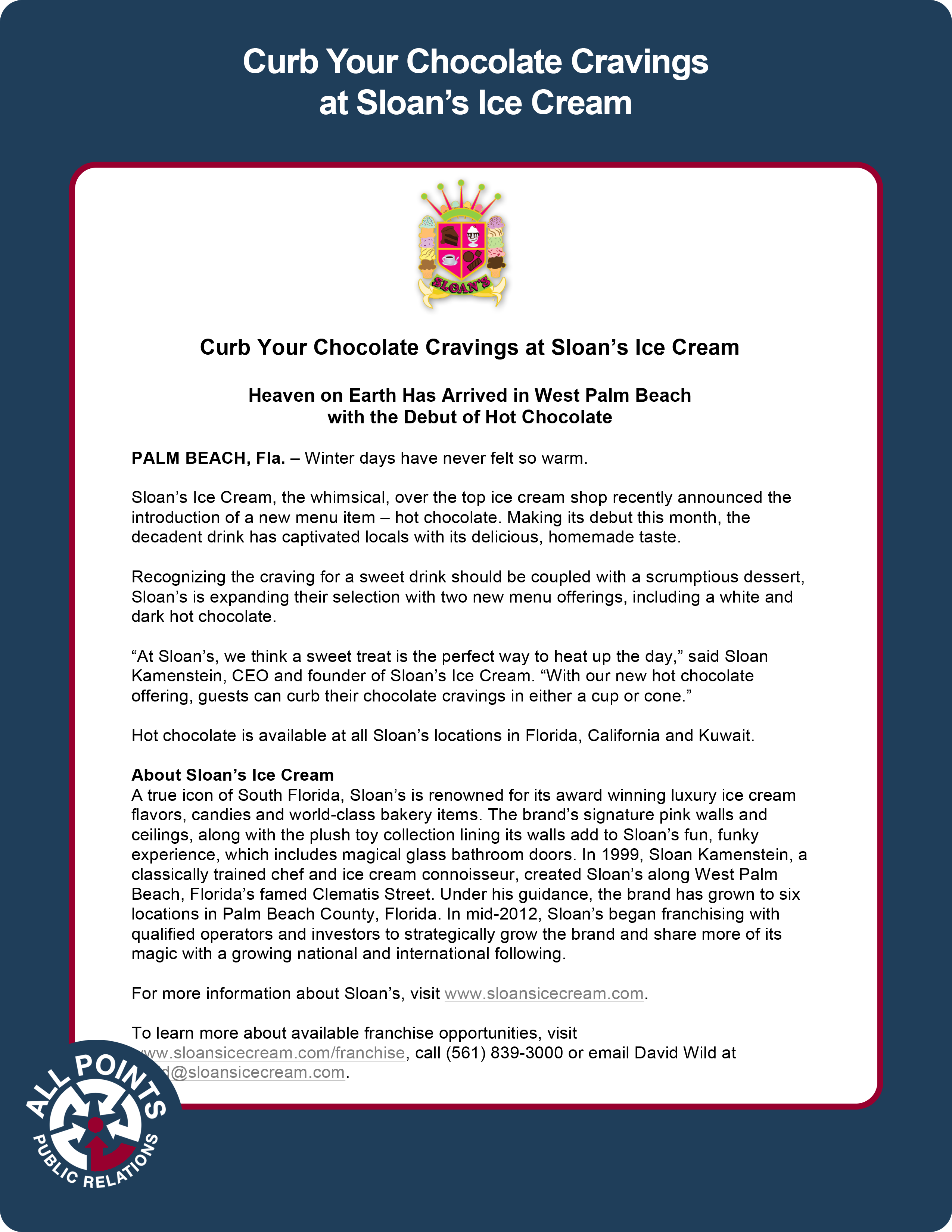 Curb Your Chocolate Cravings at Sloan's Ice Cream
Curb Your Chocolate Cravings at Sloan's Ice Cream
Heaven on Earth Has Arrived in West Palm Beach with the Debut of Hot Chocolate
PALM BEACH, Fla. – Winter days have never felt so warm.
Sloan's Ice Cream, the whimsical, over the top ice cream shop recently announced the introduction of a new menu item – hot chocolate. Making its debut this month, the decadent drink has captivated locals with its delicious, homemade taste.
Recognizing the craving for a sweet drink should be coupled with a scrumptious dessert, Sloan's is expanding their selection with two new menu offerings, including a white and dark hot chocolate.
"At Sloan's, we think a sweet treat is the perfect way to heat up the day," said Sloan Kamenstein, CEO and founder of Sloan's Ice Cream. "With our new hot chocolate offering, guests can curb their chocolate cravings in either a cup or cone."
Hot chocolate is available at all Sloan's locations in Florida, California and Kuwait.
About Sloan's Ice Cream
A true icon of South Florida, Sloan's is renowned for its award winning luxury ice cream flavors, candies and world-class bakery items. The brand's signature pink walls and ceilings, along with the plush toy collection lining its walls add to Sloan's fun, funky experience, which includes magical glass bathroom doors. In 1999, Sloan Kamenstein, a classically trained chef and ice cream connoisseur, created Sloan's along West Palm Beach, Florida's famed Clematis Street. Under his guidance, the brand has grown to six locations in Palm Beach County, Florida. In mid-2012, Sloan's began franchising with qualified operators and investors to strategically grow the brand and share more of its magic with a growing national and international following.
For more information about Sloan's, visit www.sloansicecream.com.
To learn more about available franchise opportunities, visit www.sloansicecream.com/franchise, call (561) 839-3000 or email David Wild at dwild@sloansicecream.com.