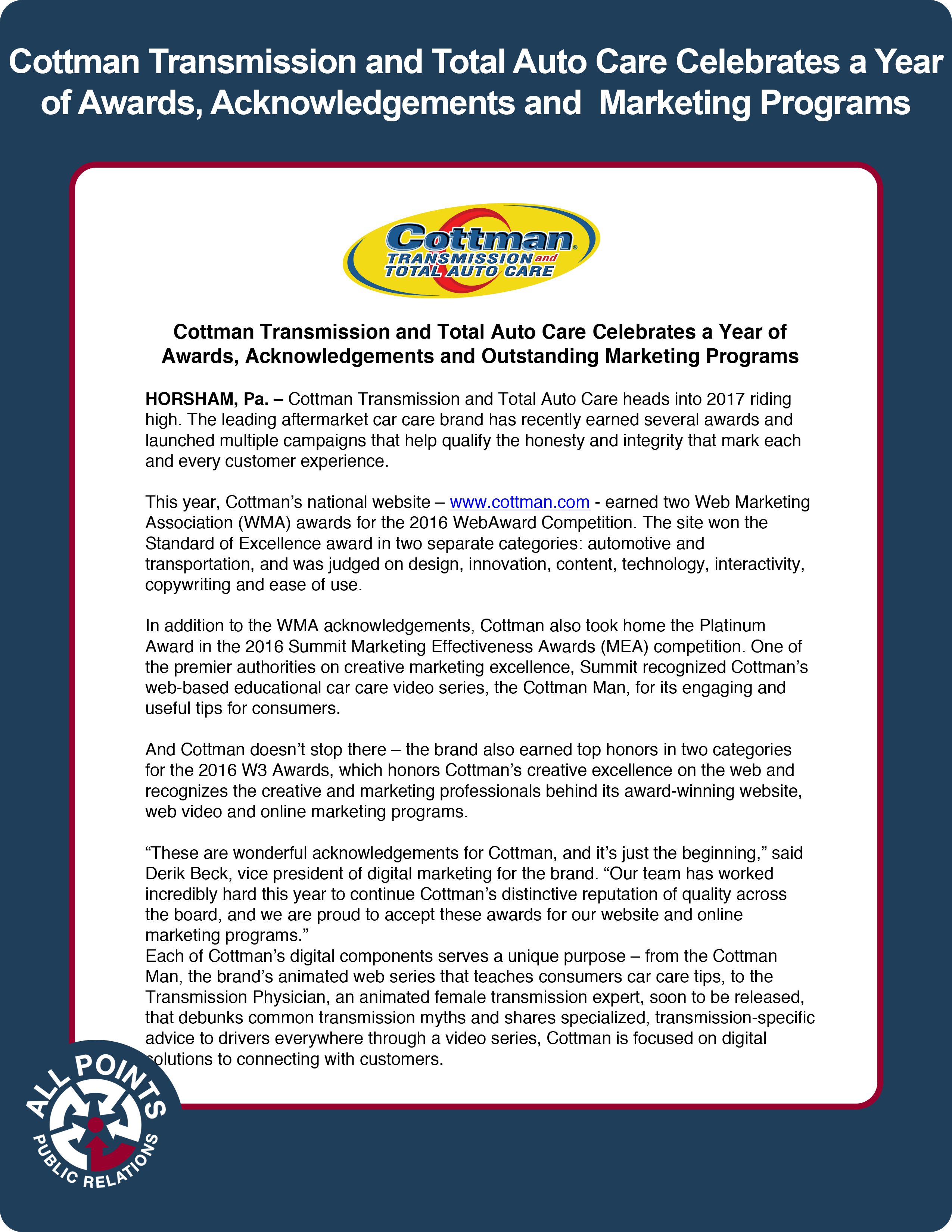 Cottman Transmission and Total Auto Care Celebrates a Year of Awards, Acknowledgements and Outstanding Marketing Programs
Cottman Transmission and Total Auto Care Celebrates a Year of Awards, Acknowledgements and Outstanding Marketing Programs
HORSHAM, Pa. – Cottman Transmission and Total Auto Care heads into 2017 riding high. The leading aftermarket car care brand has recently earned several awards and launched multiple campaigns that help qualify the honesty and integrity that mark each and every customer experience.
This year, Cottman's national website – www.cottman.com – earned two Web Marketing Association (WMA) awards for the 2016 WebAward Competition. The site won the Standard of Excellence award in two separate categories: automotive and transportation, and was judged on design, innovation, content, technology, interactivity, copywriting and ease of use.
In addition to the WMA acknowledgements, Cottman also took home the Platinum Award in the 2016 Summit Marketing Effectiveness Awards (MEA) competition. One of the premier authorities on creative marketing excellence, Summit recognized Cottman's web-based educational car care video series, the Cottman Man, for its engaging and useful tips for consumers.
And Cottman doesn't stop there – the brand also earned top honors in two categories for the 2016 W3 Awards, which honors Cottman's creative excellence on the web and recognizes the creative and marketing professionals behind its award-winning website, web video and online marketing programs.
"These are wonderful acknowledgements for Cottman, and it's just the beginning," said Derik Beck, vice president of digital marketing for the brand. "Our team has worked incredibly hard this year to continue Cottman's distinctive reputation of quality across the board, and we are proud to accept these awards for our website and online marketing programs."
Each of Cottman's digital components serves a unique purpose – from the Cottman Man, the brand's animated web series that teaches consumers car care tips, to the Transmission Physician, an animated female transmission expert, soon to be released, that debunks common transmission myths and shares specialized, transmission-specific advice to drivers everywhere through a video series, Cottman is focused on digital solutions to connecting with customers.
To view the Transmission Physician and Cottman man Video Series, visit www.cottman.com/videos/. And, to learn more about Cottman Transmission and Total Auto Care, please visit www.cottman.com.
About Cottman Transmission and Total Auto Care
With locations across the U.S., Cottman Transmission and Total Auto Care is a transmission and auto repair brand that services almost any make or model vehicle, foreign or domestic.  Cottman Transmission and Total Auto Care centers specialize in complete transmission service, brakes, suspension, air conditioning service and much more. Cottman's headquarters is based in Horsham, Pennsylvania.  For more information, please visit www.Cottman.com and www.TheCottmanManBlog.com.