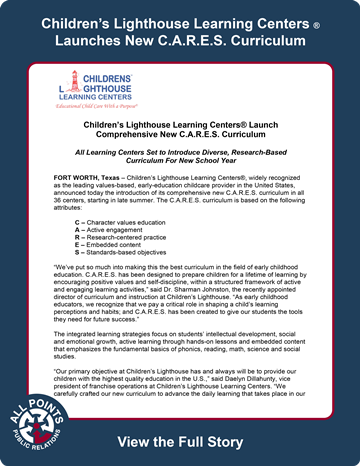 Children's Lighthouse Learning Centers Launch Comprehensive New C.A.R.E.S. Curriculum

Children's Lighthouse Learning Centers® Launch Comprehensive New C.A.R.E.S. Curriculum
 All Learning Centers Set to Introduce Diverse, Research-Based Curriculum For New School Year
 FORT WORTH, Texas – Children's Lighthouse Learning Centers®, widely recognized as the leading values-based, early-education childcare provider in the United States, announced today the introduction of its comprehensive new C.A.R.E.S. curriculum in all 36 centers, starting in late summer. The C.A.R.E.S. curriculum is based on the following attributes:
C – Character values education
A – Active engagement
R – Research-centered practice
E – Embedded content
S – Standards-based objectives
"We've put so much into making this the best curriculum in the field of early childhood education. C.A.R.E.S. has been designed to prepare children for a lifetime of learning by encouraging positive values and self-discipline, within a structured framework of active and engaging learning activities," said Dr. Sharman Johnston, the recently appointed director of curriculum and instruction at Children's Lighthouse. "As early childhood educators, we recognize that we pay a critical role in shaping a child's learning perceptions and habits; and C.A.R.E.S. has been created to give our students the tools they need for future success."
The integrated learning strategies focus on students' intellectual development, social and emotional growth, active learning through hands-on lessons and embedded content that emphasizes the fundamental basics of phonics, reading, math, science and social studies.
"Our primary objective at Children's Lighthouse has and always will be to provide our children with the highest quality education in the U.S.," said Daelyn Dillahunty, vice president of franchise operations at Children's Lighthouse Learning Centers. "We carefully crafted our new curriculum to advance the daily learning that takes place in our centers, and we will continue to develop new programs that inspire students to pursue their potential."
Among the resources used to develop the C.A.R.E.S curriculum, Children's Lighthouse looked to neuro-science research findings to incorporate brain-based teaching strategies through the use of music, movement and artistic expression. Additionally, activities have been designed to promote the development of higher-order thinking skills, such as categorizing, analyzing and creating.
The curriculum is also designed to meet the Common Core State Standards, California Preschool Learning Foundations, Illinois Early Learning and Development Standards, North Carolina Standard Course of Study, Florida Early Learning and Developmental Standards, Kansas Early Learning Standards, New Jersey State Standards for Kindergarten and the Texas Essential Knowledge and Skills standards.
"We're proud to offer parents a choice in childcare that's cutting edge in its curriculum and facilities," said Pat Brown, CEO and co-founder of Children's Lighthouse.
Children's Lighthouse Learning Centers provide a safe and secure environment that give parents peace of mind, including online video links to rooms, computerized building entry, security monitoring, and transportation to and from area elementary schools.
Launched 19 years ago, Children's Lighthouse offers entrepreneurs with the opportunity to open in attractive metropolitan areas. Ownership of a Children's Lighthouse franchise includes a full suite of support services, including site selection, financing guidance, construction administration and grand opening marketing best practices. Children's Lighthouse also provides ongoing training and support, led by an experienced team of childcare veterans, providing the franchise owner invaluable insight and leadership for the life of the franchise.
About Children's Lighthouse
Established in Ft. Worth, Texas in 1995, Children's Lighthouse Learning Centers® is the leading values-based educational childcare system in the United States. The company has approximately 250 employees at its company headquarters and eight company-owned centers. Currently, Children's Lighthouse has 37 centers in operation and 20 additional franchise locations in the pipeline. Children's Lighthouse has been named one of the "Best Places to Work" by the Dallas Business Journal,and has received the "Franchise 500" designation by Entrepreneur magazine due to its stability, financial strength, and growth. For more information about Children's Lighthouse Learning Centers®, visit www.childrenslighthouse.com. To learn more about available franchise opportunities, visit www.childrenslighthousefranchise.com or contact Stephen Dixon at sdixon@childrenslighthouse.com, (888) 338-4466 x1.