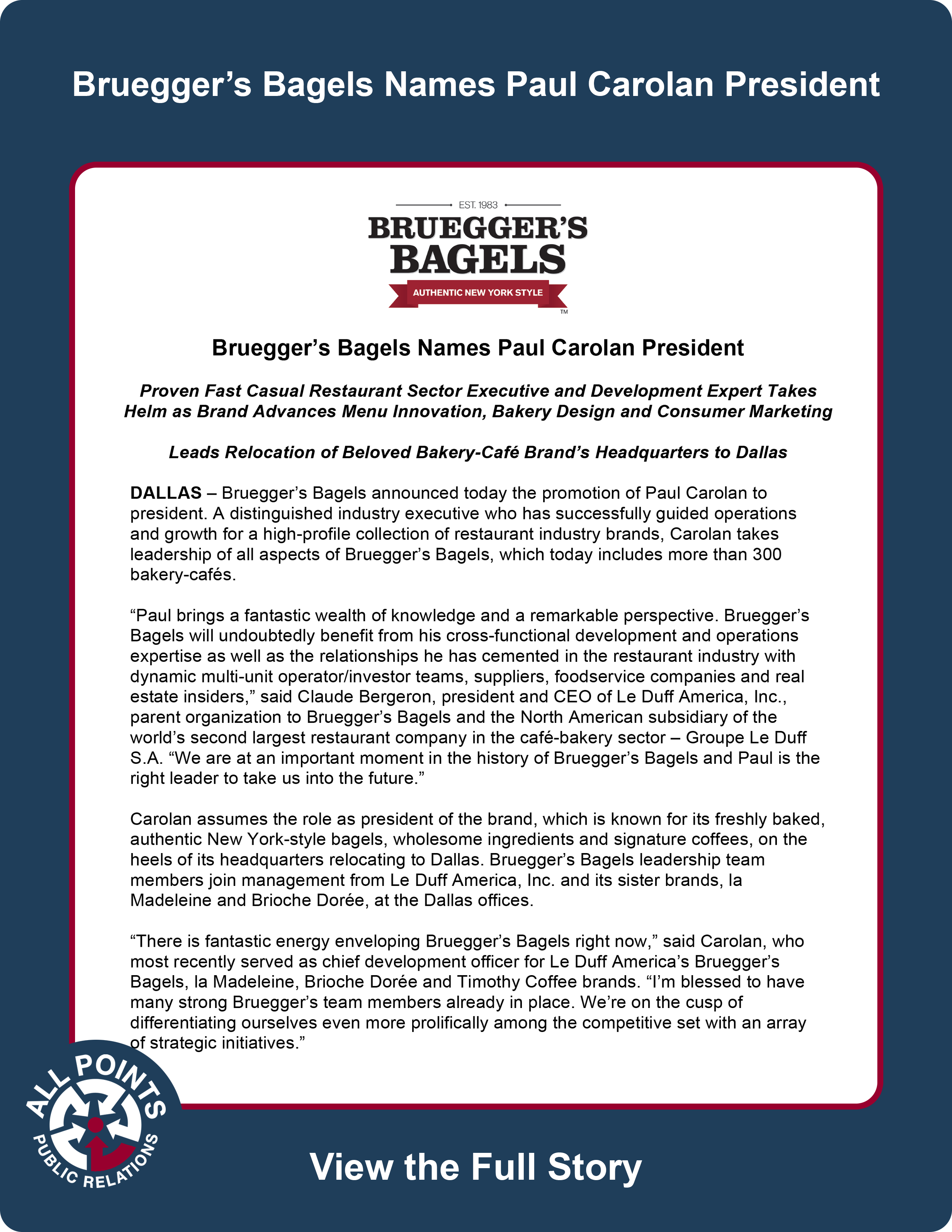 Bruegger's Bagels Names Paul Carolan President
Bruegger's Bagels Names Paul Carolan President
Proven Fast Casual Restaurant Sector Executive and Development Expert Takes Helm as Brand Advances Menu Innovation, Bakery Design and Consumer Marketing Leads Relocation of Beloved Bakery-Café Brand's Headquarters to Dallas
DALLAS – Bruegger's Bagels announced today the promotion of Paul Carolan to president. A distinguished industry executive who has successfully guided operations and growth for a high-profile collection of restaurant industry brands, Carolan takes leadership of all aspects of Bruegger's Bagels, which today includes more than 300 bakery-cafés.
"Paul brings a fantastic wealth of knowledge and a remarkable perspective. Bruegger's Bagels will undoubtedly benefit from his cross-functional development and operations expertise as well as the relationships he has cemented in the restaurant industry with dynamic multi-unit operator/investor teams, suppliers, foodservice companies and real estate insiders," said Claude Bergeron, president and CEO of Le Duff America, Inc., parent organization to Bruegger's Bagels and the North American subsidiary of the world's second largest restaurant company in the café-bakery sector – Groupe Le Duff S.A. "We are at an important moment in the history of Bruegger's Bagels and Paul is the right leader to take us into the future."
Carolan assumes the role as president of the brand, which is known for its freshly baked, authentic New York-style bagels, wholesome ingredients and signature coffees, on the heels of its headquarters relocating to Dallas. Bruegger's Bagels leadership team members join management from Le Duff America, Inc. and its sister brands, la Madeleine and Brioche Dorée, at the Dallas offices.
"There is fantastic energy enveloping Bruegger's Bagels right now," said Carolan, who most recently served as chief development officer for Le Duff America's Bruegger's Bagels, la Madeleine, Brioche Dorée and Timothy Coffee brands. "I'm blessed to have many strong Bruegger's team members already in place. We're on the cusp of differentiating ourselves even more prolifically among the competitive set with an array of strategic initiatives."
Under Carolan's leadership, a trio of key initiatives is underway, including:
New artisan menu items
A refreshed bakery-café design prototype focused on enhancements that reinforce Millennial loyalty
Amplified digital marketing, including an interactive series of videos with emphasis on engaging content geared towards strengthening loyalty among existing fans and driving trial with new brand adopters
Already set in motion, and paralleling the Bruegger's Bagels tagline, "Tradition You Can Taste," the comprehensive strategy began in 2014 and shifts into its next phase in 2015.
Carolan is well prepared to lead the charge. Prior to joining Le Duff America, he held top development positions at Sun Capital Partners, the well-known private equity investing company with holdings that consist of more than 1,900 restaurants, and Einstein Noah Restaurant Group, Inc.
Earlier in his career, Carolan was regional vice president and vice president of standards for ARAMARK's Business Services division, which included overseeing restaurant operations and new location development. He developed his base of restaurant experience with Host Marriott, where he spent nineteen years in a series of supervisory roles.
A certified public accountant (CPA) and graduate of Virginia Tech with a degree in Accounting, Carolan and his wife, Jill, reside in Fort Worth, Texas. They have two grown daughters and are proud grandparents.
About Bruegger's Enterprises, Inc.
Bruegger's Enterprises, Inc. (BEI), a leader in the fast-casual restaurant segment, operates 305 Bruegger's Bagels bakeries in North America. Renowned for its authentic, fresh-baked bagels, the chain also offers a wide variety of freshly prepared breakfast and lunch options made with high-quality, simple ingredients served with its unique brand of hospitality. Bruegger's Bagels is dedicated to the communities it serves and supports charitable causes locally and nationally. BEI's parent company, Groupe Le Duff, S.A., is the world's second-largest company in the bakery-cafe sector. Founded in 1983 in Burlington, Vermont, BEI is now headquartered in Dallas. For more information, please visit www.brueggers.com or become a fan on Facebook at www.facebook.com/brueggers.
For more information about Bruegger's Bagels franchise opportunities as well as adding the brand to your non-traditional venue, visit brueggers.com/franchise and complete the Franchising Inquiry Form.