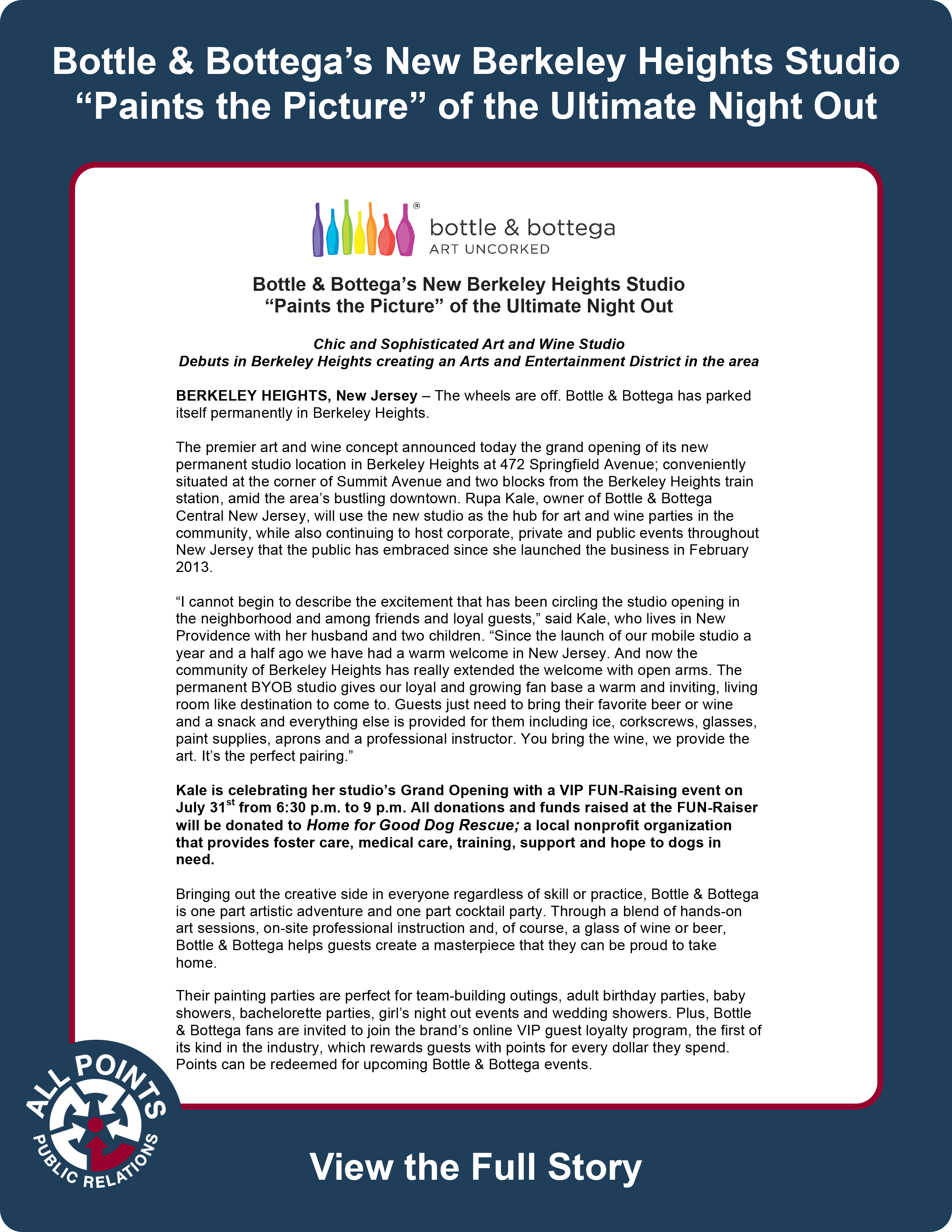 Bottle & Bottega's New Berkeley Heights Studio "Paints the Picture" of the Ultimate Night Out
Bottle & Bottega's New Berkeley Heights Studio "Paints the Picture" of the Ultimate Night Out
Chic and Sophisticated Art and Wine Studio
Debuts in Berkeley Heights creating an Arts and Entertainment District in the area
BERKELEY HEIGHTS, New Jersey – The wheels are off. Bottle & Bottega has parked itself permanently in Berkeley Heights.
The premier art and wine concept announced today the grand opening of its new permanent studio location in Berkeley Heights at 472 Springfield Avenue; conveniently situated at the corner of Summit Avenue and two blocks from the Berkeley Heights train station, amid the area's bustling downtown. Rupa Kale, owner of Bottle & Bottega Central New Jersey, will use the new studio as the hub for art and wine parties in the community, while also continuing to host corporate, private and public events throughout New Jersey that the public has embraced since she launched the business in February 2013.
"I cannot begin to describe the excitement that has been circling the studio opening in the neighborhood and among friends and loyal guests," said Kale, who lives in New Providence with her husband and two children. "Since the launch of our mobile studio a year and a half ago we have had a warm welcome in New Jersey. And now the community of Berkeley Heights has really extended the welcome with open arms. The permanent BYOB studio gives our loyal and growing fan base a warm and inviting, living room like destination to come to. Guests just need to bring their favorite beer or wine and a snack and everything else is provided for them including ice, corkscrews, glasses, paint supplies, aprons and a professional instructor. You bring the wine, we provide the art. It's the perfect pairing."
Kale is celebrating her studio's Grand Opening with a VIP FUN-Raising event on July 31st from 6:30 p.m. to 9 p.m. All donations and funds raised at the FUN-Raiser will be donated to Home for Good Dog Rescue; a local nonprofit organization that provides foster care, medical care, training, support and hope to dogs in need.
Bringing out the creative side in everyone regardless of skill or practice, Bottle & Bottega is one part artistic adventure and one part cocktail party. Through a blend of hands-on art sessions, on-site professional instruction and, of course, a glass of wine or beer, Bottle & Bottega helps guests create a masterpiece that they can be proud to take home.
Their painting parties are perfect for team-building outings, adult birthday parties, baby showers, bachelorette parties, girl's night out events and wedding showers. Plus, Bottle & Bottega fans are invited to join the brand's online VIP guest loyalty program, the first of its kind in the industry, which rewards guests with points for every dollar they spend. Points can be redeemed for upcoming Bottle & Bottega events.
For more information about Bottle & Bottega Central New Jersey and to book your next event, call (908) 376-6440, emailNJCentral@bottle-bottega.com, or visit http://bottleandbottega.com/nj-central/.