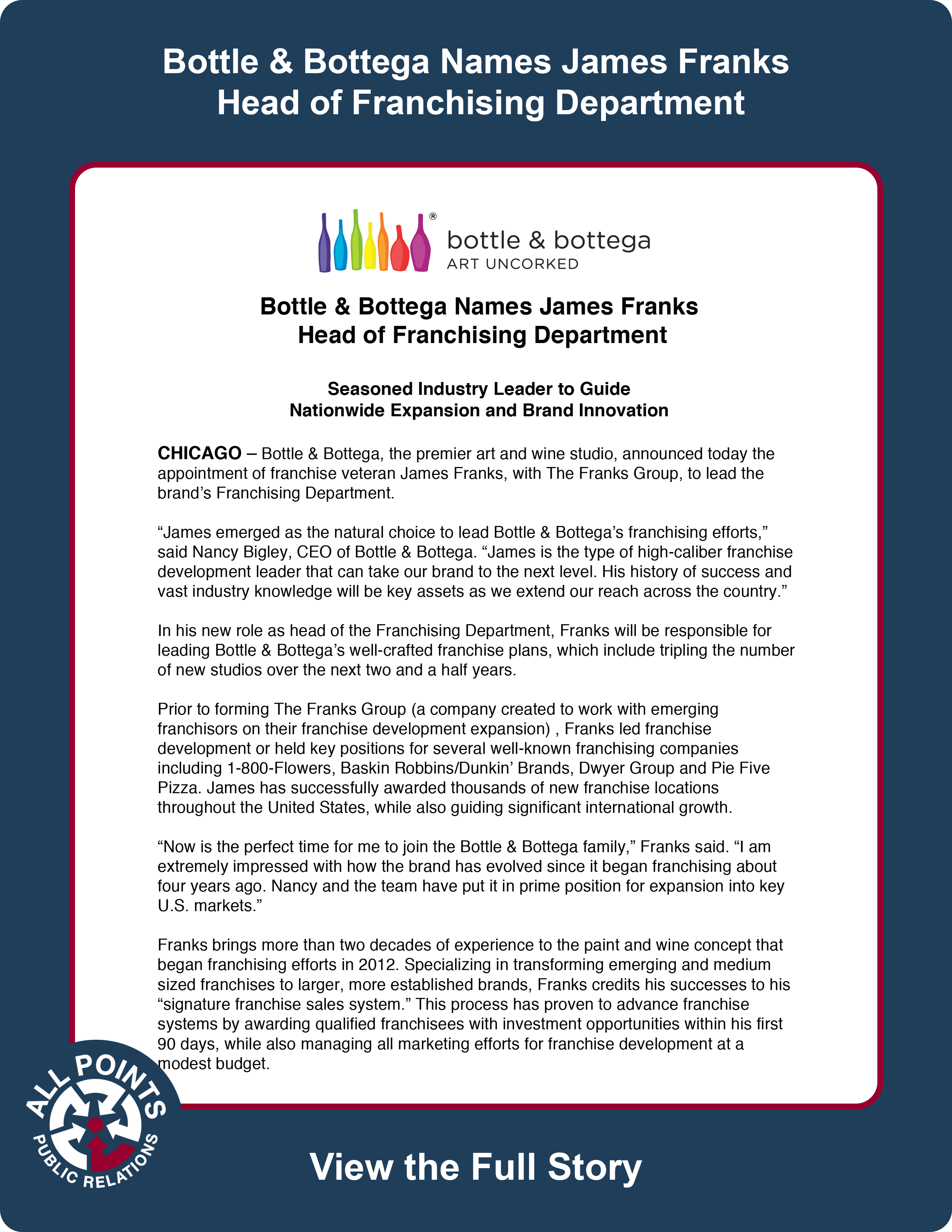 Bottle & Bottega Names James Franks Head of Franchising Department
Bottle & Bottega Names James Franks Head of Franchising Department 
Seasoned Industry Leader to Guide Nationwide Expansion and Brand Innovation 
CHICAGO – Bottle & Bottega, the premier art and wine studio, announced today the appointment of franchise veteran James Franks, with The Franks Group, to lead the brand's Franchising Department.
"James emerged as the natural choice to lead Bottle & Bottega's franchising efforts," said Nancy Bigley, CEO of Bottle & Bottega. "James is the type of high-caliber franchise development leader that can take our brand to the next level. His history of success and vast industry knowledge will be key assets as we extend our reach across the country."
In his new role as head of the Franchising Department, Franks will be responsible for leading Bottle & Bottega's well-crafted franchise plans, which include tripling the number of new studios over the next two and a half years.
Prior to forming The Franks Group (a company created to work with emerging franchisors on their franchise development expansion) , Franks led franchise development or held key positions for several well-known franchising companies including 1-800-Flowers, Baskin Robbins/Dunkin' Brands, Dwyer Group and Pie Five Pizza. James has successfully awarded thousands of new franchise locations throughout the United States, while also guiding significant international growth.
"Now is the perfect time for me to join the Bottle & Bottega family," Franks said. "I am extremely impressed with how the brand has evolved since it began franchising about four years ago. Nancy and the team have put it in prime position for expansion into key U.S. markets."
Franks brings more than two decades of experience to the paint and wine concept that began franchising efforts in 2012. Specializing in transforming emerging and medium sized franchises to larger, more established brands, Franks credits his successes to his "signature franchise sales system." This process has proven to advance franchise systems by awarding qualified franchisees with investment opportunities within his first 90 days, while also managing all marketing efforts for franchise development at a modest budget.
Given his level of accomplishments and the respect he commands within the franchise industry, Franks regularly speaks at industry events on topics such as "The Power of Franchising," "The Keys to Success in Business" and "Winning the Battle at Every Corner."
For more information about franchising opportunities with Bottle & Bottega, contact James Franks at james@bottleandbottega.com.
About Bottle & Bottega
A stroke of artistic genius paints a totally new picture of what is possible when friends, couples or colleagues get together for a Bottle & Bottega art party — an experience unlike any other. One part artistic adventure and one part cocktail party, Bottle & Bottega inspires the inner artist in everyone regardless of skill or practice, through a blend of hands-on art sessions, on-site professional instruction and, of course, a glass of your favorite wine. Bottle & Bottega paint and wine parties are perfect for individuals, couples and groups of all sizes for a variety of personal and professional occasions.
For more information about Bottle & Bottega, visit http://bottleandbottega.com/franchise.