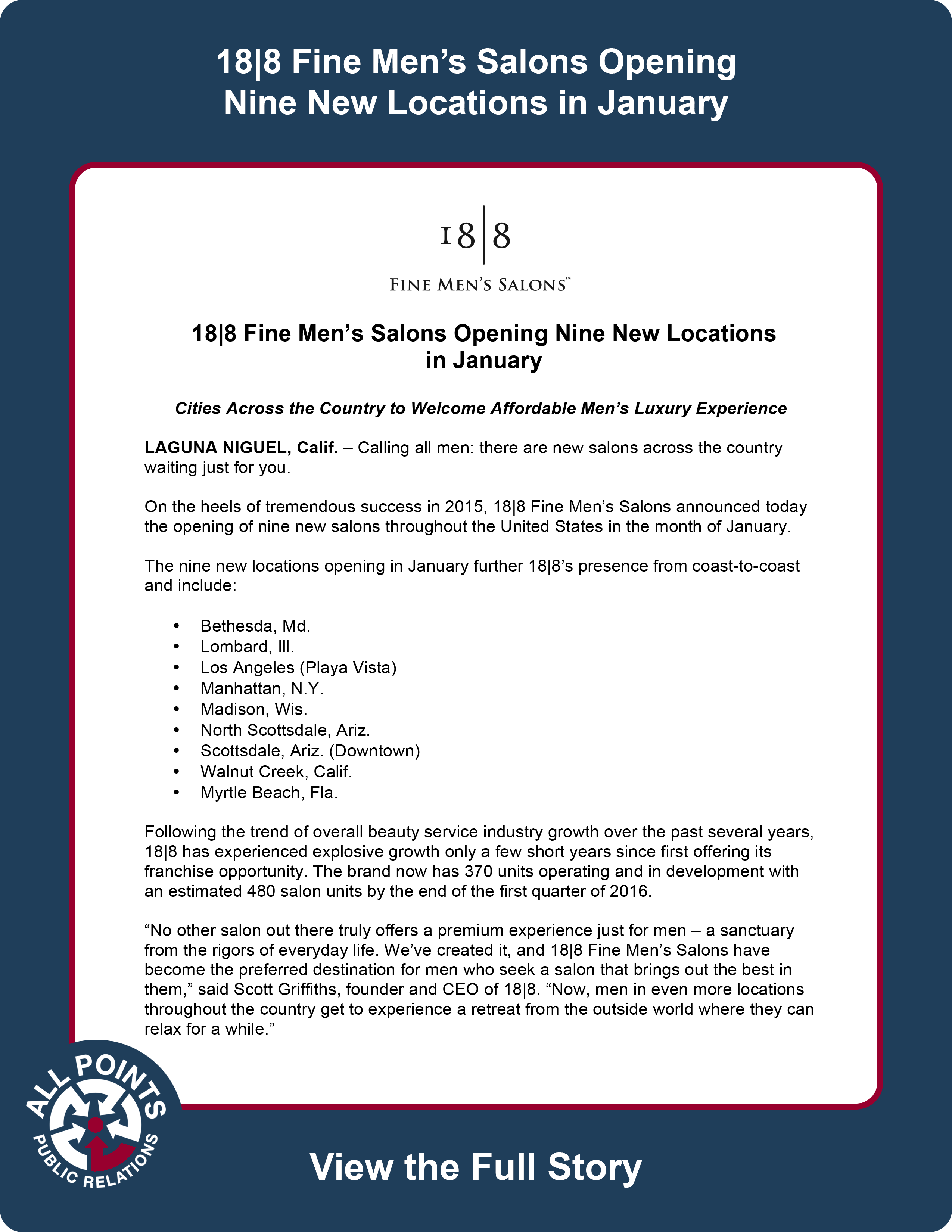 18|8 Fine Men's Salons Opening Nine New Locations in January
18|8 Fine Men's Salons Opening Nine New Locations in January
Cities Across the Country to Welcome Affordable Men's Luxury Experience
LAGUNA NIGUEL, Calif. – Calling all men: there are new salons across the country waiting just for you.
On the heels of tremendous success in 2015, 18|8 Fine Men's Salons announced today the opening of nine new salons throughout the United States in the month of January.
The nine new locations opening in January further 18|8's presence from coast-to-coast and include:
Bethesda, Md.
Lombard, Ill.
Los Angeles (Playa Vista)
Manhattan, N.Y.
Madison, Wis.
North Scottsdale, Ariz.
Scottsdale, Ariz. (Downtown)
Walnut Creek, Calif.
Myrtle Beach, Fla.
Following the trend of overall beauty service industry growth over the past several years, 18|8 has experienced explosive growth only a few short years since first offering its franchise opportunity. The brand now has 370 units operating and in development with an estimated 480 salon units by the end of the first quarter of 2016.
"No other salon out there truly offers a premium experience just for men – a sanctuary from the rigors of everyday life. We've created it, and 18|8 Fine Men's Salons have become the preferred destination for men who seek a salon that brings out the best in them," said Scott Griffiths, founder and CEO of 18|8. "Now, men in even more locations throughout the country get to experience a retreat from the outside world where they can relax for a while."
Leaving men looking their best – and feeling even better – 18|8 offers men the same transformative effect from which the name 18|8 comes. Embracing the immense impact of the discovery of stainless steel (18% chromium + 8% nickel added to steel) on hair salon instruments and other everyday consumer and commercial usage, 18|8's distinctive collection of upscale services are affordably priced in the $32 to $50 range, and provided in semi-private grooming areas.
At 18|8, men can relax in the brand's signature lounge area before their grooming services, which range from cuts and styling (modern and classic) to straight-edge hot lather shaves, massages, scalp treatments and more. The 18|8 team takes time to learn about its clients, their personalities and special needs, and then caters services to mirror their lifestyle choices. Customers may even purchase memberships that cover prepaid hair and grooming services.
"We're thrilled to be filling this niche for men's grooming for gentlemen in so many new markets," added Griffiths.
Griffiths, who launched 18|8 Fine Men's Salons in 2002, has a track record of creating breakthrough brands. Given the company's successes during the past decade, he recently began franchising 18|8, sharing the opportunity for driven entrepreneurs to become part of its growth. Griffiths is a recognized marketing and branding trendsetter who has created and built industry-leading companies across several sectors. Recently, Griffiths cast his golden touch on the hair care industry with 18|8 and by creating the brand Mitch for Men from Paul Mitchell.
For more information on 18|8 Fine Men's Salons locations and openings, visit www.eighteeneight.com.
About 18|8 Fine Men's Salons
Claiming its name from the original formula for stainless steel, 18% chromium + 8% nickel added to steel, 18|8 Fine Men's Salons offers its clients that same transformative effect – improving both look and performance. Since launching in 2002, 18|8 has established itself as the only men's salon catering to a discerning clientele with an upscale suite of hair care and grooming services. To learn more about 18|8's services, visit www.eighteeneight.com.
For more information on the 18|8 franchise opportunity, email scott@eighteeneight.com, call (949) 290-6431, and visit www.eighteeneight.com or www.eighteeneightfranchise.com.