The Point People:
Meet Our Team

Positioned at the leading-edge of integrated public relations, our agency's can-do attitude and curiosity redefines what is possible for our clients' growth.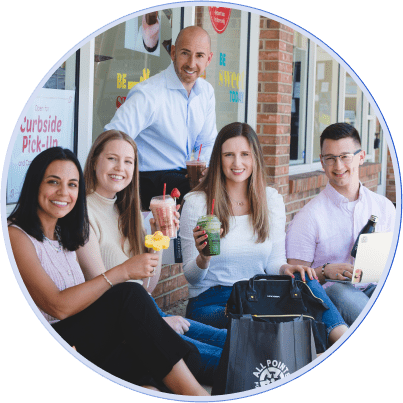 COO and Executive Vice President
Simply put, Lauren runs All Points PR like a fine-tuned machine. Her savvy business sense combined with stellar organization and planning keep All Points PR's accounts on track. From conceptualizing and systematizing internal processes to accounting, HR, hiring, technology and training, Lauren does it all with grace, understanding and attention to detail. She is the visionary behind the company's sustained growth, creating pathways for new agency services and departments, while also building out strategic recruitment plans to fill newly formed positions with top talent.
Plus, Lauren has been the driving force behind some of All Points PR's most substantive work, including launching the Positive Impact program that includes quarterly volunteering and service events for agency team members to contribute to the Chicagoland community together.
A graduate of Indiana University, Lauren holds a bachelor's degree in education as well as a post-graduate Master's degree in communication sciences and disorders from Northwestern University. Lauren has since begun an additional Master's degree and earned a leadership certification through Northwestern University.
Lauren honed her skill set as an educator in the Chicago Public Schools system as well as at one of the city's most prominent private schools. She demonstrates her dedication to giving back as a philanthropist by volunteering at her children's school and with the Alzheimer's Association. She also organizes multiple book clubs, including one for the All Points Public Relations team members.
Lauren is married to Jamie and together they have two children, several pet fish, chickens and three dogs — Cubby, Ivy and Wrigley. As a family, they enjoy outdoor activities, attending the theater and cheering on the Cubbies. Lauren is an avid fan of technology, the news, running and gardening.
Close
President
Among company heads in the entrepreneurial and franchise-focused PR realm, Jamie Izaks possesses a combination of credentials rarely found in others. His professional experience spans nearly 25 years, including executive level management at the leading national public relations agency serving the franchise industry prior to launching All Points PR. Previously, Jamie was the public relations manager for Chicago-based Hyatt Hotels Corporation, working at the company's global headquarters. Earlier in his career, he earned his stripes in the news industry as an anchor, reporter and producer at various NBC, ABC, FOX and FOX SportsNet network affiliates throughout the United States.
Jamie's professional background paved the way for the unique space that All Points Public Relations fills in the franchising industry and beyond. As a leading integrated public relations agency, his vision has been to leverage PR as the foundation for an integrated mix, blending it with social media, content marketing, digital marketing, graphic design, paid strategies and sales representation. Taken together, the integrated approach creates a powerful, strategic approach for clients that fuels the agency's THINK BIG, ACT BIG, PRESENT BIG mantra.
A seasoned publicist, writer, presenter and public speaker, having made speeches to rooms filled with hundreds of entrepreneurs as well as in small panel and roundtable settings, Jamie's work has resulted in driving client objectives beyond expectation. This high level of achievement has earned Jamie respect among industry peers and afforded him the opportunity to successfully pursue new business development, International Franchise Association Board placement and involvement in various industry committees.
Dating back to his days as a teenager, working in media has always been a professional pursuit. Jamie parlayed that passion into a Bachelor of Arts Degree in Journalism from the esteemed Ernie Pyle School of Journalism at Indiana University. He went on to work as a journalist in several U.S. markets, including Chicago, as a television anchor, reporter and producer. Eager to learn more about the forces driving industry in America, Jamie pursued post-graduate studies and earned his MBA from the Lake Forest Graduate School of Management.
Together with his wife Lauren, Jamie launched All Points Public Relations in August 2011 to realize their shared entrepreneurial dreams and to advance the dreams of other entrepreneurially spirited individuals and companies.
Close