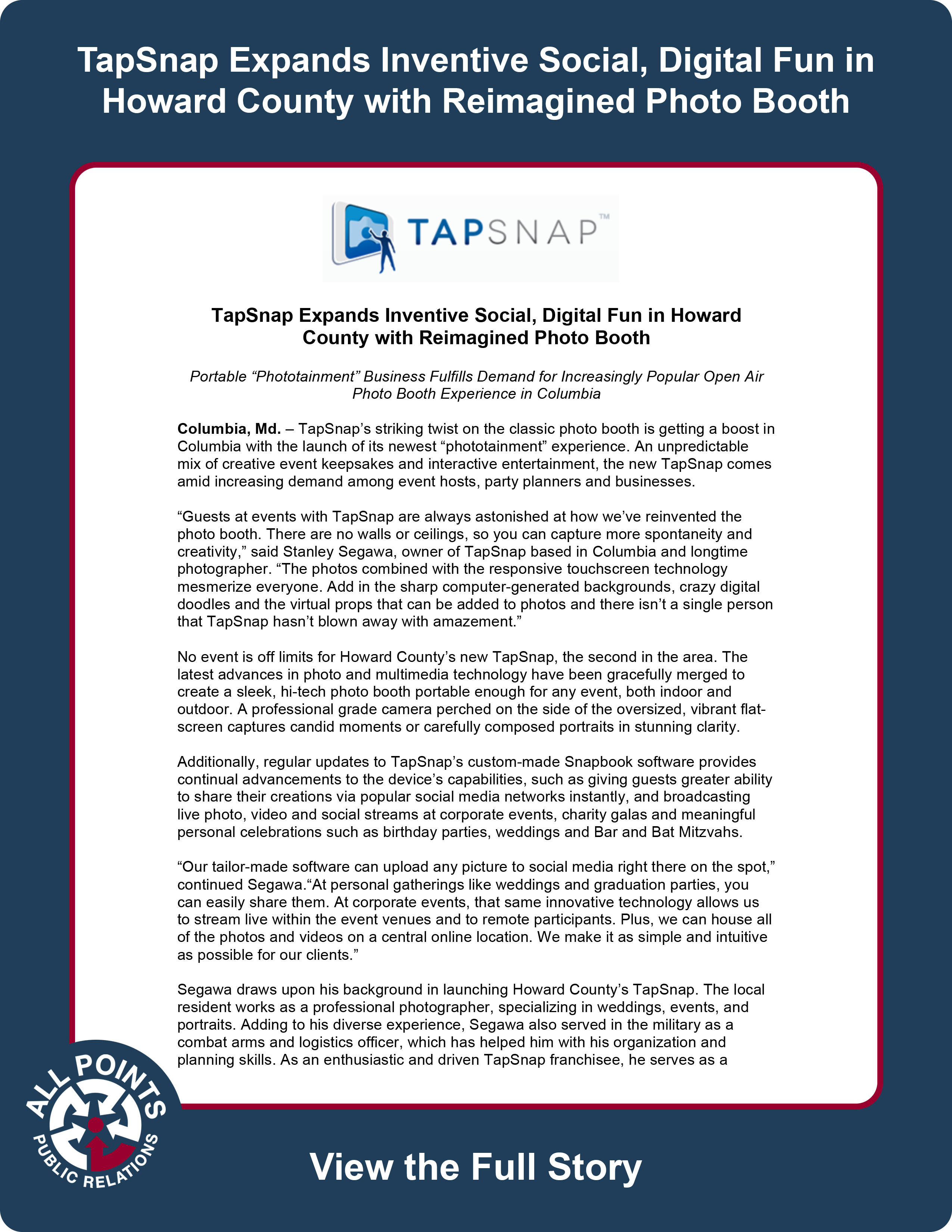 TapSnap Expands Inventive Social, Digital Fun in Howard County with Reimagined Photo Booth
TapSnap Expands Inventive Social, Digital Fun in Howard County with Reimagined Photo Booth
Portable "Phototainment" Business Fulfills Demand for Increasingly Popular Open Air Photo Booth Experience in Columbia
Columbia, Md. – TapSnap's striking twist on the classic photo booth is getting a boost in Columbia with the launch of its newest "phototainment" experience. An unpredictable mix of creative event keepsakes and interactive entertainment, the new TapSnap comes amid increasing demand among event hosts, party planners and businesses.
"Guests at events with TapSnap are always astonished at how we've reinvented the photo booth. There are no walls or ceilings, so you can capture more spontaneity and creativity," said Stanley Segawa, owner of TapSnap based in Columbia and longtime photographer. "The photos combined with the responsive touchscreen technology mesmerize everyone. Add in the sharp computer-generated backgrounds, crazy digital doodles and the virtual props that can be added to photos and there isn't a single person that TapSnap hasn't blown away with amazement."
No event is off limits for Howard County's new TapSnap, the second in the area. The latest advances in photo and multimedia technology have been gracefully merged to create a sleek, hi-tech photo booth portable enough for any event, both indoor and outdoor. A professional grade camera perched on the side of the oversized, vibrant flat-screen captures candid moments or carefully composed portraits in stunning clarity.
Additionally, regular updates to TapSnap's custom-made Snapbook software provides continual advancements to the device's capabilities, such as giving guests greater ability to share their creations via popular social media networks instantly, and broadcasting live photo, video and social streams at corporate events, charity galas and meaningful personal celebrations such as birthday parties, weddings and Bar and Bat Mitzvahs.
"Our tailor-made software can upload any picture to social media right there on the spot," continued Segawa."At personal gatherings like weddings and graduation parties, you can easily share them. At corporate events, that same innovative technology allows us to stream live within the event venues and to remote participants. Plus, we can house all of the photos and videos on a central online location. We make it as simple and intuitive as possible for our clients."
Segawa draws upon his background in launching Howard County's TapSnap. The local resident works as a professional photographer, specializing in weddings, events, and portraits. Adding to his diverse experience, Segawa also served in the military as a combat arms and logistics officer, which has helped him with his organization and planning skills. As an enthusiastic and driven TapSnap franchisee, he serves as a symbol of the type of high quality individuals operating TapSnap as it expands in Maryland beyond.
"We're thrilled to have Stanley in the TapSnap family," said Scott McInnes, TapSnap founder and CEO, who previously created and still heads the internationally acclaimed DVDNow brand. "His commitment and energy for TapSnap is fantastic. Maryland has been demanding a stronger TapSnap presence and I'm glad he can fill this demand."
TapSnap is a low cost, simple-to-operate franchise that offers a proven business model. The company provides franchisees comprehensive ongoing support in sales, technology, marketing and operations as well as an initial training program to ensure they are prepared to serve their markets.
TapSnap's fresh, open-air photo booth is available for fairs, festivals, corporate events, weddings, birthday parties and more. It offers a variety of personalized digital art and corporate branding, ensuring every event is a one-of-a-kind experience. To learn more about the new TapSnap, call Stanley Segawa at 410.290.9838, email stanleys@tapsnap.net or visit www.tapsnap.net/contact-info for general contact information.
About TapSnap
TapSnap's imaginative take on the classic photo booth experience provides event hosts and guests with unforgettable interactive "phototainment." The concept's forward-thinking approach maximizes today's advanced digital technology – a redesigned, social and highly interactive experience. Ideal for personal gatherings such as weddings and birthday parties, as well corporate events, TapSnap takes high quality photos that guests can make their own through intuitive touchscreen graphics, fingertip doodling and corporate brand customization. Images are then easily shared through social media and digital photo sharing, in addition to onsite printing.
Launched in mid-2012, TapSnap is based in Vancouver, Canada. Today, there are nearly 100 TapSnap franchisees serving metropolitan regions throughout North America. For more information about TapSnap, visit www.tapsnap.net. To book TapSnap for an event, call 1-877-577-0566. And, for franchise opportunities go to www.tapsnap.net/start-a-franchise.