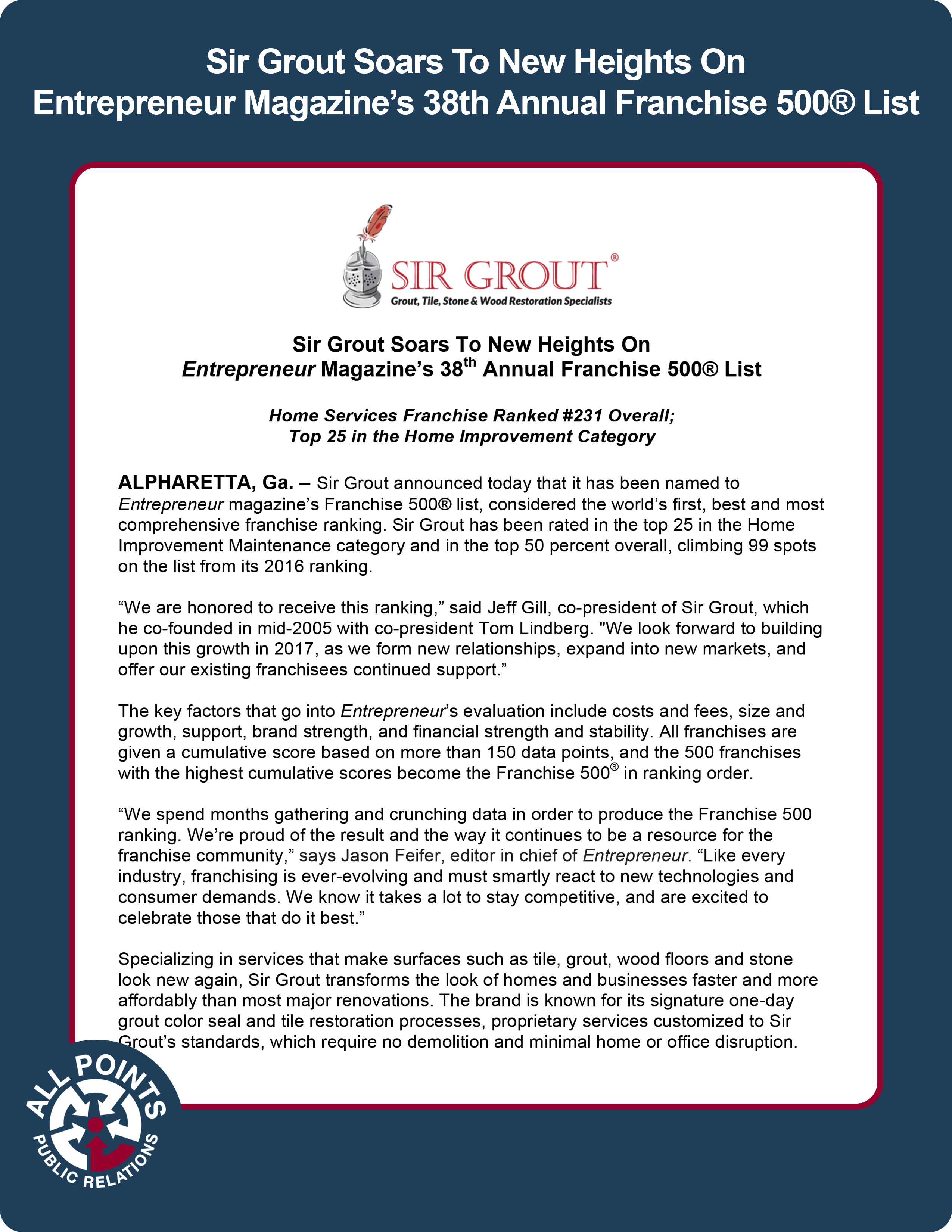 Sir Grout Soars To New Heights On Entrepreneur Magazine's 38th Annual Franchise 500® List
Sir Grout Soars To New Heights On Entrepreneur Magazine's 38th Annual Franchise 500® List 
Home Services Franchise Ranked #231 Overall; Top 25 in the Home Improvement Category
ALPHARETTA, Ga. – Sir Grout announced today that it has been named to Entrepreneur magazine's Franchise 500® list, considered the world's first, best and most comprehensive franchise ranking. Sir Grout has been rated in the top 25 in the Home Improvement Maintenance category and in the top 50 percent overall, climbing 99 spots on the list from its 2016 ranking.
"We are honored to receive this ranking," said Jeff Gill, co-president of Sir Grout, which he co-founded in mid-2005 with co-president Tom Lindberg. "We look forward to building upon this growth in 2017, as we form new relationships, expand into new markets, and offer our existing franchisees continued support."
The key factors that go into Entrepreneur's evaluation include costs and fees, size and growth, support, brand strength, and financial strength and stability. All franchises are given a cumulative score based on more than 150 data points, and the 500 franchises with the highest cumulative scores become the Franchise 500® in ranking order.
"We spend months gathering and crunching data in order to produce the Franchise 500 ranking. We're proud of the result and the way it continues to be a resource for the franchise community," says Jason Feifer, editor in chief of Entrepreneur. "Like every industry, franchising is ever-evolving and must smartly react to new technologies and consumer demands. We know it takes a lot to stay competitive, and are excited to celebrate those that do it best."
Specializing in services that make surfaces such as tile, grout, wood floors and stone look new again, Sir Grout transforms the look of homes and businesses faster and more affordably than most major renovations. The brand is known for its signature one-day grout color seal and tile restoration processes, proprietary services customized to Sir Grout's standards, which require no demolition and minimal home or office disruption.
The concept appeals to professionals transitioning into business ownership from corporate sales and marketing backgrounds who appreciate adhering to a collection of proven processes and systems that consistently deliver high quality results. Ideal franchise candidates are creative self-starters who appreciate the proven system Sir Grout has designed and evolved during the past 9-plus years. Franchisees within the Sir Grout system also take advantage of the knowledge and experience shared between owners – the domino effect of the expertise is invaluable. Fostering entrepreneurship with minimal overhead, Sir Grout franchisees primarily manage their employee base and day-to-day customer interaction. Plus, with the planning and assistance of the founders, franchisees are able to focus on consistently executing effective sales and marketing programs.
"In order to reflect the evolving business world at large, we at Entrepreneur continue to evolve our annual ranking, too," says Ryan Shea, president of Entrepreneur. "We've developed new ways to measure and analyze our collected data as new critical data points come into play. We take into account pertinent factors such as social media presence and financing availability, which have become increasingly important in today's economy. The result is a more complete and relevant Franchise 500® that can serve as a valuable resource for our readers."
To view Sir Grout in the full ranking, visit www.entrepreneur.com/franchise500.
To learn more about Sir Grout, visit: www.sirgrout.com.
For more information about available franchise opportunities, visit: franchise.sirgrout.com or contact Jeff Gill at (845) 406-8255.
About Sir Grout
Sir Grout specializes in services that make surfaces look new again, including grout, tile, wood floors and stone for homes and businesses. It is known for its signature one-day grout color seal and tile restoration processes, proprietary services customized to Sir Grout's standards, which require no demolition and minimal home or office disruption. Currently, there are 35 Sir Grout locations in the United States. For seven straight years the company has been ranked on Entrepreneur's Franchise 500® list.
For more information about Sir Grout, please visit www.sirgrout.com. To inquire about franchise opportunities, visit franchise.sirgrout.com.
About Entrepreneur Media Inc.
For nearly 40 years, Entrepreneur Media Inc. has been serving the entrepreneurial community providing comprehensive coverage of business and personal success through original content and events. Entrepreneur magazine, Entrepreneur.com, and publishing imprint Entrepreneur Press provide solutions, information, inspiration and education read by millions of entrepreneurs and small business owners worldwide.
To learn more, visit entrepreneur.com.