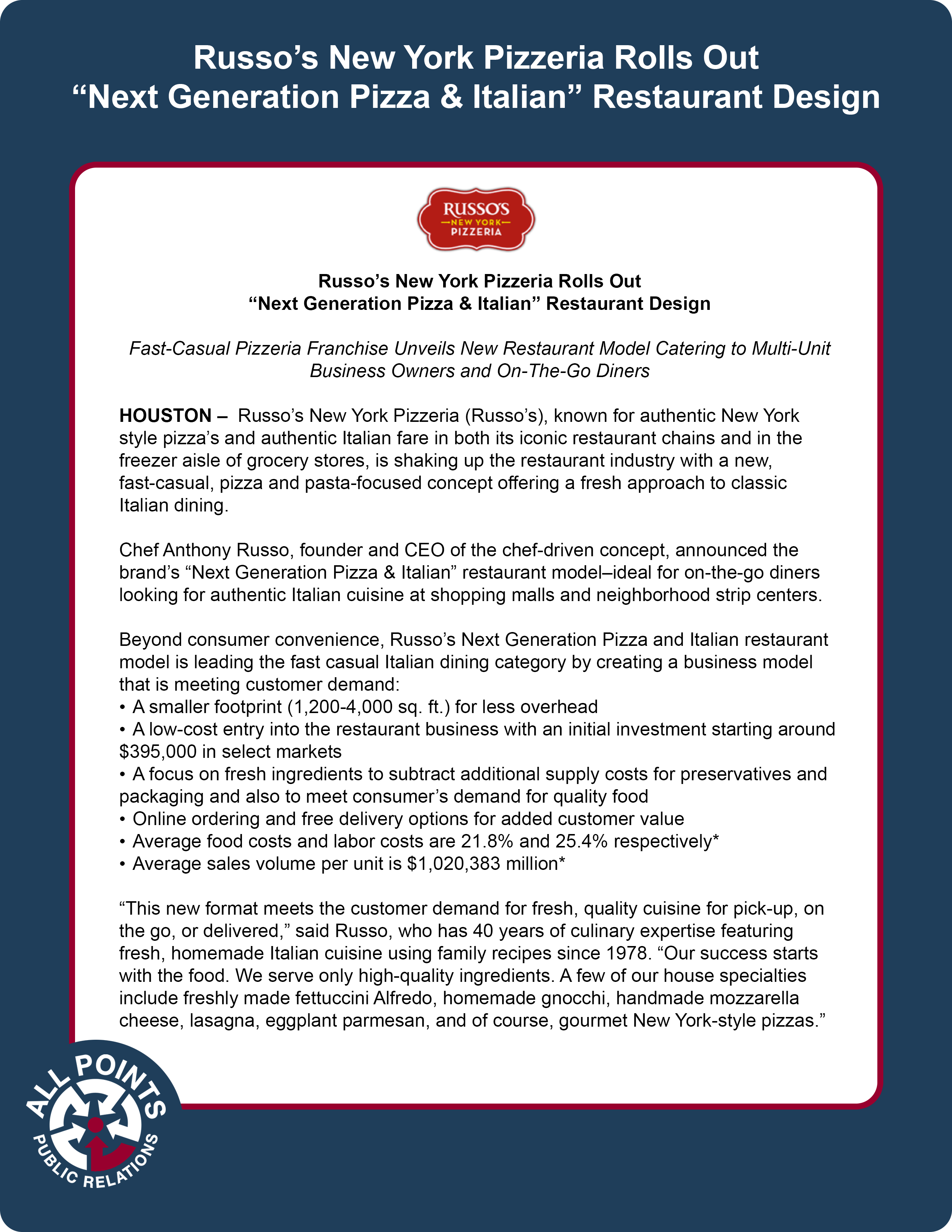 Russo's New York Pizzeria Rolls Out "Next Generation Pizza & Italian" Restaurant Design
Russo's New York Pizzeria Rolls Out "Next Generation Pizza & Italian" Restaurant Design  
Fast-Casual Pizzeria Franchise Unveils New Restaurant Model Catering to Multi-Unit Business Owners and On-The-Go Diners  
HOUSTON – Russo's New York Pizzeria (Russo's), known for authentic New York style pizza's and authentic Italian fare in both its iconic restaurant chains and in the freezer aisle of grocery stores, is shaking up the restaurant industry with a new, fast-casual, pizza and pasta-focused concept offering a fresh approach to classic Italian dining.
Chef Anthony Russo, founder and CEO of the chef-driven concept, announced the brand's "Next Generation Pizza & Italian" restaurant model–ideal for on-the-go diners looking for authentic Italian cuisine at shopping malls and neighborhood strip centers.
Beyond consumer convenience, Russo's Next Generation Pizza and Italian restaurant model is leading the fast casual Italian dining category by creating a business model that is meeting customer demand:
A smaller footprint (1,200-4,000 sq. ft.) for less overhead
A low-cost entry into the restaurant business with an initial investment starting around $395,000 in select markets
A focus on fresh ingredients to subtract additional supply costs for preservatives and packaging and also to meet consumer's demand for quality food
Online ordering and free delivery options for added customer value
Average food costs and labor costs are 21.8% and 25.4% respectively*
Average sales volume per unit is $1,020,383 million*
"This new format meets the customer demand for fresh, quality cuisine for pick-up, on the go, or delivered," said Russo, who has 40 years of culinary expertise featuring fresh, homemade Italian cuisine using family recipes since 1978. "Our success starts with the food. We serve only high-quality ingredients. A few of our house specialties include freshly made fettuccini Alfredo, homemade gnocchi, handmade mozzarella cheese, lasagna, eggplant parmesan, and of course, gourmet New York-style pizzas."
By strategically placing restaurants in high-traffic retail areas, Russo's offers fans easier access to its beloved New-York style pizza and traditional, Italian entrées. Russo's latest restaurant model is representative of a larger franchise growth strategy to expand the brands' national and international footprint after successfully launching more than 36 locations and 9 under development worldwide.
* These figures represent the average restaurant revenue of six (6) domestic Company-operated Russo's New York Pizzeria locations of various designs and sizes for fiscal year ending December 31, 2016, along with average Food Costs and Net Income for the six (6) domestic Company-operated Russo's New York Pizzeria outlets only. Actual results could vary substantially from unit to unit and Franchisor cannot estimate the results of any particular franchise.
About Russo's Restaurants
Russo's Restaurants is a national and international franchisor of the fast casual and casual dining brands Russo's New York Pizzeria and Russo's Coal-Fired Italian Kitchen. Based in Houston, Russo's Restaurants is composed of a mix of corporate and franchised locations across Texas, Oklahoma, Arkansas, Tennessee, Florida and Hawaii. Russo's has entered international markets as well, with locations in Saudi Arabia and the United Arab Emirates: Dubai, Abu Dhabi, and Sharjah. Chef Anthony Russo has created his concepts from years of applying his unique, family recipes featuring New York-style pizza, along with a broad variety of handcrafted pasta creations, calzones, salads, sandwiches, soups and desserts, reflecting his commitment to his New York roots where food and family come first. To learn more about Russo's franchise development opportunities and the Next Generation Pizza and Italian restaurant model, visit www.russosfranchise.com or call us at 1.855.978.7767.