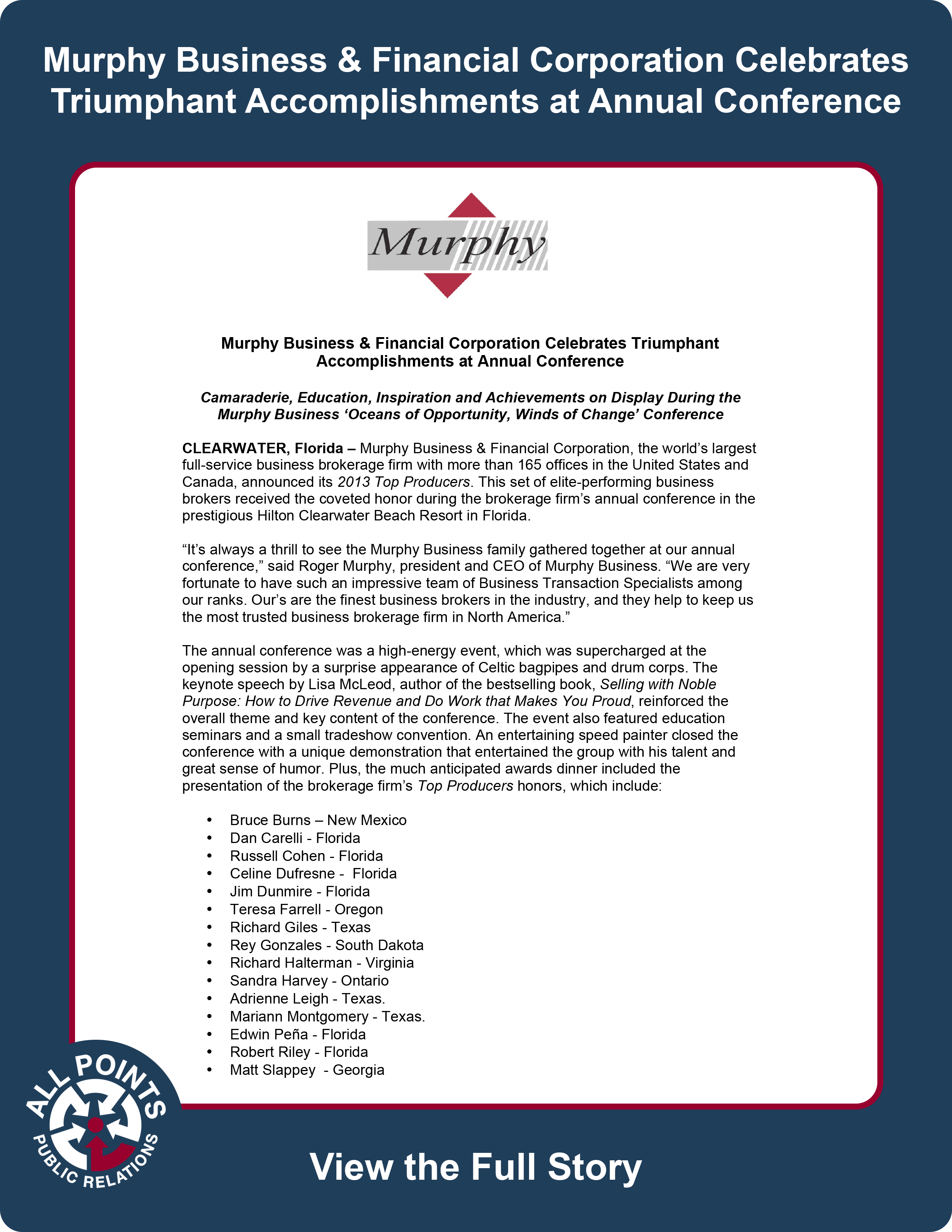 Murphy Business & Financial Corporation Celebrates Triumphant Accomplishments at Annual Conference
Murphy Business & Financial Corporation Celebrates Triumphant Accomplishments at Annual Conference
Camaraderie, Education, Inspiration and Achievements on Display During the Murphy Business 'Oceans of Opportunity, Winds of Change' Conference
CLEARWATER, Florida – Murphy Business & Financial Corporation, the world's largest full-service business brokerage firm with more than 165 offices in the United States and Canada, announced its 2013 Top Producers. This set of elite-performing business brokers received the coveted honor during the brokerage firm's annual conference in the prestigious Hilton Clearwater Beach Resort in Florida.
"It's always a thrill to see the Murphy Business family gathered together at our annual conference," said Roger Murphy, president and CEO of Murphy Business. "We are very fortunate to have such an impressive team of Business Transaction Specialists among our ranks. Our's are the finest business brokers in the industry, and they help to keep us the most trusted business brokerage firm in North America."
The annual conference was a high-energy event, which was supercharged at the opening session by a surprise appearance of Celtic bagpipes and drum corps. The keynote speech by Lisa McLeod, author of the bestselling book, Selling with Noble Purpose: How to Drive Revenue and Do Work that Makes You Proud, reinforced the overall theme and key content of the conference. The event also featured education seminars and a small trade show convention. An entertaining speed painter closed the conference with a unique demonstration that entertained the group with his talent and great sense of humor. Plus, the much anticipated awards dinner included the presentation of the brokerage firm's Top Producers honors, which include:
Bruce Burns – New Mexico
Dan Carelli – Florida
Russell Cohen – Florida
Celine Dufresne –  Florida
Jim Dunmire – Florida
Teresa Farrell – Oregon
Richard Giles – Texas
Rey Gonzales – South Dakota
Richard Halterman – Virginia
Sandra Harvey – Ontario
Adrienne Leigh – Texas.
Mariann Montgomery – Texas.
Edwin Peña – Florida
Robert Riley – Florida
Matt Slappey  – Georgia
"All our brokers, including our top producers, possess unparalleled access to buyers and business sellers in their local communities and throughout North America. We have developed a proven method of business brokerage that helps ensure our clients achieve and surpass their business goals, by way of a reliable and confidential transaction through a Murphy Business broker," Murphy said. "We're not only proud of our top producers, but all of our brokers provide the most complete and thorough business transaction available today."
Offering entrepreneurs both regional developer and unit franchisee operating models, the Murphy Business home office supports both groups and their agents with extensive training, along with initial and ongoing marketing efforts that leave Murphy Business owners to focus on the most important part of their business – spending more time with their clients.
About Murphy Business & Financial Corporation
Clearwater, Florida-based Murphy Business & Financial Corporation is a full-service business brokerage firm facilitating business sales, purchases, consulting, valuations, mergers and acquisitions. Closing deals at a higher ratio than the business brokerage industry average, several accolades have been bestowed upon the company including appearing as one of the "Top New Franchises" in Entrepreneur's 2011 rankings (#9, #219 in the Entrepreneur "Franchise 500"), and as a "Top 50 Franchise" according to Franchise Business Review. For more information on the franchise opportunity, contact Sandee Devine at franchisesales@murphybusiness.com, call 1-888-561-3243, or visit www.murphybusiness.com and click on the "OwnaMurphyFranchise" tab.