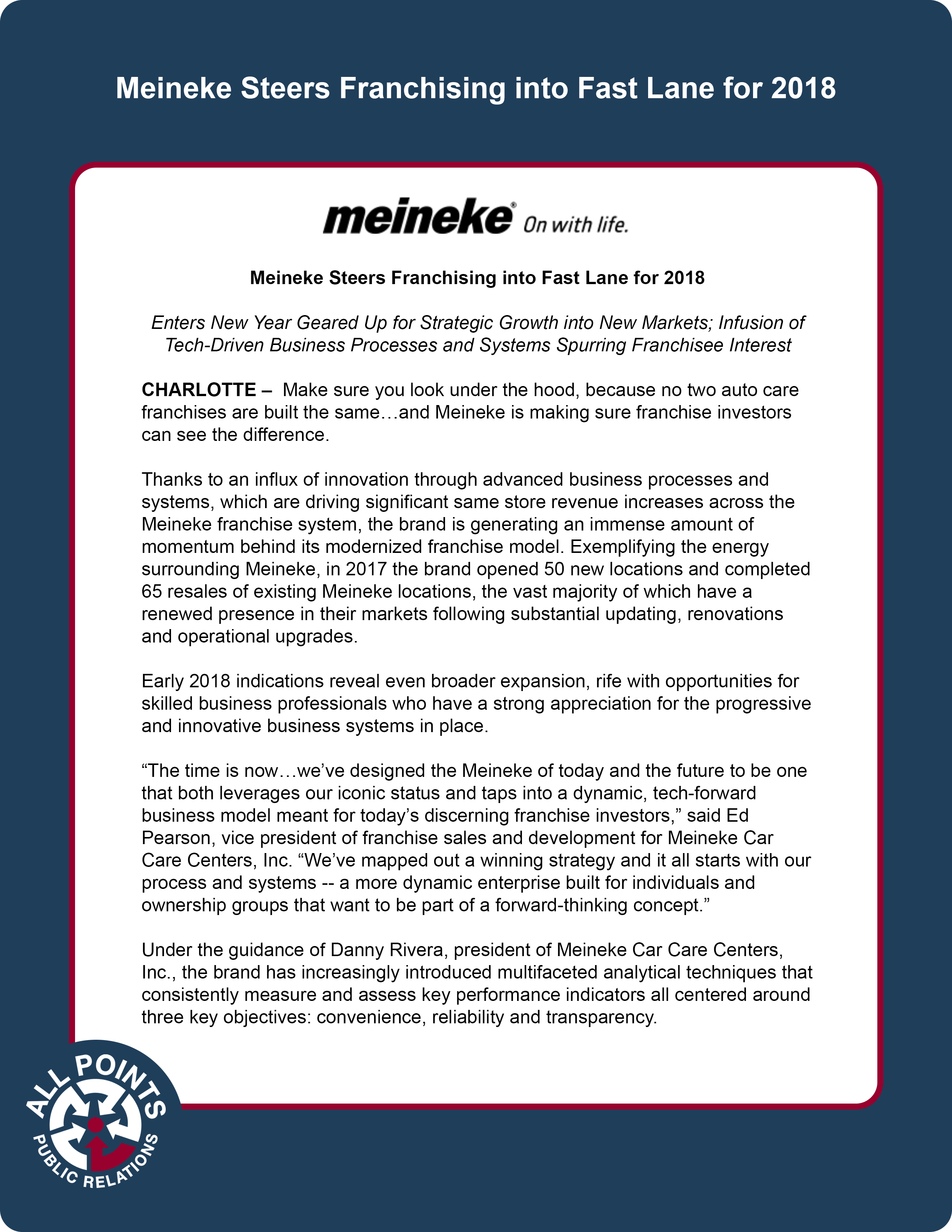 Meineke Steers Franchising into Fast Lane for 2018
Meineke Steers Franchising into Fast Lane for 2018
Enters New Year Geared Up for Strategic Growth into New Markets; Infusion of Tech-Driven Business Processes and Systems Spurring Franchisee Interest
CHARLOTTE – Make sure you look under the hood, because no two auto care franchises are built the same…and Meineke is making sure franchise investors can see the difference.
Thanks to an influx of innovation through advanced business processes and systems, which are driving significant same store revenue increases across the Meineke franchise system, the brand is generating an immense amount of momentum behind its modernized franchise model. Exemplifying the energy surrounding Meineke, in 2017 the brand opened 50 new locations and completed 65 resales of existing Meineke locations, the vast majority of which have a renewed presence in their markets following substantial updating, renovations and operational upgrades.
Early 2018 indications reveal even broader expansion, rife with opportunities for skilled business professionals who have a strong appreciation for the progressive and innovative business systems in place.
"The time is now…we've designed the Meineke of today and the future to be one that both leverages our iconic status and taps into a dynamic, tech-forward business model meant for today's discerning franchise investors," said Ed Pearson, vice president of franchise sales and development for Meineke Car Care Centers, Inc. "We've mapped out a winning strategy and it all starts with our process and systems — a more dynamic enterprise built for individuals and ownership groups that want to be part of a forward-thinking concept."
Under the guidance of Danny Rivera, president of Meineke Car Care Centers, Inc., the brand has increasingly introduced multifaceted analytical techniques that consistently measure and assess key performance indicators all centered around three key objectives: convenience, reliability and transparency. The business compass pointing Meineke towards its refreshed model is the brand's move to advance its concept into one tailored for franchise owners that want to manage teams and potentially multiple units versus day-to-day operations.
Likewise, Meineke is invigorating franchise interest and consumer appeal with an aesthetic update. Already testing favorably in 20 locations, 200 additional Meineke locations are slated for the update this year – a new look to reflect the modern business model with new lighting and repainted interiors and exteriors. Further, Meineke's robust customer rewards program, Meineke Rewards, provides convenient, mobile-device access to redeem points earned through services and maintenance bonuses. Points are used for free service visits and the mobile app can be used to book appointments online, track points and store maintenance information.
"We're at a pivotal point in the history of Meineke," added Rivera, who joined the brand as its Chief Information Officer in 2012 and brought his knack for innovation into the top executive role. "If you consider the extent to which we have gone to accelerate Meineke's franchising initiative, and blend that with the reputation we have established over the last five decades, the value proposition is unmatched in our category and among other concepts targeting talented franchisees."
Playing off of its distinctions, in 2018, Meineke has plans in place to open 55 new locations. Nearly 75 percent of the growth planned for 2018 already has solid franchise agreements behind them. The balance of the expansion in 2018 will come from fresh franchise agreements with new and existing franchisees. Already in 2018, a new franchise location has opened in Baldwin, NY, a residential community in Nassau County on Long Island. Additionally, Meineke has signed a franchise agreement in early 2018 to bring a new location to the Salt Lake City, Utah market, joining four others in the region. Territories targeted for expansion this year include Nashville and Tampa in the Southeastern portion of the country, Los Angeles, San Diego and Phoenix in the Southwest, Seattle and Vancouver, B.C. in the Pacific Northwest and Minneapolis and Detroit in the Midwest, among others. Available franchise territories can be found on the company's website.
Moreover, Meineke has another 100 existing units with ongoing cash flow that are prepared for resale. Key resale markets range from Houston to New York and Atlanta to Chicago. To inquire about resale opportunities, fill out a short information request form for details to be shared.
Ideal Meineke franchisees are coachable, yet demonstrate an entrepreneurial spirit that fosters sales and revenue growth. Executive-level corporate experience and/or franchise ownership and operations experience is preferred, but not required.
About Meineke
Meineke Car Care Centers, Inc., is a division of Driven Brands, Inc., the leading automotive aftermarket franchisor in the world. Founded in 1972, Meineke has more than 900 centers that service approximately 3 million cars a year. In recent years, Meineke has expanded its product offerings to better meet the demands of its customers and a changing marketplace, becoming the "total car care" brand. Meineke continues to be ranked as one of the best franchise opportunities in the country. For more information on Meineke franchise opportunities, visit: https://www.meineke.com/franchise-opportunities/