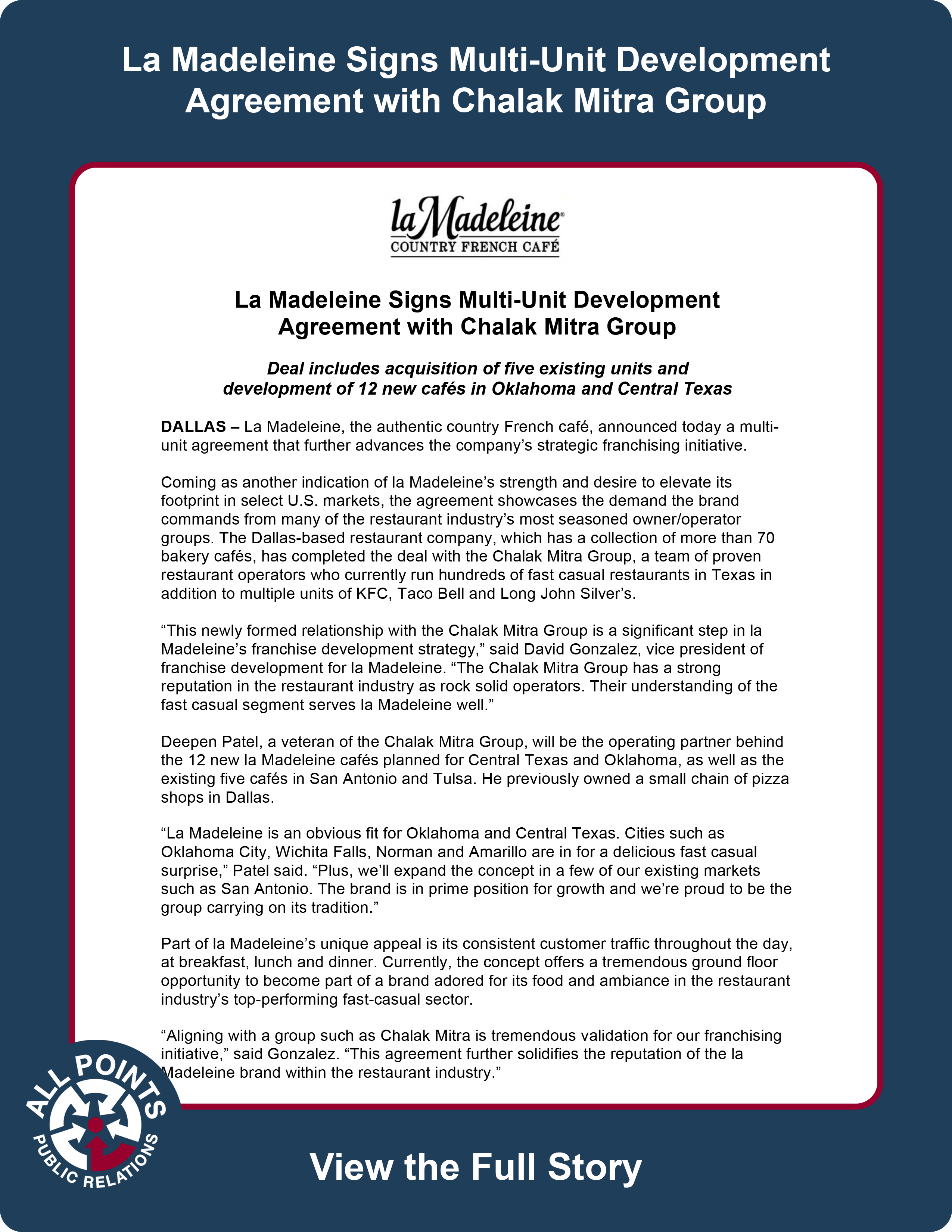 La Madeleine Signs Multi-Unit Development Agreement with Chalak Mitra Group
La Madeleine Signs Multi-Unit Development Agreement with Chalak Mitra Group
Deal includes acquisition of five existing units and development of 12 new cafés in Oklahoma and Central Texas
DALLAS – La Madeleine, the authentic country French café, announced today a multi-unit agreement that further advances the company's strategic franchising initiative.
Coming as another indication of la Madeleine's strength and desire to elevate its footprint in select U.S. markets, the agreement showcases the demand the brand commands from many of the restaurant industry's most seasoned owner/operator groups. The Dallas-based restaurant company, which has a collection of more than 70 bakery cafés, has completed the deal with the Chalak Mitra Group, a team of proven restaurant operators who currently run hundreds of fast casual restaurants in Texas in addition to multiple units of KFC, Taco Bell and Long John Silver's.
"This newly formed relationship with the Chalak Mitra Group is a significant step in la Madeleine's franchise development strategy," said David Gonzalez, vice president of franchise development for la Madeleine. "The Chalak Mitra Group has a strong reputation in the restaurant industry as rock solid operators. Their understanding of the fast casual segment serves la Madeleine well."
Deepen Patel, a veteran of the Chalak Mitra Group, will be the operating partner behind the 12 new la Madeleine cafés planned for Central Texas and Oklahoma, as well as the existing five cafés in San Antonio and Tulsa. He previously owned a small chain of pizza shops in Dallas.
"La Madeleine is an obvious fit for Oklahoma and Central Texas. Cities such as Oklahoma City, Wichita Falls, Norman and Amarillo are in for a delicious fast casual surprise," Patel said. "Plus, we'll expand the concept in a few of our existing markets such as San Antonio. The brand is in prime position for growth and we're proud to be the group carrying on its tradition."
Part of la Madeleine's unique appeal is its consistent customer traffic throughout the day, at breakfast, lunch and dinner. Currently, the concept offers a tremendous ground floor opportunity to become part of a brand adored for its food and ambiance in the restaurant industry's top-performing fast-casual sector.
"Aligning with a group such as Chalak Mitra is tremendous validation for our franchising initiative," said Gonzalez. "This agreement further solidifies the reputation of the la Madeleine brand within the restaurant industry."
La Madeleine's signature country French recipes are handcrafted and made to order in a warm and relaxing environment. Each café conjures the aura of the French countryside, welcoming guests to experience delectable country French cuisine in a warm, inviting ambiance every day. Writing recipes using classic French techniques, la Madeleine's menu includes 76 items made from scratch daily. For more information, visit www.lamadeleine.com.
About la Madeleine
Dallas-based la Madeleine Country French Café was established in 1983 by self-described "French country boy" Patrick Esquerré to fulfill his dream of bringing classic French country fare to America. Inspired by his mother's cooking, Patrick insisted on maintaining the integrity of French cuisine by using fresh ingredients and recipes that have been passed from one generation to the next.
From its signature fireplace to its crave-worthy food, la Madeleine offers a warm, welcoming atmosphere where guests are invited to come and stay in a casual, French home atmosphere. La Madeleine's French-inspired fare served throughout the day during breakfast, lunch and dinner features handcrafted entrées, sandwiches, salades and soupes, as well as freshly-baked breads, artisan pâtisseries and several additional distinctive specialties. La Madeleine's authenticity, innovation and fresh menu items differentiates the brand, creating widespread restaurant investor appeal.
A treasured part of many communities for more than 30 years, there are currently more than 70 cafés across Arizona, Georgia, Louisiana, Maryland, Oklahoma, Texas and Virginia. For more information on menu items, café locations and hours of operation, visit www.laMadeleine.com.
For more information about franchising, visit www.lamadeleine.com, or contact David Gonzalez at (214) 458-7022, or email him at dgonzalez@leduffamerica.com