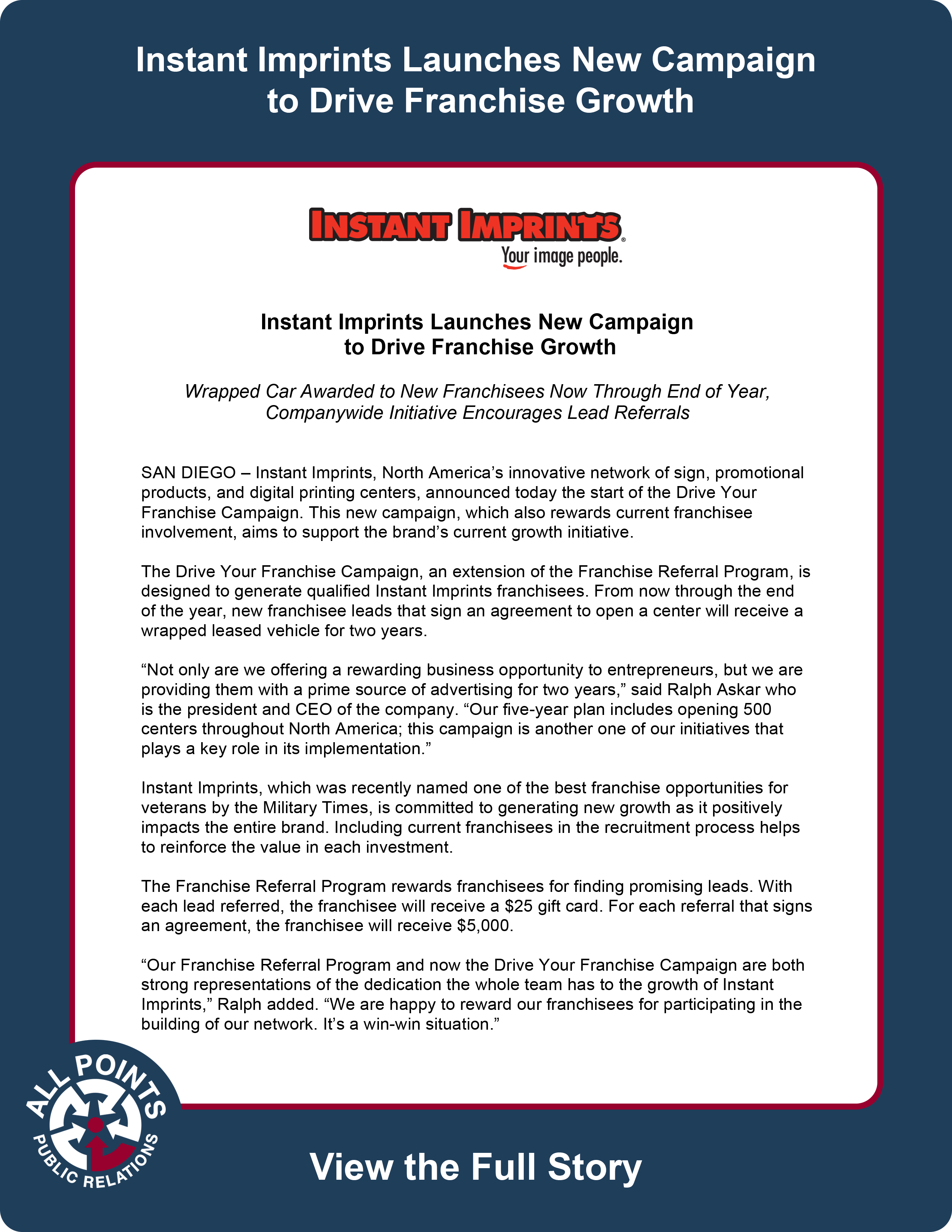 Instant Imprints Launches New Campaign to Drive Franchise Growth
Wrapped Car Awarded to New Franchisees Now Through End of Year, Companywide Initiative Encourages Lead Referrals
SAN DIEGO – Instant Imprints, North America's innovative network of sign, promotional products, and digital printing centers, announced today the start of the Drive Your Franchise Campaign. This new campaign, which also rewards current franchisee involvement, aims to support the brand's current growth initiative.
The Drive Your Franchise Campaign, an extension of the Franchise Referral Program, is designed to generate qualified Instant Imprints franchisees. From now through the end of the year, new franchisee leads that sign an agreement to open a center will receive a wrapped leased vehicle for two years.
"Not only are we offering a rewarding business opportunity to entrepreneurs, but we are providing them with a prime source of advertising for two years," said Ralph Askar who is the president and CEO of the company. "Our five-year plan includes opening 500 centers throughout North America; this campaign is another one of our initiatives that plays a key role in its implementation."
Instant Imprints, which was recently named one of the best franchise opportunities for veterans by the Military Times, is committed to generating new growth as it positively impacts the entire brand. Including current franchisees in the recruitment process helps to reinforce the value in each investment.
The Franchise Referral Program rewards franchisees for finding promising leads. With each lead referred, the franchisee will receive a $25 gift card. For each referral that signs an agreement, the franchisee will receive $5,000.
"Our Franchise Referral Program and now the Drive Your Franchise Campaign are both strong representations of the dedication the whole team has to the growth of Instant Imprints," Ralph added. "We are happy to reward our franchisees for participating in the building of our network. It's a win-win situation."
Awarding single unit and Area Franchise Agreements, as well as Master License developer opportunities around the globe, the Instant Imprints investment is ripe for experienced franchise investors as well as individuals transitioning into entrepreneurship from corporate positions.
Complete with comprehensive training, site selection support, marketing programs and the purchasing power of the Instant Imprints' network, the business model has been cultivated to cater to high quality candidates that understand the value of the proven system. The Instant Imprints franchise fee starts at $34,950 ($24,950 for Veterans).
About Instant Imprints
Instant Imprints helps businesses, schools, organizations, groups, and individuals in all aspects of promotion. The company has revolutionized the promotional products industry by combining multiple businesses (digital printing, direct-to-garment/screen printing, embroidery, wide format sign and banner printing, and promotional products) into one efficient business model – the first and still the only franchise to combine these businesses into one model. Instant Imprints has franchises throughout North America and has been franchising since 2002. CEO Ralph Askar and a group of shareholders first purchased the Master License for Instant Imprints Canada, and then completed ownership of global rights of Instant Imprints in May of 2011. CEO Ralph Askar, with more than 27 years of hands-on franchising experience, brings to Instant Imprints a proven record of accomplishments as one of Mail Boxes Etc. and The UPS Store's most successful multiple Area Franchisees and multiple International Master Licensees. Find out more about Franchise Opportunities here.
For more information about Instant Imprints, contact Jay Holguin via email at jayh@instantimprints.com or call 1-800-542-3437.