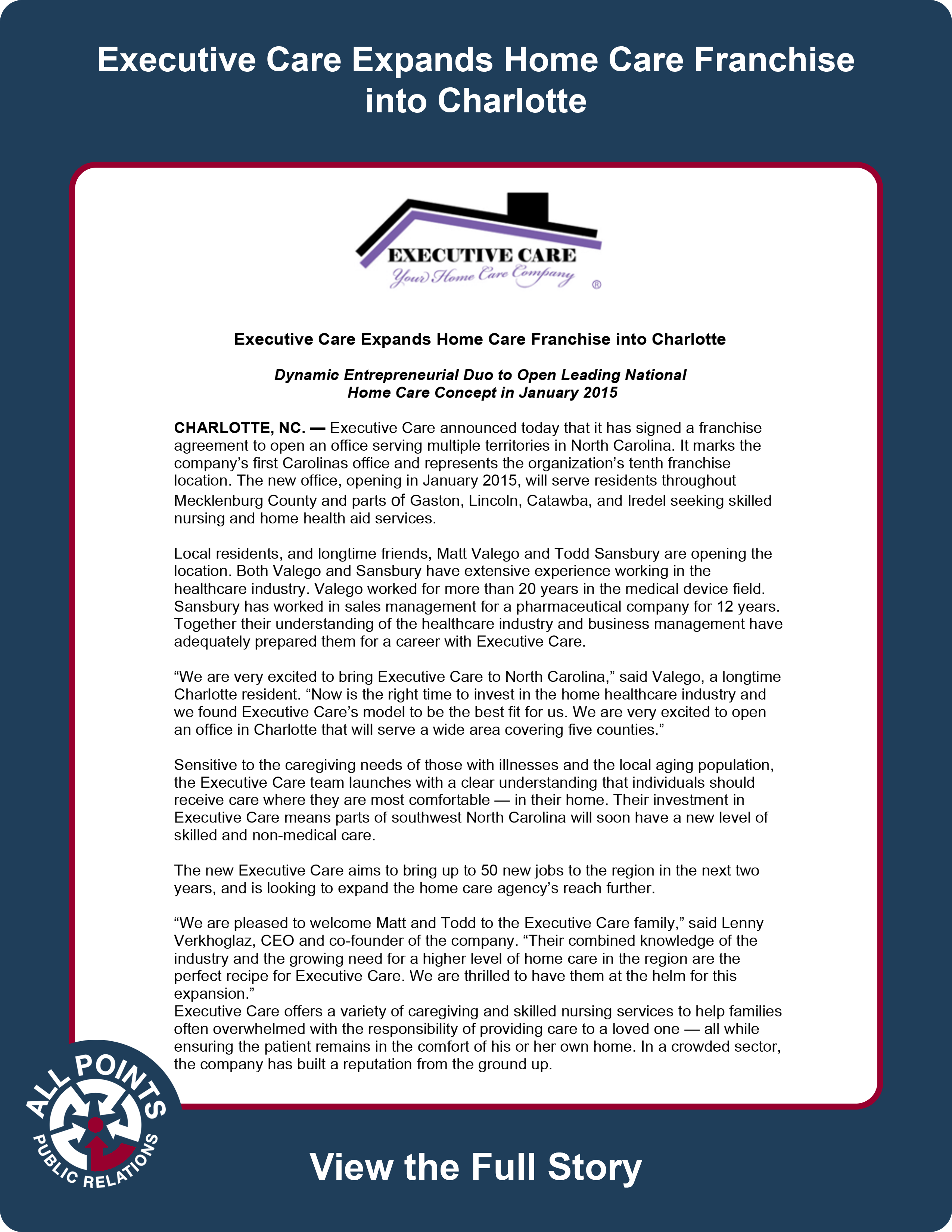 Executive Care Expands Home Care Franchise into Charlotte
Executive Care Expands Home Care Franchise into Charlotte
Dynamic Entrepreneurial Duo to Open Leading National
Home Care Concept in January 2015
CHARLOTTE, NC. — Executive Care announced today that it has signed a franchise agreement to open an office serving multiple territories in North Carolina. It marks the company's first Carolinas office and represents the organization's tenth franchise location. The new office, opening in January 2015, will serve residents throughout Mecklenburg County and parts of Gaston, Lincoln, Catawba, and Iredel seeking skilled nursing and home health aid services.
Local residents, and longtime friends, Matt Valego and Todd Sansbury are opening the location. Both Valego and Sansbury have extensive experience working in the healthcare industry. Valego worked for more than 20 years in the medical device field. Sansbury has worked in sales management for a pharmaceutical company for 12 years. Together their understanding of the healthcare industry and business management have adequately prepared them for a career with Executive Care.
"We are very excited to bring Executive Care to North Carolina," said Valego, a longtime Charlotte resident. "Now is the right time to invest in the home healthcare industry and we found Executive Care's model to be the best fit for us. We are very excited to open an office in Charlotte that will serve a wide area covering five counties."
Sensitive to the caregiving needs of those with illnesses and the local aging population, the Executive Care team launches with a clear understanding that individuals should receive care where they are most comfortable — in their home. Their investment in Executive Care means parts of southwest North Carolina will soon have a new level of skilled and non-medical care.
The new Executive Care aims to bring up to 50 new jobs to the region in the next two years, and is looking to expand the home care agency's reach further.
"We are pleased to welcome Matt and Todd to the Executive Care family," said Lenny Verkhoglaz, CEO and co-founder of the company. "Their combined knowledge of the industry and the growing need for a higher level of home care in the region are the perfect recipe for Executive Care. We are thrilled to have them at the helm for this expansion."
Executive Care offers a variety of caregiving and skilled nursing services to help families often overwhelmed with the responsibility of providing care to a loved one — all while ensuring the patient remains in the comfort of his or her own home. In a crowded sector, the company has built a reputation from the ground up.
To guarantee the highest quality, Executive Care requires all prospective caregivers undergo an intensive pre-employment screening process, including a criminal background investigation, verification of references and an employment history check. All caregivers are insured, experienced and undergo skills tests and continuing education training. Registered nurses closely supervise and monitor all staff, conducting periodic evaluation assessments.
For more information about Executive Care's new office in Charlotte, email Matt Valego at mattv@executivehomecare.com
About Executive Care
Executive Care, based in Hackensack, N.J., delivers a comprehensive selection of home care services tailored to the every need of its customers. From companionship and personal care to 24/7 live-in care and skilled nursing, Executive Care ensures customers receive safe, reliable and certified in-home medical and personal services. At the heart of Executive Care is the relationship forged between caregivers, customers and families. The company has announced plans to grow, offering an attractive franchise opportunity in the fast-growing home care sector. To learn more about Executive Care's services, visit ExecutiveHomeCare.com. For more information on the Executive Care franchise opportunity, email Todd Leonard, vice president of operations and franchise development for Executive Care, at todd@executivehomecare.com or call (855) 393-2372.