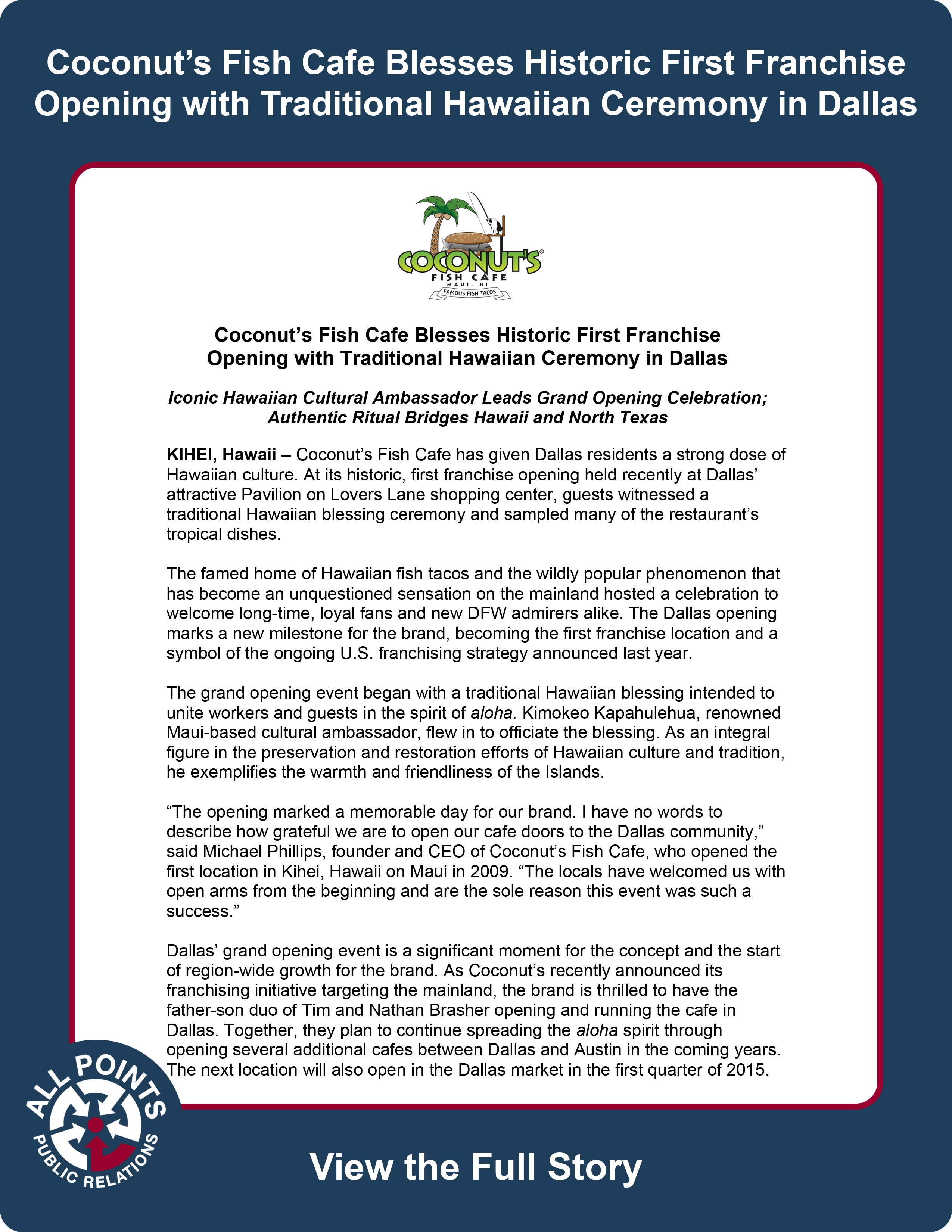 Coconut's Fish Cafe Blesses Historic First Franchise Opening with Traditional Hawaiian Ceremony in Dallas
Coconut's Fish Cafe Blesses Historic First Franchise Opening with Traditional Hawaiian Ceremony in Dallas
Iconic Hawaiian Cultural Ambassador Leads Grand Opening Celebration; Authentic Ritual Bridges Hawaii and North Texas
KIHEI, Hawaii – Coconut's Fish Cafe has given Dallas residents a strong dose of Hawaiian culture. At its historic, first franchise opening held recently at Dallas' attractive Pavilion on Lovers Lane shopping center, guests witnessed a traditional Hawaiian blessing ceremony and sampled many of the restaurant's tropical dishes.
The famed home of Hawaiian fish tacos and the wildly popular phenomenon that has become an unquestioned sensation on the mainland hosted a celebration to welcome long-time, loyal fans and new DFW admirers alike. The Dallas opening marks a new milestone for the brand, becoming the first franchise location and a symbol of the ongoing U.S. franchising strategy announced last year.
The grand opening event began with a traditional Hawaiian blessing intended to unite workers and guests in the spirit of aloha. Kimokeo Kapahulehua, renowned Maui-based cultural ambassador, flew in to officiate the blessing. As an integral figure in the preservation and restoration efforts of Hawaiian culture and tradition, he exemplifies the warmth and friendliness of the Islands.
"The opening marked a memorable day for our brand. I have no words to describe how grateful we are to open our cafe doors to the Dallas community," said Michael Phillips, founder and CEO of Coconut's Fish Cafe, who opened the first location in Kihei, Hawaii on Maui in 2009. "The locals have welcomed us with open arms from the beginning and are the sole reason this event was such a success."
Dallas' grand opening event is a significant moment for the concept and the start of region-wide growth for the brand. As Coconut's recently announced its franchising initiative targeting the mainland, the brand is thrilled to have the father-son duo of Tim and Nathan Brasher opening and running the cafe in Dallas. Together, they plan to continue spreading the aloha spirit through opening several additional cafes between Dallas and Austin in the coming years. The next location will also open in the Dallas market in the first quarter of 2015.
In addition to the planned Texas expansion, Coconut's earned approval in mid-2014 to expand through franchising in California. The brand has now located its mainland headquarters in Reno, Nev. and will award multi- and single-unit opportunities in markets up and down the California coast to qualified restaurant investment groups and individuals in 2015.
Coconut's offers value to its customers unlike any other concept. Nowhere else is fish of such high quality offered at $12; in upscale restaurants, the same pieces of fish are sold for $40 or more.
Given the differentiators, Coconut's stands as a premium brand in the fast-casual category. To preserve the brand equity it has built, Coconut's is taking an extremely calculated and methodical approach to awarding franchise opportunities. Qualified candidates must prioritize the brand as his or her/the group's primary business. Previous restaurant ownership is preferred, and, most importantly, franchisees should embrace the Aloha spirit that has cultivated Coconut's culture.
Complete with thorough training, site selection support and marketing programs, the Coconut's Fish Cafe business model has been cultivated to attract individuals or teams with an ambition to succeed, strong values and solid community connections.
To learn more about Coconut's, visit the brand's website CoconutsFishCafe.com.
About Coconut's Fish Cafe
Michael Phillips, a successful entrepreneur several times over in the restaurant industry, founded Coconut's Fish Cafe in 2009 in Kihei, Hawaii on the island of Maui. Retired in Hawaii yet seeking a restaurant offering fresh foods and outstanding service, Phillips started Coconut's to enjoy great-tasting meals with his neighbors in Kihei. Today, Coconut's is revolutionizing the fast casual restaurant sector with its fresh, healthy and affordable menu options, featuring wild-caught fish and a wide selection of fresh, authentic Hawaiian ingredients. Currently with its flagship in Hawaii and corporate headquarters in Nevada, the restaurant concept is expanding across the country through a focused franchising initiative.
To learn more about Coconut's Fish Cafe franchise opportunities, contact Frances Oney at franchising@coconutsfishcafe.com. And for more information about the cafes, visit www.coconutsfishcafe.com.