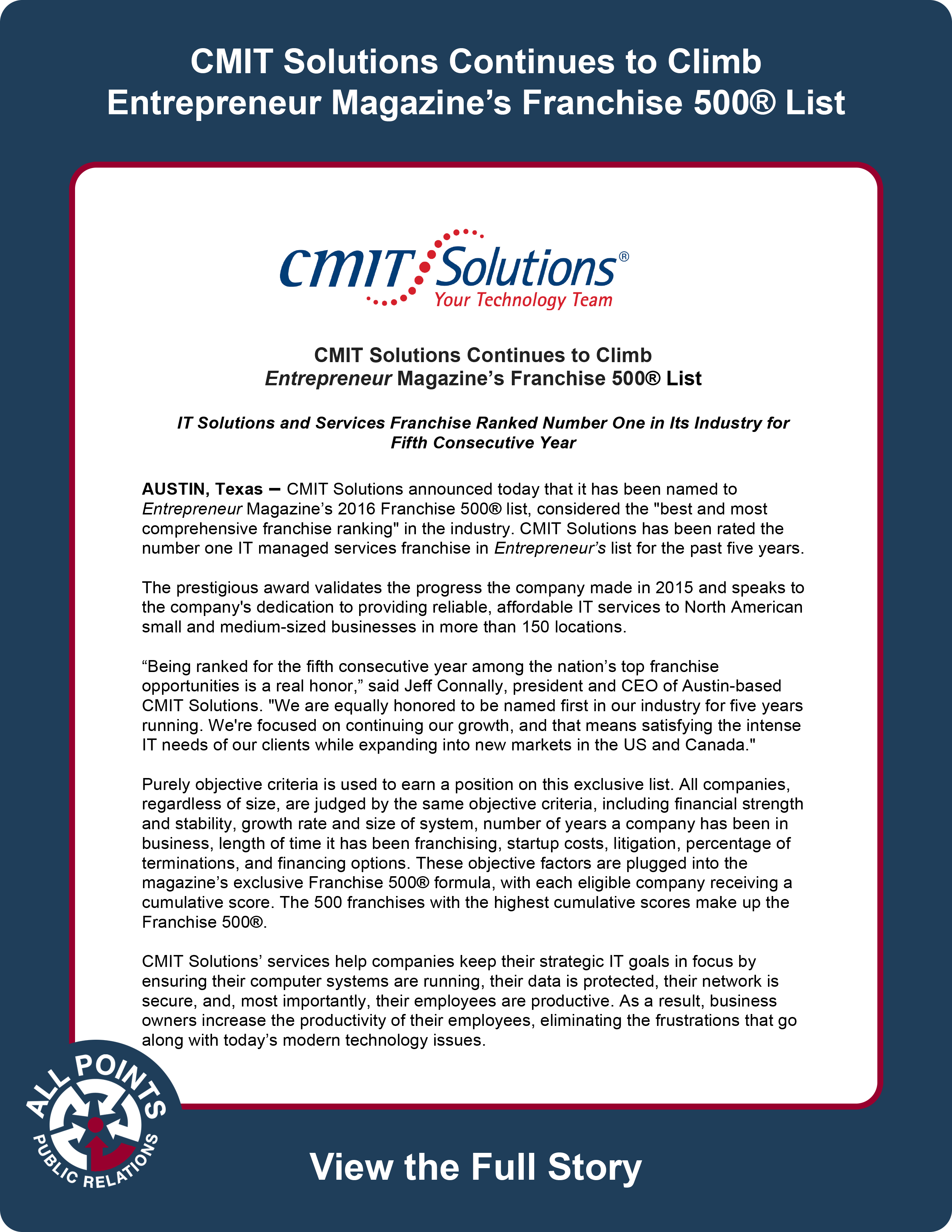 CMIT Solutions Continues to Climb Entrepreneur Magazine's Franchise 500® List
CMIT Solutions Continues to Climb Entrepreneur Magazine's Franchise 500® List 
IT Solutions and Services Franchise Ranked Number One in Its Industry for Fifth Consecutive Year 
AUSTIN, Texas – CMIT Solutions announced today that it has been named to Entrepreneur Magazine's 2016 Franchise 500® list, considered the "best and most comprehensive franchise ranking" in the industry. CMIT Solutions has been rated the number one IT managed services franchise in Entrepreneur's list for the past five years.
The prestigious award validates the progress the company made in 2015 and speaks to the company's dedication to providing reliable, affordable IT services to North American small and medium-sized businesses in more than 150 locations.
"Being ranked for the fifth consecutive year among the nation's top franchise opportunities is a real honor," said Jeff Connally, president and CEO of Austin-based CMIT Solutions. "We are equally honored to be named first in our industry for five years running. We're focused on continuing our growth, and that means satisfying the intense IT needs of our clients while expanding into new markets in the US and Canada."
Purely objective criteria is used to earn a position on this exclusive list. All companies, regardless of size, are judged by the same objective criteria, including financial strength and stability, growth rate and size of system, number of years a company has been in business, length of time it has been franchising, startup costs, litigation, percentage of terminations, and financing options. These objective factors are plugged into the magazine's exclusive Franchise 500® formula, with each eligible company receiving a cumulative score. The 500 franchises with the highest cumulative scores make up the Franchise 500®.
CMIT Solutions' services help companies keep their strategic IT goals in focus by ensuring their computer systems are running, their data is protected, their network is secure, and, most importantly, their employees are productive. As a result, business owners increase the productivity of their employees, eliminating the frustrations that go along with today's modern technology issues.
CMIT Solutions' franchise offices are independently owned and operated. Unlike most local IT consultants, CMIT Solutions has established cost-saving relationships with well-known technology partners, including Dell, Microsoft, and Intuit. Plus, being part of a national franchise offers the opportunity to tap into a large consulting network of knowledgeable business owners and corporate support staff. Today, CMIT Solutions has more than 150 operating territories in North America.
Entrepreneurially spirited individuals interested in owning a CMIT Solutions franchise should have the ability to invest between $125,000 to $175,000, which includes working capital and a typical franchise fee of $49,950-$60,000. CMIT franchisees are provided with a sizable territory based on ZIP codes and can expect to have 3,000 to 4,000 prime targets.
To learn more about CMIT Solutions, visit: http://www.cmitsolutions.com/
For more information about available franchise opportunities, visit: http://cmitfranchise.com/
About CMIT Solutions
CMIT Solutions (CMIT) is a leading provider of information technology (IT) professional services and products to small and medium-sized businesses (SMBs), and is uniquely capable of supporting SMBs anywhere, in the US and Canada. By focusing on developing and maintaining local, trust-based relationships with its customers, CMIT is able to meet all of their IT needs. CMIT offers a wide variety of services and products, including enterprise-class solutions, at prices small businesses can afford. Because of its growing geographic presence and partner programs, CMIT is a very attractive sales and/or support channel for larger firms desiring to reach the millions of small and medium-sized businesses in the United States. For more information, please visit www.cmitsolutions.com.