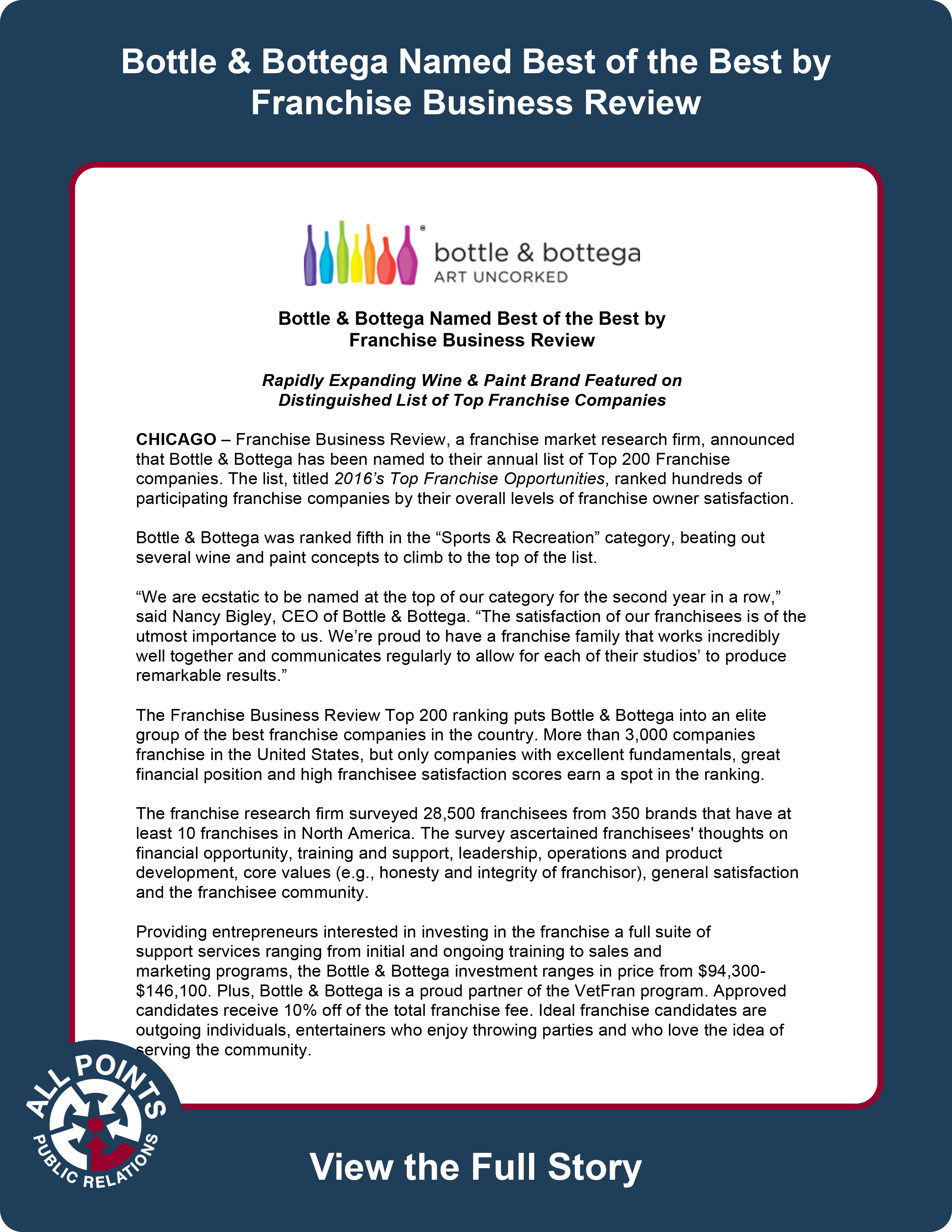 Bottle & Bottega Named Best of the Best by Franchise Business Review
Bottle & Bottega Named Best of the Best by Franchise Business Review
Rapidly Expanding Wine & Paint Brand Featured on Distinguished List of Top Franchise Companies
CHICAGO – Franchise Business Review, a franchise market research firm, announced that Bottle & Bottega has been named to their annual list of Top 200 Franchise companies. The list, titled 2016's Top Franchise Opportunities, ranked hundreds of participating franchise companies by their overall levels of franchise owner satisfaction.
Bottle & Bottega was ranked fifth in the "Sports & Recreation" category, beating out several wine and paint concepts to climb to the top of the list.
"We are ecstatic to be named at the top of our category for the second year in a row," said Nancy Bigley, CEO of Bottle & Bottega. "The satisfaction of our franchisees is of the utmost importance to us. We're proud to have a franchise family that works incredibly well together and communicates regularly to allow for each of their studios' to produce remarkable results."
The Franchise Business Review Top 200 ranking puts Bottle & Bottega into an elite group of the best franchise companies in the country. More than 3,000 companies franchise in the United States, but only companies with excellent fundamentals, great financial position and high franchisee satisfaction scores earn a spot in the ranking.
The franchise research firm surveyed 28,500 franchisees from 350 brands that have at least 10 franchises in North America. The survey ascertained franchisees' thoughts on financial opportunity, training and support, leadership, operations and product development, core values (e.g., honesty and integrity of franchisor), general satisfaction and the franchisee community.
Providing entrepreneurs interested in investing in the franchise a full suite of support services ranging from initial and ongoing training to sales and marketing programs, the Bottle & Bottega investment ranges in price from $94,300-$146,100. Plus, Bottle & Bottega is a proud partner of the VetFran program. Approved candidates receive 10% off of the total franchise fee. Ideal franchise candidates are outgoing individuals, entertainers who enjoy throwing parties and who love the idea of serving the community.
For more information about available franchise opportunities, please visit: http://bottleandbottega.com/franchise/
To learn more about Franchise Business Review's annual Top 200 ranking, please visit: http://www.franchisebusinessreview.com/wp-content/uploads/1/2016/01/FBR_Top_Franchises_2016.pdf
About Bottle & Bottega
A stroke of artistic genius paints a totally new picture of what is possible when friends, couples or colleagues get together for a Bottle & Bottega art party — an experience unlike any other. One part artistic adventure and one part cocktail party, Bottle & Bottega inspires the inner artist in everyone regardless of skill or practice, through a blend of hands-on art sessions, on-site professional instruction and, of course, a glass of your favorite wine. Bottle & Bottega paint and wine parties are perfect for individuals, couples and groups of all sizes for a variety of personal and professional occasions.
For more information about Bottle & Bottega, visit http://bottleandbottega.com/franchise.
About Franchise Business Review
Franchise Business Review is a national franchise market research firm that performs independent surveys of franchisee satisfaction and franchise buyer experiences. The firm's services include commissioned franchise research projects, as well as industry-wide studies of franchisee satisfaction. Franchise Business Review is headquartered in Portsmouth, NH, and can be reached at (603) 433-2270. Visit www.FranchiseBusinessReview.com for more information.