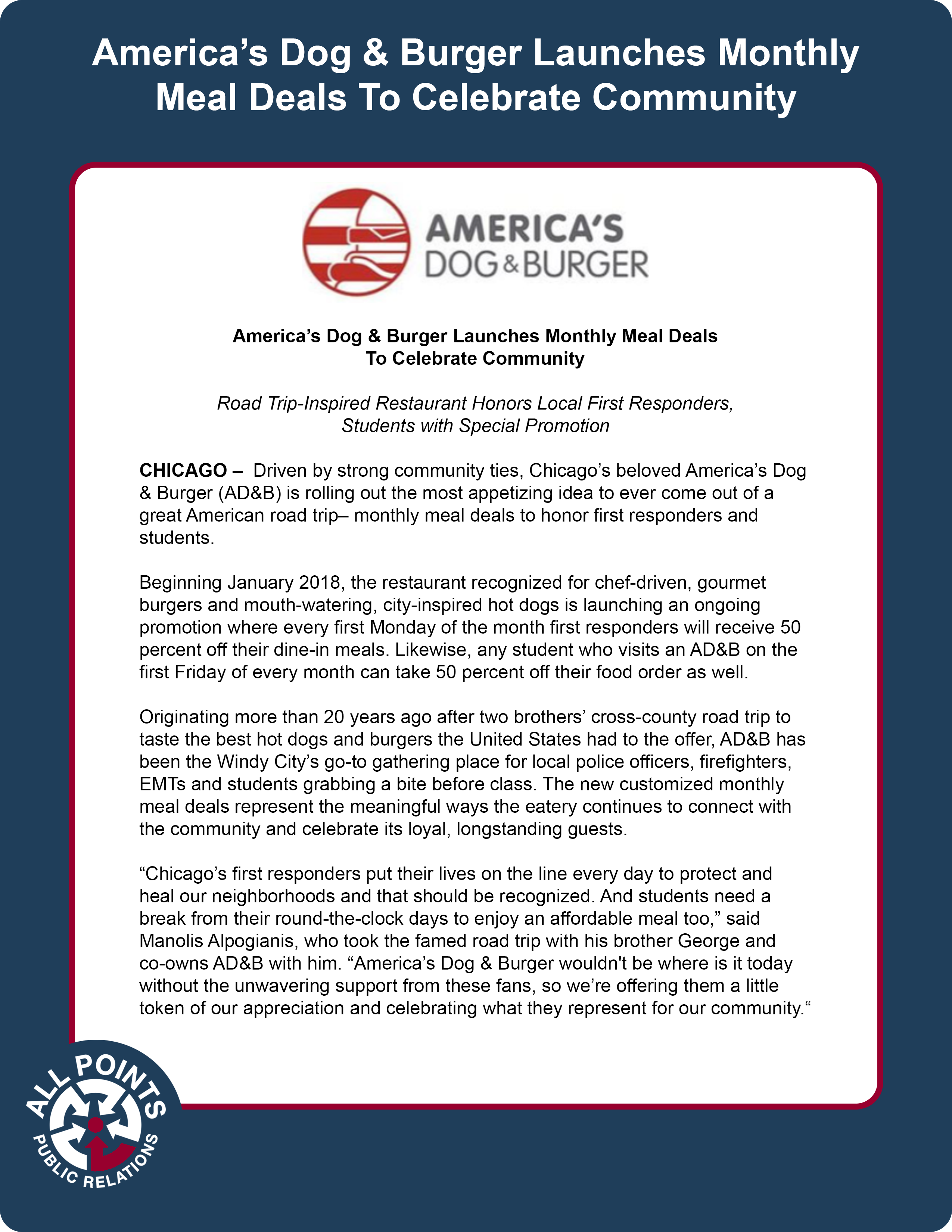 America's Dog & Burger Launches Monthly Meal Deals To Celebrate Community
America's Dog & Burger Launches Monthly Meal Deals To Celebrate Community 
Road Trip-Inspired Restaurant Honors Local First Responders, Students with Special Promotion  
CHICAGO – Driven by strong community ties, Chicago's beloved America's Dog & Burger (AD&B) is rolling out the most appetizing idea to ever come out of a great American road trip– monthly meal deals to honor first responders and students.
Beginning January 2018, the restaurant recognized for chef-driven, gourmet burgers and mouth-watering, city-inspired hot dogs is launching an ongoing promotion where every first Monday of the month first responders will receive 50 percent off their dine-in meals. Likewise, any student who visits an AD&B on the first Friday of every month can take 50 percent off their food order as well.
Originating more than 20 years ago after two brothers' cross-county road trip to taste the best hot dogs and burgers the United States had to the offer, AD&B has been the Windy City's go-to gathering place for local police officers, firefighters, EMTs and students grabbing a bite before class. The new customized monthly meal deals represent the meaningful ways the eatery continues to connect with the community and celebrate its loyal, longstanding guests.
"Chicago's first responders put their lives on the line every day to protect and heal our neighborhoods and that should be recognized. And students need a break from their round-the-clock days to enjoy an affordable meal too," said Manolis Alpogianis, who took the famed road trip with his brother George and co-owns AD&B with him. "America's Dog & Burger wouldn't be where is it today without the unwavering support from these fans, so we're offering them a little token of our appreciation and celebrating what they represent for our community."
AD&B's creative and indulgent menu options range from the Santa Fe Hot Dog (Vienna all beef hot dog, hardwood smoked bacon, chipotle aioli, caramelized onions, beer battered jalapeno caps and cotija cheese on a Texas toast roll) to the Ghost Burger (hardwood smoked bacon, spicy ghost pepper cheese, guacamole and onion strings on a butter brioche bun). Beyond its acclaimed city dogs and burgers, AD&B also offers a selection of chicken sandwiches, salads and sides. Everything on the menu is fresh, never frozen and all ingredients are prepared in-house.
Maintaining a recipe for success, AD&B has three locations, each situated at prime destinations – Chicago's Navy Pier, O'Hare Airport and in Chicago's Loop on Randolph Street in between Wabash and State Streets.
As a reoccurring perk, the monthly meal deals will also be available for eligible guests at all future franchise and corporate AD&B locations, including the brand's fifth restaurant set to open August 2018 in Evergreen Park's Evergreen Marketplace.
For more information on America's Dog & Burger and its commitment to community, visit www.adbfresh.com.
About America's Dog & Burger
Entrepreneurial brothers Manolis and George Alpogianis co-founded AD&B after a cross-country road trip through the United States. This now famous journey inspired the two to open a restaurant that offered the most compelling hot dog and burger tastes of the nation in one dynamic environment. The brand uniquely positions itself in the dog and burger scene by offering guests a variety of fresh, gourmet burgers, city-themed hot dogs, chicken sandwiches, Italian beef, salads and more. After more than 20 years of proven success, the family-run business is in strategic growth mode, awarding franchise opportunities to passionate individuals and teams attracted to the brand's distinguishable niche.
To learn more about America's Dog & Burgers and its franchise opportunities, visit www.adbfranchise.com. For more information about the restaurant, visit www.adbfresh.com.